From https://annebonnypirate.org/2021/02/12/fight-the-fire/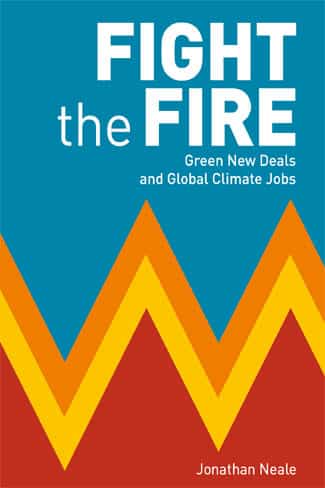 Jonathan Neale's new book Fight the Fire – Green New Deals and Global Climate Jobs can be downloaded as a free pdf or a free e-book here. It can be ordered as a paperback for £15 here .
Advance Praise for Fight the Fire
"This is a timely book. At a time when the world is still reeling from the ravages of Covid-19 and the massive economic dislocation that it engendered, now is the perfect time to reinvigorate the campaign for climate jobs, or, as in the case of the Philippines, to launch it. And this book is just what any climate jobs campaigner would need. It provides the big picture, the science and the politics of climate change, as well as the nuts and bolts of how such a campaign would look like. More than that, it is replete with lessons that the author has gained from a life spent fighting in the trenches of various campaigns." – Josua Mata, Secretary-General, SENTRO union federation, Philippines.