Please click here to find the sign up page and current list of signatories.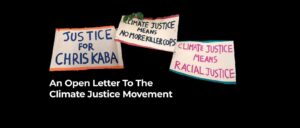 We are writing as members of the climate movement, to send our love and solidarity to Chris Kaba's family and his loved ones in their grief. We are part of groups and organisations united in the spirit of building a climate justice movement capable of ending oppression in all its forms.
Chris Kaba, an unarmed Black man, was shot and killed by a Metropolitan police officer on Monday 5 September in South London. Chris was 24 years old, and expecting a baby with his partner. Chris Kaba is one of 1833 people to die after contact with, or in the custody of, police in England and Wales since 1990. Of these deaths, only one has resulted in a conviction (for manslaughter).
Black people in the UK are disproportionately more likely to be killed by police than their white counterparts. Black people are also more likely to be incarcerated and to receive longer sentences. Time and time again, British police have been shown to be institutionally racist. We stand in solidarity with all victims of racist state and police violence in the UK.
We cannot fight for climate justice unless we also fight racist police violence. Today's climate crisis is also a result of oppression and exploitation. The same European colonialism that colonised and plundered entire nations through the logic of white supremacy, was the same project that sought to control and exploit nature. This is the origin of the ecological collapse we are witnessing today. It is the same logic of imposition, extraction, exploitation and silencing that continues today. As a result of these systems, Black, Brown and Indigenous communities have endured hundreds of years of oppression, are treated as expendable, and continue to be deprived of even the most essential conditions to human life – the freedom to breathe.
Black and racialised people are also more likely to be harmed by governments, the police and corporations for fighting against the climate crisis. The climate crisis is disproportionately harming working class Black, Brown, Indigenous and otherwise racialised people around the world, from London to Lahore. In 2013, nine-year-old Ella Adoo-Kissi-Debra was the first person in the UK to have air pollution listed as a cause of death. Nearly 10 years later, racialised Londoners continue to be more likely to live in areas with toxic air. In Pakistan, floods caused by the emissions of wealthier, whiter counties have displaced millions and killed over 1,400 people. In Uganda, entire villages have been impacted by floods caused by the climate crisis, with people displaced into makeshift camps. At the same time, racist migration policies enacted by the UK government and other countries in the Global North, make it harder for refugees displaced by climate colonialism to find safety.
Climate justice is racial justice – we demand reparations for the white supremacist violence of colonialism and the climate crisis, and for communities affected by racist police violence.
We will keep amplifying and supporting the demands of Chris Kaba's family.
Response to the question: did the officers know that it was Chris in the car or were they simply following a suspect vehicle?
The suspended officer must be interviewed under caution without delay and the family must be kept informed on this
There should be a charging decision within weeks, not months.
Our climate justice must be anti-racist and anti-imperialist. We invite climate justice groups to show up to their local demo for the Day of Action For Chris on Saturday 17th September and to add your names to this letter.
In solidarity,
Tatiana Garavito, Tipping Point UK, Care and Repair Lead.
Hannah Martin, Green New Deal Rising, Co Director .
XR Dacorum.
Bryce Goodall.
Rachelle Mesley, Parents For Future Dacorum , Organiser .
Theresa Rose Sebastian.
Katherine Anthony.
Jayon R.
Madalena Vasconcelos.
Fi Quekett.
Cathy Anne Carey.
Molly Maddocks.
Xiye Bastida .
Niamh Mcnulty.
Rosie Greene.
Olive FitzGerald.
Svetlana Skobeeva.
Zanna Ekeroth.
Gabriella Leavitt.
Francesca Mahoney.
Fleur Noriéga-Constable.
Norman King
Lucia Harrington, Debt Justice , Community organiser .
Maha Yassaie .
Meg Hughes.
Cathy Reay.
Karen Taylor.
Ci Davis, Jubilee Movement_Sheffield.
Eve Davies.
Mikaela Loach.
Sally Gould.
Zita Holbourne, BARAC UK , National Chair, Co-founder .
Daisy Moss.
Isabella Stuart Grey.
P Hardy.
Kerrison Emma.
Emma Belleville.
Mike Bird.
Angela Harrington.
Alexandra Benjamin.
Georgia Allen.
Ellie Graham.
Richard Gallen.
Louise Hazan, Tipping Point, Co-Founder.
Olly Armstrong , Breathe .
Betsy Ray.
Chloe Whyte.
Cloudberry MacLean, Arika, Local Organising Co-ordinator .
Kentaro Yamamoto, The Climate Justice Project.
Charlotte Boys.
Anina Pletscher.
Catherine Southard Jennings.
Megan Skelton.
Caroline Riley.
Susan O'Leary, Parents for Future – West London .
Charlotte Ghazi.
Poppy Jopson.
Lottie Trewick.
Isabelle Meyers.
Rona Hardie , Tipping Point , Scotland Organiser .
Noah Herfort, Climate Vanguard.
Ned Evans.
Alan McKenna.
Connie Muir, Croydon Community Energy, Founder.
Neil Anderson.
Georgie Dymond.
, Croydon Climate Action .
Grace Kirkham.
Katherine Linsley.
Mary O'Brien.
Ophelia Dos santos.
Lillie Jeanrenaud .
Jo Reay.
Juliet Compagnon.
Charlie Townsend .
Tribe Named Athari.
Genna Corlett.
Taylah Andrews Clark.
Patrick Walker.
Zosia Lewis.
Parker .
Gethin Thurlow.
Michael Dicus.
Linda Jane Maguire.
Jennifer Arthur.
Linda Heiden.
Josie Hepworth.
Lyn Prendergast.
Liba Ravindran, Anti-Oppression Circle.
Leesa Martin.
Ellie Barnett Wright.
Kate Roberts.
Ashlee Barnes.
Faith Terry-Doyle.
Tara Rebecca Roberts.
Anna Moore, Green at Barts Health, Co chair.
Maudie Hayes.
Bodhini V Armstrong.
Lauren Levine.
Lucy Burns.
Lauren Levine.
Ana Faria.
Miriam Henson.
Zoe Taylor-Dixon.
Zoe Taylor-Dixon.
Miriam Instone .
Rebecca Court.
Yazzie Min , Stand for Humanity.
Juan Pablo Lobo-Guerrero.
Chiara Scaramuzzino.
Juliette Brown.
Molly Rose.
Abdullahi Mohamed, The Headlines , Lead writer.
Rachel Watts.
Alyssa Romero.
Sena Wazer.
Abby Booker.
Elliot Jenkins.
Maja Darlington.
Martha Smart.
Harry Pearson.
Cara Vanessa Nuhn.
Laura Callaghan.
Amy Dixon.
Imogen Park.
Zenzi Hobongwana Graham.
Noga Levy-Rapoport.
Elenia Parkes.
Sian Troote.
Sian Troote.
Sophie Carter .
Frankie Reid.
Vaishnavi Ramu .
Rachel Isabel Mukendi.
Lizzy Harley.
Jackie Ferriter.
Lucie Neale.
Naomi Hirst .
Cassandra Bousquet .
Sarah Bennett.
Caitlin Neall-Johnston.
Tania Roa.
Katy Holt.
Aishwarya Puttur.
Stop Cambo.
Sofia Maria Stetiarova .
Ria Patel.
Emily Hebbes .
Tamsin Rose Callan.
Naomi Yates .
Hannah Belok.
Sal Mager, Extinction Rebellion Shrewsbury.
Iole Mottram.
Layth Hanbali.
Mikaela Schlesinger.
Rebecca Jana .
Sarah Fort.
Isabella Cash.
Poppy Okotcha.
Rachel Lawson.
Chrissy Holmes .
Michael Chambers.
Samie Blasingame.
Chelsea Crane.
Kaviya Selvamanickam .
Mary McGuiggan, Edenreagh Therapies, Director.
Amy Cameron .
Anna Burns.
Maria Faciolince.
Ciara Shine.
Shivani Sud.
Caron Jones.
Lizzie O'Halloran.
Parus Shah.
Marianne Brooker, Platform London.
Rosie Hilton.
Alison Neathey.
Anna Randall.
Rebecca Morton .
Lainey Thomas.
Marla King.
Rhiannon Osborne.
Susan Throssell.
Carmen Sinclair.
Sara el-Solh.
Emma Britton.
Rianka Gill.
Corinne Calligan .
Aoife Powell.
Ella Hopkins.
Carol Clark.
Lucille Corby.
Sarah Michel.
Katie Williams.
Hannah Davies.
Kim Willett.
Orin Cooley-Greene.
Katie Pownall.
Hope Graham.
Peach Rose.
Lauren MacDonald.
Vi Kerenza.
Michael Lomotey.
Daisy Mølving.
Jessica Bunn.
Marina Chymyshyn.
Lizzy Wilson.
Jemma Kettlewell.
Ken Huggins.
Freya Robinson.
Emily McMahon.
Gabby Kettlewell.
Emma Nicol.
Cat Scothorne.
Katie Smirnova.
Sarah McArthur.
Carmen Lean.
Just Stop Oil Scotland .
Eloise Rickman.
Clare Saxon Ghauri.
Evie Elderfield.
Eleanor Jones.
Kate Benson .
Matilde Vicente.
Lucy Stewart.
Bruce Murphy, Just Stop Oil; XR Trade Unionists.
Jacqueline Phillips.
Annie Lane .
Marina Tapley.
Lola .
Morgan Daniels.
Lois Ocquaye.
Gina Cabrita .
Kat Hamilton, Force of Nature .
Dominic McCann.
Ellie Snow.
Nadine Oliver.
Sophie Fishel.
Angel Arutura.
Ella connolly.
Lucinda Platt.
Grace London .
Thomas Billam.
Katarzyna Żamojda, Fridays For Future, Activist & Organizer.
Eimear O Brien.
Poppy Facer.
Anna Dugan.
Barbara Ann Spencer, Just Stop Oil.
Chloe Leighton.
Xandra Gilchrist .
Bobby Edge-Partington.
Jamie Eadie.
Wolfgang Kuchler.
Lucy Radford.
Angel Arutura.
Anne Taylor.
Shaylee Tosney.
Alexia Lamorgese .
Anne Darcie.
Austen Espeut.
Billie Fletcher.
miriam scharf.
Paula Hoss.
Hannah Gloudon .
Katie Renker .
Chenelle Taylor.
Silvia Christoforou.
Alfie Burgh.
Naomi Simpson , Youth4Climate Leeds.
Clara Reynolds.
Mair Bain.
Aidan Smith.
Shaylee Tosney.
Alexia Lamorgese .
Lauren St Aimee.
Bob Whitehead .
Asad Rehman.
Jonathan Atkinson .
Paul Raithby.
Alfie Beswick.
Climate Action Support Pathway (CASP).
Tristram Wyatt.
Miranda Forward .
Charlotte Gambhir.
Georgia Gibson.
Geoff Ryan.
Flynn .
Hanna Wilson.
Luke Elson, Just stop oil.
Ellen Donald.
David Kearns.
Nicole Olatunji.
Just Stop Oil Midlands.
Karina Lindquist.
Eve Middleton.
Natasha Pavey .
Melissa Nzekele .
Oliver Goulden.
Kate Anderson .
Jack Johnson, Climate Vanguard.
Diana Martin.
Kate Anderson .
Ciara Pimm.
Chrissie Wilson.
Josie Lovick.
Anna Crisp.
Kerima Mohideen .
Rab Hay.
Ronaé Fagon.
Rob Marsden, Red Green Labour editorial board, Editorial Board member.
Lana Reid-McConnell .
Webb Emma.
Isabelle Åkerlind Hognert.
Javie Huxley, Save Latin Village .
Hannah Woodhouse, Hannah Woodhouse LTD , Director .
Kerry Littleford.
Jane Robinson.
, Head of Regenerative Economics .
Samantha Byrne.
Heather Phelan.
Sam Wakeling.
Nina Pusic.
Ollie Birnie.
Mark Raven.
Ines Smyth.
Catherine Burton.
Judy Judkins.
Harvey Belcher, Just Stop Oil .
David McKelvey.
Tara Carey.
Daniele Pollicino , London School of Economics , PhD student .
Charlotte Vergette.
Emma Harrison Beesley.
Irus Yáñez .
Roxanne Sweeney.
Poppy Stanbury.
Frances Butler.
350.org, UK Lead.
Sophie Brodie.
Emma Wilson.
Elisa Bas.
Ben Davies, Labour for a Green New Deal .
Alyson MacKay, Scottish Young Greens, Co-Convenor .
Cait Ni Cadlaig.
Jen Bell, Scottish Greens Trade Union Group, Co-Convener.
Phil Snider, Just stop oil .
Delara Sohrabian-Bailey.
Jen Wright.
Becca Anderson.
Campaign against Climate Change.
Toby McLaren.
Alex Mays, Party Leader.
Rikard Larsson.
Sophie Brodie, Scottish Young Greens, Co-Convenor.
Extinction Rebellion Oxford.
Francesca Maddison.
Maisie Rozzo.
Phil Snider, Just stop oil .
Tony Staunton, Plymouth Stand Up To Racism , Chair.
Peter Barlow.
Sophie Perry.
Sophie Paul.
miranda irwin.
Sam Tait.
Eve Freeman.
Sammi Egan.
Wendy Smith, Extinction Rebellion Trade Unionists, Organiser, M&M.
Julieanne Porter .
Sean Irving.
Rachel Wallace.
Mia Bradić.
Stephen Gray.
Heather Sarno.
Kristýna Nguyenová.
Sorcha Lyne.
Isabel Cowan.
Cat Acheson.
Anouki Wilm, WatuEarth, Street activist .
Alexa Waud.
Shannon Finnan.
Alice Robertson .
Florence Wilson.
Kate Preston.
Duncan Harbison.
Ea Verbeeck.
UK Youth Climate Coalition.
Ella Hatch.
Kate Griffith, Humanity, Life member.
Sophie Slater , Birdsong London, Founder.
Suzanne Jeffery.
Ellie Bootman.
Juliet Robertstone.
Michal Nachmany, Climate Policy Radar CIC, Founder and CEO.
Lynn Bjerke, Scientists for Extinction Rebellion.
Alex Vail.
John Alexander Scott.
Nailsea Climate Emergency Group .
Micheline Mason .
Jenn Harper.
Kayleigh Kennedy.
Molly James.
sarah macdonald.
Quinn Eilbeck.
James King .
Liban Ahmed.
Venus Abduallah.
Alan Heath.
Just Stop OIl London.
Matilda Alexander hallworth.
Kate Hendry.
Emily Brown.
Irthe de Jong.
Alex d'Albertanson.
Molly Osborne.
Peter Hendtlass, JustStopOil.
Ffion Smith.
james mcgirl.
Charlotte Needham .
Chloe Munro.
Beth Davies.
Extinction Rebellion Families .
Extinction Rebellion Bury St Edmunds .
Laura Fellows.
Alexander Chase.
Sandra Elsworth, Just Stop Oil Coalition Campaign .
Martha Rayner .
Sivan Halevi.
Miriam Wearing .
Julia Minnear, Wen. , Co-Director.
Harriet Goodman.
Agathe Chebre.
Gabriele Stonciute.
Viktorija Murane.
Carolina Echegaray .
Ellie Ford.
Juliette Bone.
Kate Logan.
Joshua Loach.
Penny Kay.
Ioana Balabasciuc.
Liza Cox.
Emily .
Katie Murphy.
Adrian Widdowson.
Shawn Brown .
Rebekah Bookless.
John Stebbins.
Helen Hart, Frack Free Leeds, Chair.
Carol Reid.
Boucka Koffi , VVIDY (South Yorkshire), Chair.
Nick Hodgkinson .
Jeremy Johnson.
Orsolya Becsey.
Alexander Louridas.
Phil Ball.
Sicily Fiennes.
Órla O'Neill.
Frances Breeveld.
Harpreet Kaur Paul, Tipping Point, Co-founder .
Maria Corpion.
Carys Boughton, Divest Parliament.
Alyson Mackay, Teach the Future, Volunteer Coordinator – Scotland.
AC Baker.
Charise Johnson.
Sarah Webb, Just Stop Oil.
Caitlin Conway.
Amy Pritchard.
Pauline Bradley, Sound Inspirations.
Danielle Patrick.
Farhana Yamin, Climate Reframe.
Elle Caton Tindall.
Rosalind Amor.
Edith Young.
Vlad Bunea, Degrowth Collective Toronto, Founder.
Carys Holbeck.
Tri Sanger.
Laura Carolina Zanetti Domingues.
Helen .
Christina Lynch.
Paige Taylor .
Imogen Lucas.
Sushma Singh, No Evicition , Campaigner.
Ryan Heise.
Jon Simons.
Lykke Harris.
Extinction Rebellion Scotland .
Nadia Henderson .
Bryony Hooper.
Melanie Beverley Hughes.
Daniella Southin.
Leslie Cunningham.
Ivy Citrine.
Extinction Rebellion Scotland .
Don't Pay Glasgow .
Don't Pay Glasgow .
Tanja Rakocevic.
Abigail Nottingham.
Adam Beard.
Camilla Plumb.
Elizabeth Rodrigues .
Mary Currell.
Lærke Hass.
Abi Deivanayagam, Race and Health .
Tina Davies.
Tushar Mehta.
Emma Cameron, Worthing Climate Action Network .
Maddy Wade.
Beauty Dhlamini .
Leah Hensor.
Barbara Schweinzer.
Fossil Free London.
Natalie Gray.
Michelle Lindson.
Hilary Price, Cambridge People's Assembly Against Austerity .
Big Looney.
Aislinn Stewart.
Layla Gordon.
Meggie Copsey.
Gail Bradbrook, Co-Founder Extinction Rebellion.
Alex .
Nathan Cantley.
Rosey Ellum .
Viki Babczyk.
Izzy Urbanski.
Suzie Barton.
Maxime Kessels.
Elettra Pellanda.
Graeme Atkinson.
Sophie Carter.
Hannah Coleman.
El Perkins.
Jackie Nguyen.
Izzy King.
Cora Gibson.
Dorothy Griggs.
Derek Langley.
Jenny Langley.
Juliana F Stoner.
Clare Skidmore.
Julie Molenaar.
Vanessa Nakate.
Morgan Guthrie.
Billie Armstrong, Just Stop Oil.
Greta Thunberg.
Robyn Mcsharry .
Bernadette Chamberlain.
Jessica Gaitán Johannesson.
Jessica Gaitán Johannesson.
Sally Davies.
Portia Butterworth.
Eilidh Guthrie .
joy corrigan.
Mahoney Goodman.
Caroline Lucas MP.
Ben Comeau.
Thomas Niblett.
Sam Holmes.
Vince Hayward.
Dan McMahon.
Rachel McKinney.
Doreen Walton.
Nina Houghton, Merseyside Solidarity Knows No Borders.
Samantha Ledingham Blake.
Caro Hall.
Jan Burgess.
Charlie Hawkins.
Vicky Murray.
Lara Adamczyk.
Lily Nicolson.
Rachel Crossley.
Michael Taylor.
Luke Daniels, Caribbean Labour Solidarity, President.
Maya Deeney.
Tiffany Wallace, Scientist, conservationist .
Lee Rei.
Jay Read.
Dominique Palmer .
Jennifer Agricola.
Jason Scott-Warren.
Danielle Pipe.
Bryony .
Bethany Teuten .
Bethany Teuten .
Alexandra Ohrim.
Carlotta Zeltner.
Krista Mahler .
Jake Causley.
Matilda Trevitt.
Reiner Ort , Peace Worker.
Cate Matters.
Leah Nesper-King.
Ana Ayora .
Gemma Buston.
Naroa Hammerson.
Francesca King.
Luana Barajas.
Sophie Worsnop.
Ayanda Tambo.
Sarah Thomas.
Cllr Shona McIntosh.
Diana McMillan.
Louise Palmer.
Rosa Cagnoni.
Jessica Gonzalez.
Imogen Feenan.
Ellen Voute.
Eric Svensson.
Katie Moberly.
Alan Wheatley.
Nicky Appleby .
Grace Morales.
Phoebe Holding.
Joanna Dobbin.
Catriona Currie.
Lily Juniper .
Vanessa Igoe.
Ingrid Schmidt .
Syd Ammil Sleeper.
Georgie Donaldson.
Stella Sage.
Eponine Laming-Nash .
Laura Dorantt.
Yani Abdul Rahman.
Sara Pocher .
Tegan Pritchard.
Catherine Birch.
Kelly Lloyd.
lou hadden, Just Stop Oil .
Iris Pixley .
Ṣadé Fadero.
Ava Potter.
Sue Gill.
Fritha Fortini .
Jade Weston.
Megan Nash.
David Evans.
Julia Cameron.
Rebecca Babb.
XR Youth Cambridge.
Elettra Bianchi .
Claudia Penna Rojas.
Annette Malone .
Annie Beardsley .
Kira Shaw.
Matt Cooper.
Almuth Ernsting, Biofuelwatch.
Tigs Manley .
Jill Hughes.
Khoa Pham.
Sarah Farrell .
Divest Hackney.
Ruby Manson.
Tom Allen-Olivar.
Sarah Valeiras .
Sandy Boyd.
Scarlett Westbrook.
Saoi O'Connor, Fridays for Future, Activist.
Franziska Hörstgen.
Amy Smith.
Imogen Bailey .
Extinction Rebellion Worthing , Internal Coordinator .
Al Maddocks .
Mahnoor Kamran.
Sarah Collins.
Eden Green.
Muna Ahmed .
Labour for a Green New Deal.
Marina Politis .
Billy Wassell.
Sofia Choudhri, Our Youth for the Climate.
Skate Gals and Pals , Founder.
Joe Irving, Axe Drax.
Juniper Poels.
Helen Griffiths.
Esther Lutz Davies.
Keira Forrest.
Ian Jones.
Keira Forrest.
Ian Jones.
Climate Camp Scotland.
Samantha Coronel.
Lauren Miner.
Emma Smart.
, Founder .
Rich Snaith .
Sally Daley.
Runa Howe .
Isaac Lang.
Alyx Rigney.
Sam Townson.
Colombe Mabboux-Fort.
Jane Neece.
sean hellett.
Laura-Jane Smith.
Dave Taylor.
Heather Smith, York Stand up to Racism .
Jemima Pilgrim-Morris , Climbers for Climate .
Laura Amherst.
Dr. Jazell Thomas.
Claire James.
Alan Burgess .
Axe Drax.
Morgan Trowland.
Aliha Iftikhar.
XR Liverpool and Wirral XR Liverpool and Wirral , XR Liverpool and Wirral.