An article from Ecohustler
Mad world – German police sent in by The Green Party detain Greta Thunberg whilst protecting extreme new coal mine expansion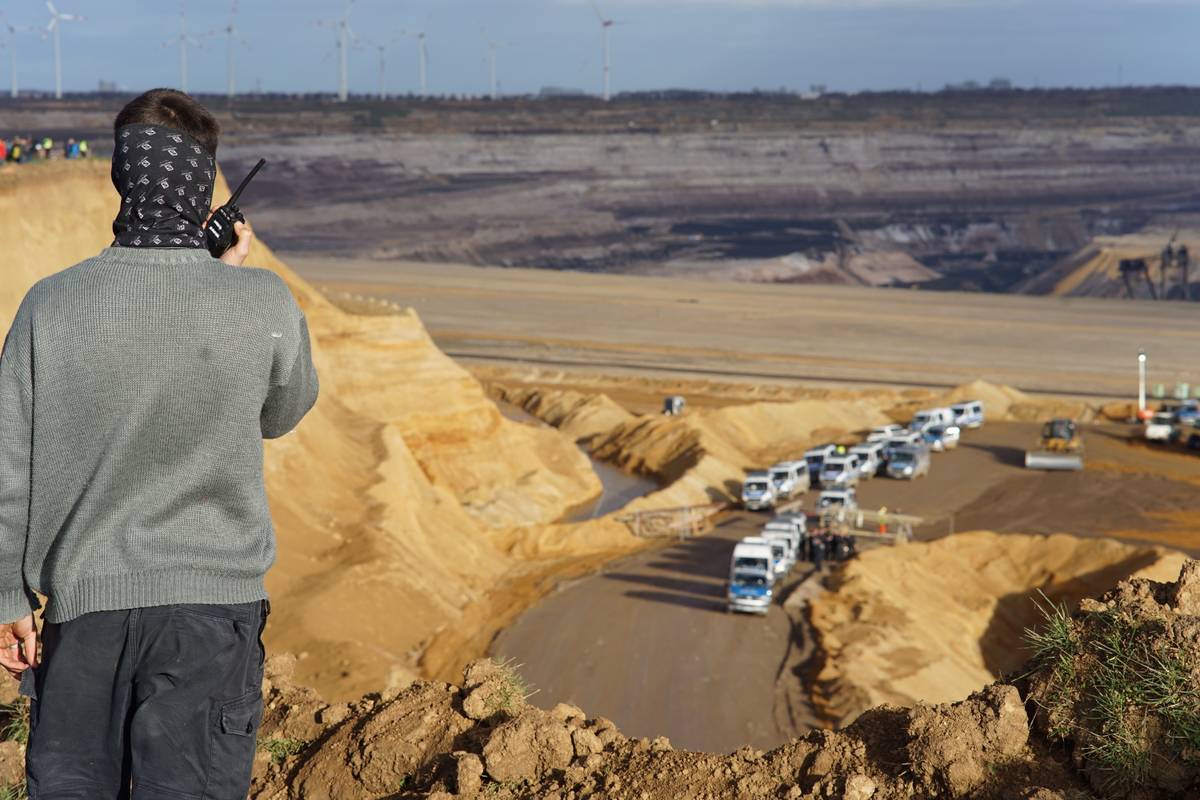 An activist watches as german police get to work for mega polluter – RWE
Greta Thunberg was detained by German police this week as she joined 35,000 activists protesting the demolition of the village of Lützerath. More than 1,000 police officers, dressed in riot gear, used tear gas and truncheons to scatter the activists. They were closely followed by bulldozers, sent to destroy the village in order to gain access to the coal in the ground beneath it.
Police forming a barricade against protestors
Activists have occupied the village for almost two years since RWE, a German energy giant, bought the land to extend the nearby Garzweiler mine and removed the village's inhabitants. Garzweiler is an open pit lignite mine, spanning over 14 miles and continuing to grow, consuming the German countryside around it. Ligamite is also known as brown coal – one of the dirtiest sources of greenhouse gasses currently enveloping our planet.
Luka Scott of Action Alliance said –
"Germany has once again failed to meet its far too lax climate targets because too much coal is being burned. But instead of finally phasing out coal immediately, Lützerath is to be mined. This will set off a new climate bomb – with catastrophic consequences."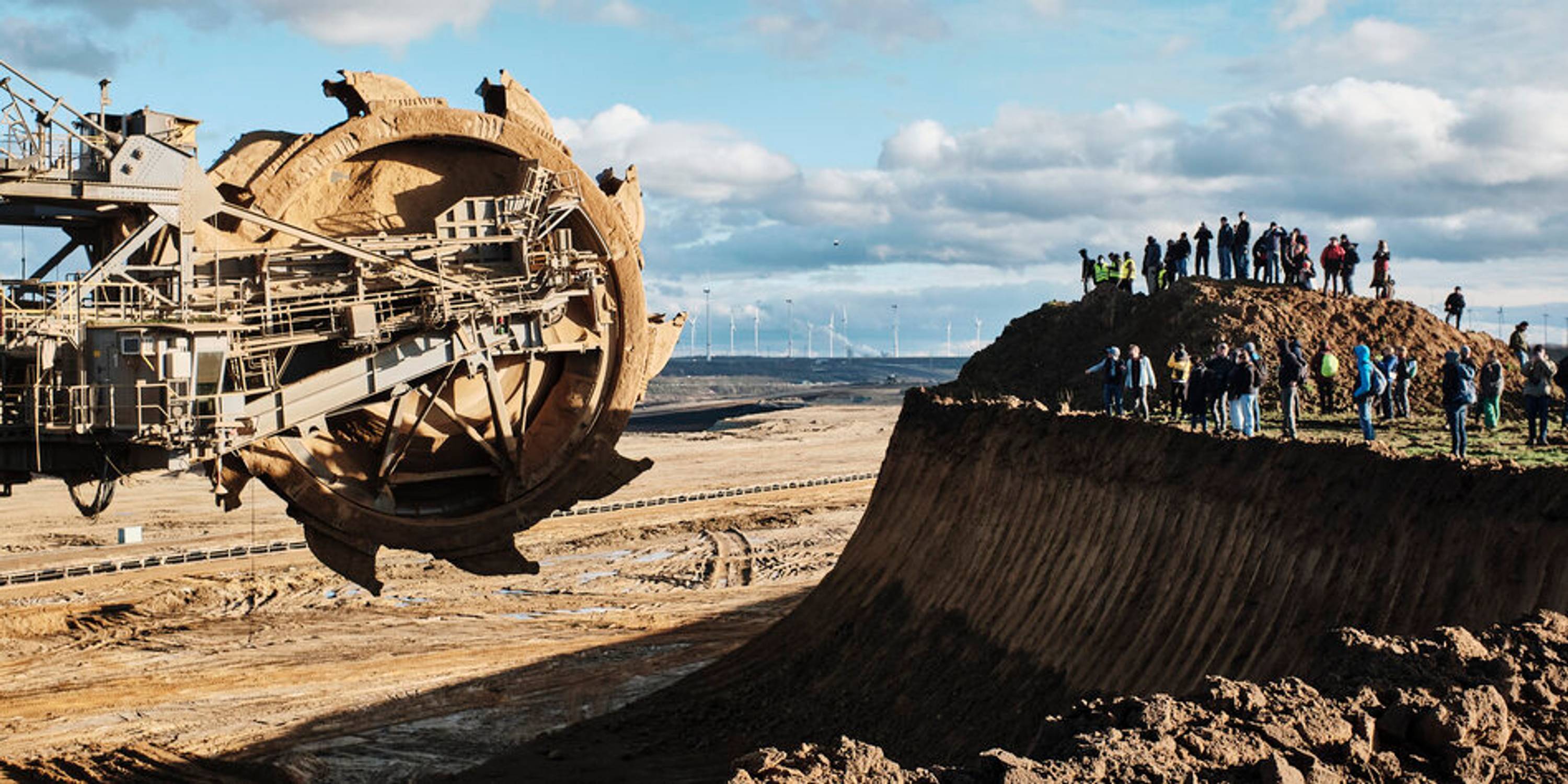 People come to the edge of the pit to bear witness to the carnage
After extensive negotiations, the German government, including the recently elected Green party struck a deal with RWE. It was agreed that in exchange for going ahead with the Lützerath mine, RWE will halt plans to open mines under five other villages and bring forward the target of making Germany coal-free from 2038 to 2030.
Even if you put the most obvious question of why more coal mines are being opened at all, instead of the money being invested into renewable energy sources aside, this deal is still deeply flawed. Both the CoalExit Research Group and the German Institute for Economic Research have confirmed that there is enough lignite reserves in the current opencast mines to ensure that the additional coal is not necessary for medium term energy supplies. On top of this, bringing the deadline for coal-free energy forward by eight years will not reduce the amount of CO2 emissions, it will only condense them into a shorter time period.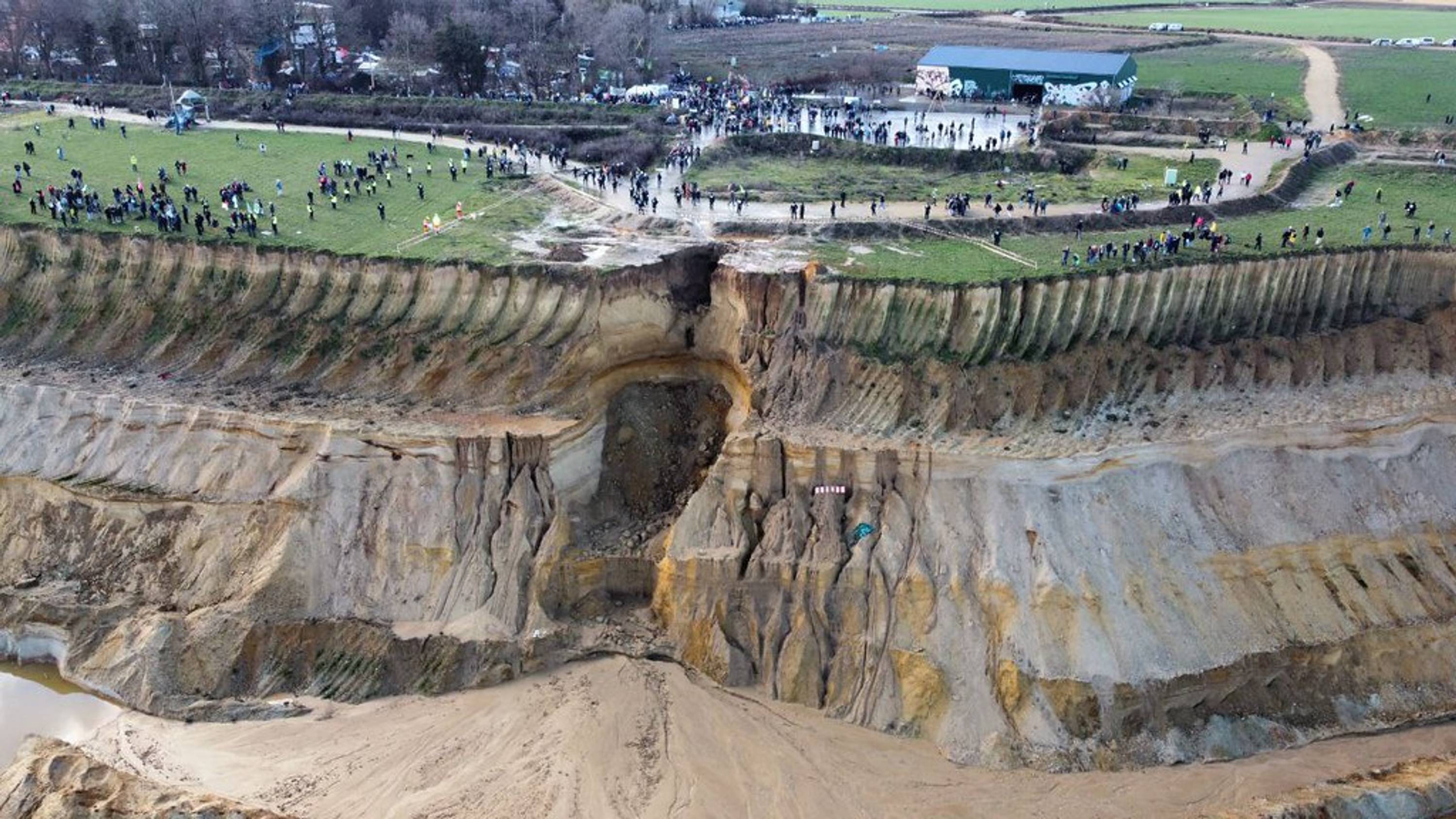 The open face of the coalmine creeping closer to the village
Crucially, burning the coal that sits underneath Lützerath would make it impossible for Germany to meet the global 1.5 degree warming limit. There is no silver lining to this dirty deal. Whilst the country claims to be looking into sustainable energy sources, in 2022 Germany's CO2 emissions actually rose, reaching a total of 255 million metric tons. This figure is 8 million tons more than 2011. Coal-fire generated power was the main driver of this.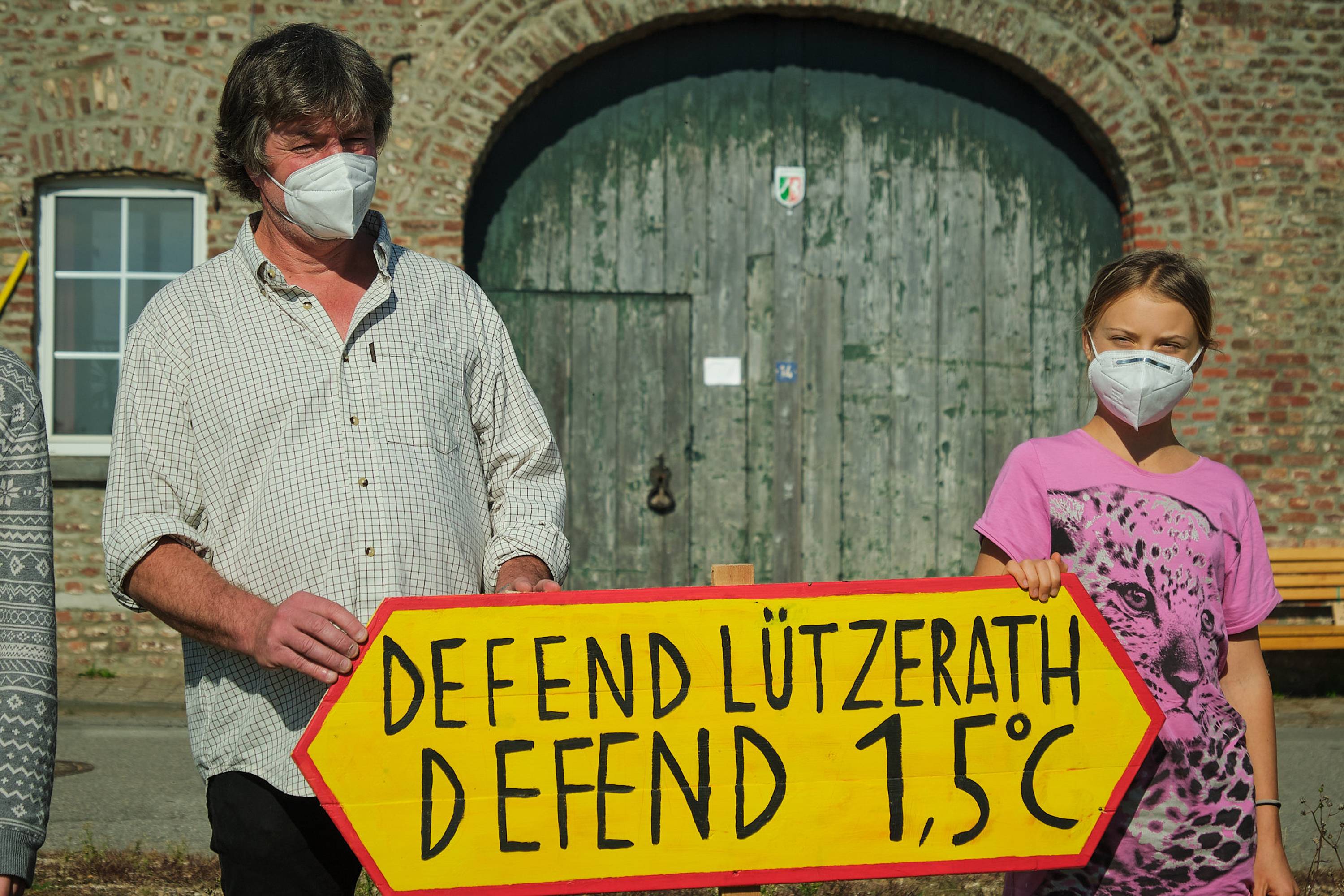 Thunbgerg calls to 'Defend Lützerath, defend 1.5 degrees'
Thunberg told reports this week "The science is clear: we need to keep the carbon in the ground". The small, unassuming village of Lützerath has become a unifying issue for climate activists, with many climate movements forming an alliance to protest its demolition. Although all cameras were on Germany this week, protests have been taking place as far afield as Uganda, against the demolition of Lützerath. Luka Scott, from the action alliance group Lützerath unräumbar, stated ''Whoever attacks Lützerath attacks our future'. In this case, it was the brute force of the police, sent in by the Green Party, the very people who had been elected in the hope of securing a more sustainable future for Germany.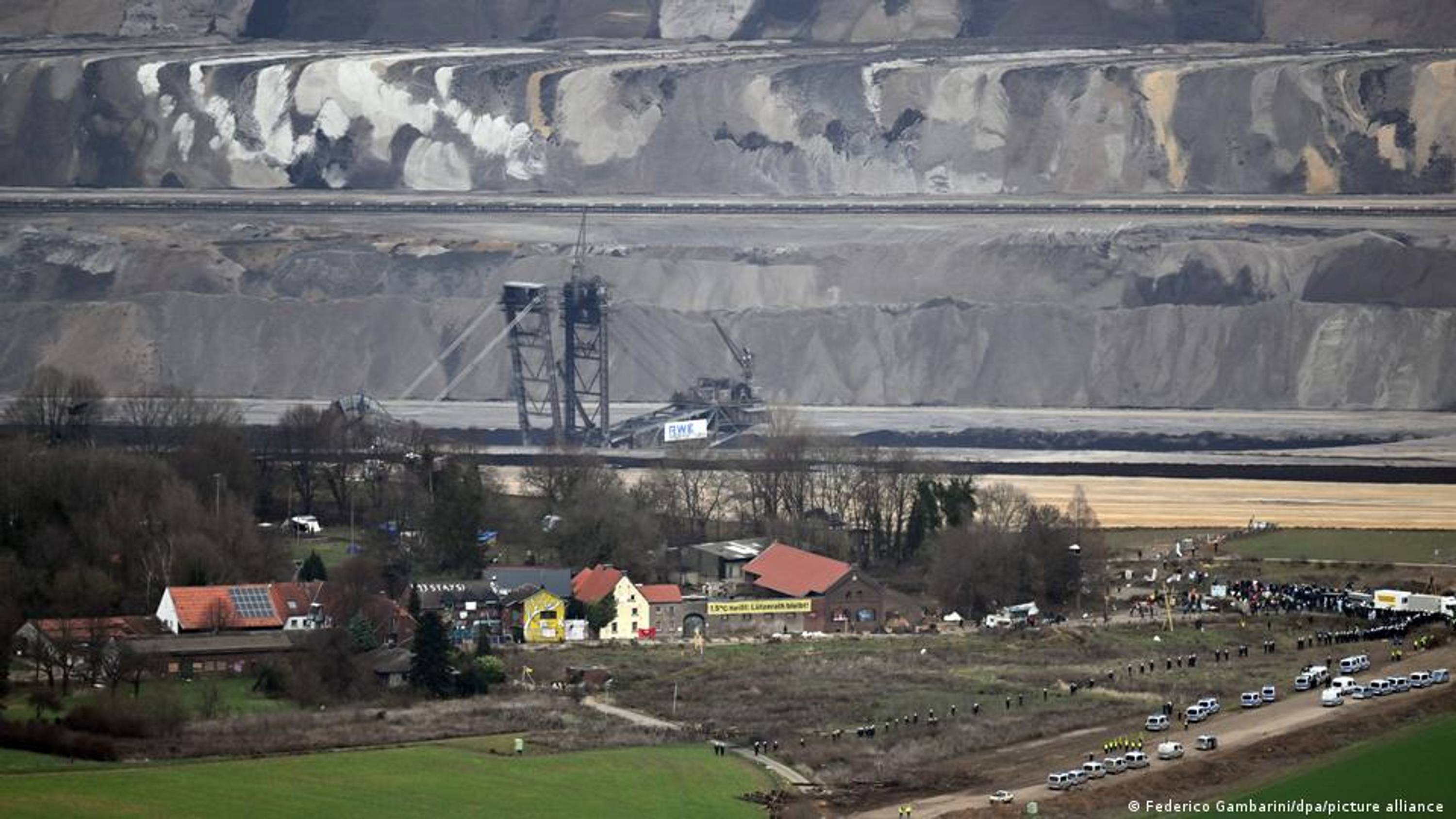 The doomed village is dwarfed by the growing coal mine that could doom us all
Whilst all protesters have now been evicted from Lützerath and the demolition of the village has begun, activists are not accepting defeat. They continue to call on CEOs of big oil companies to stop opening new fossil fuel extraction sites and focus on a transition to clean energy. You can support this cause and force these companies to take notice by signing this petition.
Peter Emorinken-Donatus – Alliance "Ökozid" (Activist against Shell from Nigeria)
"No matter what happens, Lützerath lives on. Yes, we have to keep fighting. The end is only the beginning of the fight against environmental vandalism and ecocides and for the global right to a clean environment. If we are not successful today, we will be successful tomorrow. Aluta conti- nua!"