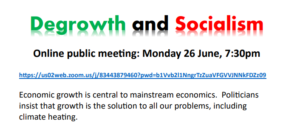 ONLINE PUBLIC MEETING
Monday 26th June, 7.30pm
Economic growth is central to mainstream economics. Politicians insist that growth is the solution to all our problems, including climate heating.
Degrowth theory poses a radical alternative to conventional thinking and policy discussions.
Degrowth sees 'sustainable growth' as a contradiction in terms. Rather, a sustainable future depends on a break with the drive for economic growth which will continue to devour nature in pursuit of a phantom prosperity.
You are invited to join ILEF on Monday 26 June, 7:30pm to discuss and debate with Giorgos Kallis co-editor of The Case for Degrowth.
Giorgos Kallis is one of degrowth's leading thinkers and activists. His books include Limits: Why Malthus was Wrong and Why Environmentalists Should Care.
This meeting is open to the public. Please invite others who might be interested.
Islington Labour Environmental Forum (ILEF) is a forum for discussion, campaigning and activity on the environment, coordinated by the environmental officers from both Islington North and Islington South CLPs.