From George Monbiot
This is not just a story of a wildlife charity being bullied – it's about the ugly truth of power dynamics in today's Britain
Fri 8 Sep 2023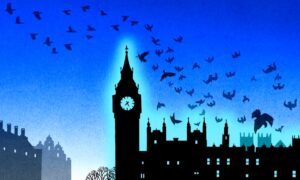 Economic power seldom needs to discipline those who might challenge it. Most of the time, they do it to themselves. However extreme the ideologies promoted by corporations and oligarchs, organisational life falls broadly into line. The media, political parties, even pressure groups, accept the basic premises, preposterous as they may be, of whatever variety of capitalism currently dominates.
But occasionally, someone needs to be slapped into line. This is what happened last week, when one of the world's biggest conservation groups, the Royal Society for the Protection of Birds, apologised for calling the prime minister, Rishi Sunak, and his secretaries of state, Michael Gove and Thérèse Coffey, to account for abandoning their environmental commitments. These ministers, it had claimed, were liars. Tory MPs and the billionaire press had gone berserk, demanding, among other measures, that the Charity Commission strike out the RSPB's charitable status. The commission, always a compliant instrument of power, said it was considering the issue. The RSPB promised in future to campaign in a "polite and considered manner".
Never mind that, like other big conservation groups, it has spent the past 50 years being so polite and considered that, in this nation of nature lovers, wildlife is in freefall. The size and potential power of these organisations bears no relation to their willingness to speak out against the industries and governments trashing the living world. Its original posts last week were a rare exception.
But the story of the apology is even more revealing of power dynamics in this country than it first appears. It seems that the RSPB apologised so quickly partly because one of its own trustees, Ben Caldecott, publicly attacked its statements about the three ministers. The RSPB's denunciation of government lies, he thundered, "are simply not an appropriate contribution to our public discourse …. As a trustee I have raised this issue urgently with the CEO and Chair".
Who is Ben Caldecott? Among other roles, he is a senior fellow at Policy Exchange. Policy Exchange calls itself a thinktank. I see it as a dark money lobby group, and one of the most deadly anti-environmental organisations in the UK. For instance, it published a report titled Extremism Rebellion, claiming that nonviolent environmental campaigners and campaigns could stray into terrorism, and calling for new laws to curtail them. Its proposals were adopted by the government in the draconian Police, Crime, Sentencing and Courts Act 2022. Investigative journalists later discovered that Policy Exchange had previously been funded by the energy interests ExxonMobil, Drax, Energy UK and E.On.
Guess who proposed the change in the law to which the RSPB was objecting, namely the government's abandonment of the "nutrient neutrality" rules, which seek to prevent new housing developments from pouring even more shit into our rivers? Policy Exchange. As the former minister Jacob Rees-Mogg remarked, "where Policy Exchange leads, governments have often followed". This lobby group is rated by the transparency campaign Who Funds You? as among the most opaque in the UK: it refuses to say where its money comes from.
Before he became a senior fellow at Policy Exchange, Caldecott was the junktank's research director for environmental issues. Who was the founding chair of the group? Michael Gove, one of the three ministers the RSPB was challenging. Who was the first head of its "Black and Minority Ethnic Research Unit"? Rishi Sunak. So the real question, to my mind, is not whether the RSPB was right or wrong to call out government lies (it was evidently right); it is what on earth such a person is doing on the charity's board.
The RSPB tells me it has "a thorough and transparent process for the recruitment of each of its trustees including a final members vote … As a group, our trustees need an appropriate mix of skills to engage with the enormous range of work undertaken by the RSPB, and encompass a diverse range of backgrounds."
Its willingness to invite a senior member of this lobby group on to its board contrasts sharply with the robust defence against the junktanks mounted by the National Trust. Last year, a highly conservative group called Restore Trust sought to get its candidates elected to the trust's governing council. The current director of Restore Trust, Zewditu Gebreyohanes, previously worked at Policy Exchange. Its founding director, Neil Record, was chair of another dark money lobby group, the Institute of Economic Affairs. He was exposed as a major donor to climate denial group the Global Warming Policy Foundation. Both these groups seek to keep their funding sources secret. Restore Trust, ironically in view of its name, also relies on hidden donors. While the National Trust resisted that lobby group's agenda the RSPB seems more welcoming towards the junktanks.
Unfortunately, the National Trust's successful defence of its principles was a rarity. Large organisations (characteristically more timid than small ones) bend over backwards to appease established power. The most effective means of demonstrating their loyalty is to invite the brokers of this power into their inner sanctum. The junktanks are rightwing, pro-business lobby groups that act as intermediaries between oligarchic and corporate capital and public policy. Their role is to make the outrageous demands of economic power look like common sense; to conflate what is good for billionaires with what is good for everyone else. As if to show they pose no real threat to power, "independent" institutions roll out the red carpet for them.
This, I think, is why the BBC continues, in defiance of its own editorial guidelines, to grant dark money junktanks, such as Policy Exchange, the Institute of Economic Affairs, the Centre for Policy Studies, the Adam Smith Institute and the Taxpayers' Alliance, daily platforms without obliging them to say on whose behalf they are lobbying. Even when some of these groups had boasted about being the authors of Liz Truss's catastrophic economic policies, they were invited on the BBC not to defend themselves but to speak as if they were independent and objective commentators on someone else's disaster.
In 1944, the Office of Strategic Services, a US intelligence agency, issued an underground guide for workers living in the Axis powers. It was called the Simple Sabotage Field Manual. It explained how to undermine an organisation from within. Among its recommendations was "Advocate 'caution'. Be 'reasonable' and urge [others] to be 'reasonable'". It's sound advice. By being cautious, reasonable, polite and considered, our major advocacy groups might avoid political trouble. But they fatally sabotage their own objectives. Always and everywhere, the real danger comes not from speaking out and offending power, but from falling into line.