Red Green Labour supporter Chris Barker looks at the contribution of road transport to the climate emergency.
28 percent of UK greenhouse gas emissions comes from transport and of that 55 per cent comes from cars (1)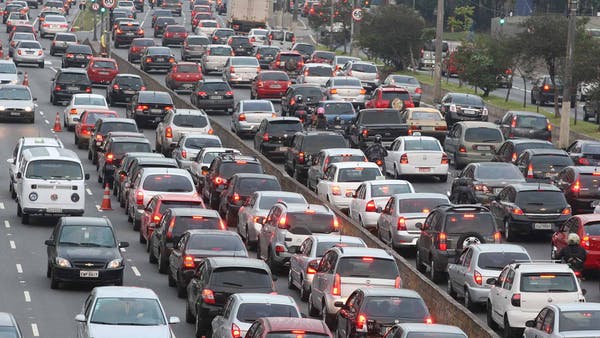 Transport is the only sector which is not, at present, making any contribution to the reduction of emissions. Efficiency gains from vehicle engines, and particularly from electric vehicles, are offset by continuing traffic growth – 55 per cent projected between 2018 and 2050, exacerbated by the popularity of sports utility vehicles (SUVs)1. If we are to get anywhere near the Paris target of keeping global warming to below 1.5°C above pre-industrial levels, this is one of the major areas which needs to be tackled.
It is clear that electric cars, although much better for the environment than internal combustion engines (ICEs), are not the panacea they are made out to be. Electric cars produce no toxic emissions at the point of use but, as with all cars, embedded carbon in the production of the vehicle and its battery produce greenhouse gas emissions. In addition, research by the UK government in 2019 found that 'emissions from brake wear, tyre wear and road surface wear collectively now exceed those from the exhaust of the UK vehicle fleet'. And electric transmission is green only if the electricity comes from renewable sources.
The proliferation of vehicles on our roads leads to other problems. The greater the level of traffic the less pleasant is our environment and the more dangerous our roads become. Relying on cars for short trips reduces the amount of exercise which people take and is one of the reasons for the increased rate of obesity. More traffic leads to the need for more roads and a larger proportion of our land is tarmacked over.
So there are a number of reasons why a reduction in the number of cars on the road needs to be made. The government needs to play a role in this. Motoring is getting cheaper whilst other modes are becoming more expensive. An immediate way to counteract this is to end the moratorium on fuel tax. Car use appears much cheaper than public transport alternatives at the point of use because the cost of motoring is biased heavily towards ownership rather than use. A road user charge in which drivers are charged by the mile at rates which reflect the level of demand at that hour or location would remedy that. Subsiding public transport fares would also help level up the relative cost.
In Central London relatively few people travel by car. Reasons include the Congestion Charge, difficulty in finding parking places and the relative frequency and convenience of public transport. This is not, however, mirrored in the rest of the country where most journeys are by car. This needs to change.
Walking and cycling are also alternatives to car use. 10 per cent of car journeys are under a mile and 58 per cent under five miles (para 2.2). To encourage a modal shift of these journeys from car to foot requires making the walking environment more attractive, for example by widening footways, removing kerbside parking and installing more protected road crossing points.
Cycling is rightly perceived by many as too dangerous but these dangers can be reduced. Continuous cycle lanes to keep cyclists away from vehicles and pedestrians should encourage many more people to take to cycling as they do in countries like Holland.
Finally there is scope for reducing the need to travel if towns are planned in a more cohesive manner. The Mayor of Paris, Anne Hidalgo, champions the 'fifteen minute' city in which 'Paris … remodel[s] itself so that residents can have all their needs met—be they for work, shopping, health, or culture—within 15 minutes of their own doorstep'.
None of this is likely to happen if just left to government. Campaigning for a green new deal must include addressing the traffic problem but can also mean taking part in other campaigning groups which address this issue specifically.
In London examples are Future Transport London, London Living Streets and London Cycling Campaign.
There are similar organisations around the country. Let's all get involved.