Red Green Labour endorses this statement by the Campaign Against Climate Change in solidarity with the HS2 protestors in Euston Square Gardens.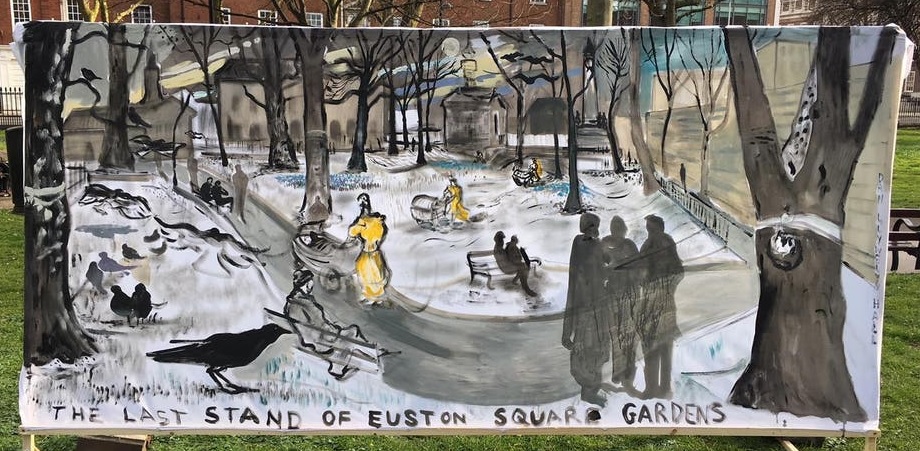 https://www.campaigncc.org/HS2_evictions
Campaign against Climate Change stands in solidarity with the HS2 protesters at Euston. On 27th January, the National Eviction Team began their eviction of protesters from Euston Square Gardens.
Since August 2020, protesters have occupied the space in order to disrupt HS2's work to build a taxi rank where 53 trees and a public green space used to be. Protesters have spent the past few months building treehouses and a 30-metre tunnel to make their eviction more difficult.
Reports from the site say that protestors have been denied food and water, and the NET are using torture tactics like depriving the activists of sleep. In the tunnel, there is a shortage of oxygen, five internal tunnel collapses and an influx of liquid mud. There have been reports that the NET are preventing the tunnellers from clearing soil and water from the tunnel. HS2 have also been breaching regulations that state that no machinery can be operated within 100 metres of the tunnel – they have been continuing construction and riding cherry pickers over the tunnel. These actions are completely inhumane.
HS2 is the most expensive infrastructure project in the UK, costing the taxpayer more than £100 billion. And yet its carbon benefits are highly questionable. Its construction will cause an estimated 8 to 14 million tonnes of CO2, with the first phase expected to be completed around 2030 and the full network by 2040. To set against this, over the first 60 years of operation HS2 Ltd estimated that it would save only 11-12 million tonnes of CO2. Therefore there is no strong evidence that the project will be carbon neutral even by the end of this century.
Considering the carbon reductions and job creation which could have been achieved with £100 billion invested in cutting car dependency through spending on buses, improving local rail services, cycling and walking, HS2 is a massive waste of money.
HS2 will destroy or irreparably damage 108 ancient woodlands, 693 wildlife sites (five of which are of international importance and protected by UK law) and 33 Sites of Special Scientific Interest as well as 1740 houses and businesses. HS2 has been made even more illegitimate by continuing work during the current pandemic, regardless of the dangers of the virus to the construction workers employed on the site and the communities they are part of.
All eviction efforts should be halted.  We support HS2 protesters at Euston and every HS2 protester to date for their courage and bravery in the face of this destructive vanity project.