We have previously looked at the issue of Eco-Fascism here.
This video goes into some depth about the phenomenon and is well worth watching.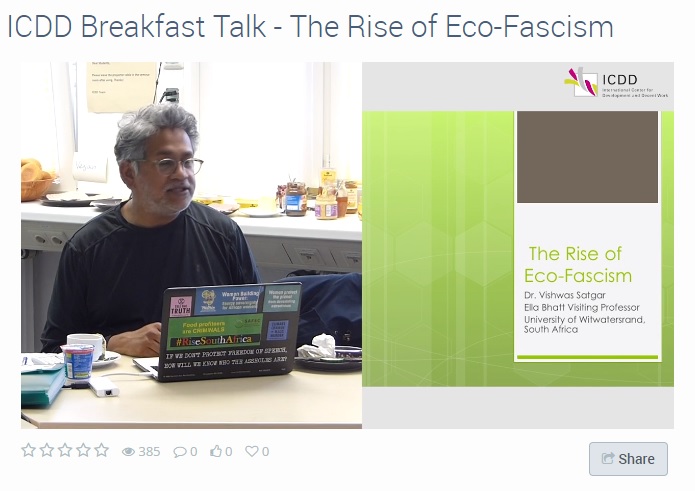 Prof. Dr. Vishwas Satgar (University of the Witwatersrand, Johannesburg)
The world is witnessing the return of fascism in the 21st century, in the global north and south. This talk highlights the ecological dimension of contemporary fascism in the context of the Anthropocene. Human and non-human life are facing eco-cidal violence and extinction. The planetary scale at which this is happening and the socio-ecological stakes cannot be grasped through 20th century understandings of fascism. This requires a conjunctural analysis of eco-fascist politics as a response to the challenge of climate and ecological justice more generally. Moreover this talk will explain the rise of eco-fascism with regard to social, ideological and political conditions engendering its emergence.
Dr. Vishwas Satgar is an Associate Professor of International Relations at the University of the Witwatersrand, South Africa. His research interests include global ecology, empire, civilisational crisis, alternatives and critical theory. He edits the Democratic Marxism series and is the principal investigator for the Emancipatory Futures Studies in the Anthropocene project. He recently edited Racism After Apartheid: Challenges for Marxism and Anti-racism (Wits Press, 2019) and Cooperatives in South Africa:Advancing Solidarity Economy Pathways from Below (UKZN Press, 2019). He is a visiting Ella Bhatt professor to Kassel University.
IF YOU ENJOYED THIS ARTICLE, PLEASE SIGN UP AT THE RED-GREEN LABOUR WEBSITE FOR NOTIFICATIONS EACH TIME WE PUBLISH