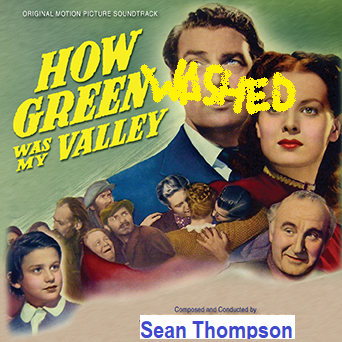 Sean Thompson discusses the Welsh government's plans.
Everyone wants to plant trees today. Even the Tories accept that increasing tree cover helps to prevent flooding, improves air quality, removes greenhouse gases from the atmosphere, regenerates soil for food and provides a home for wildlife. The Woodland Trust has calculated that the UK needs to plant by 1.5 billion trees a year up to 2050 in order to reach net zero emissions and the Committee on Climate Change has urged the UK Government to implement a target of planting 30,000 hectares (115.8 sq miles) of trees a year.
The Welsh Government had already committed to a target of 2,000 hectares annually (although only 80 hectares were planted in 2019-20 and 290 inn 2020-21). However, it has upped its target to 43,000 hectares of new woodland by 2030 and 180,000 hectares by 2050, equivalent to planting at least 5,000 hectares per year.  As part of this, the government has announced a project is to create a National Forest, linking up existing woodlands from the Bristol Channel in the south to the Irish Sea in the north.The idea is that people would be able to walk the entire length of the forest, from one end of the country to the other, drawing inspiration from the Wales Coast Path, which already makes it possible to walk the entire 870 miles of the Welsh coast from Chepstow to the Dee estuary. In order to encourage landowners to collaborate in this, and other,  ambitious projects the government has launched the £10m a year Glastir grant scheme for farmers and other land managers to plant trees.
This has already generated interest among landowners – the Welsh Government received applications for more than 7,000 hectares of new planting in the scheme's first year – but problems have already started to become apparent. The aim of the Glastir scheme is to encourage small farmers, many of whom are on marginal or semi marginal land, to plant small areas of trees as part of the government's wider proposed Sustainable Farming Scheme.  As Lee Waters, the Deputy Minister for Climate Change has said, "We want every farmer to plant around five hectares of woodland. Mixed woodland – some broadleaf, for sequestration, some productive woodland. And if we fell within that we would be well on our way to achieving our tree planting targets."
However, capitalists are always looking for new and inventive ways to identify new markets and make a quick buck – in this case international businesses seeking to offset their own carbon emissions by growing forests or buying carbon credits while grabbing some public funding to do so.  As a result,  some businesses are now finding it cheaper to buy up tracts of  Welsh farmland to offset their carbon footprint rather than going to the bother of reducing it instead. According to the Farmers Union of Wales, the Welsh Government has confirmed that a growing proportion of Glastir Woodland Creation (GWC) scheme money is being used to pay for tree planting on Welsh farmland bought by investors with addresses outside Wales. The figures also confirmed that the areas planted by such investors are on average many times greater than what is planted by those with Welsh addresses.
Lee Waters has told companies seeking to buy Welsh farms for carbon offsetting to "behave properly" as without meeting the Welsh Government's conditions they wouldn't be allowed to plant trees on them. He has said that there is a "legitimate concern" about companies buying Welsh land that the Welsh Government "needs to head off".
"I would say to the Savills of this world who are cold calling – hold your horses," he said. "Because you may well try and sell this land to a speculative investor but in order to plant trees on it you, first of all, need an environmental impact assessment. So there's no guarantee that land will be suitable for tree planting.
"You need to properly consult, you need to change your plans based on what the community want, you need to ensure the mix of trees is right for that location. And if you don't satisfy those conditions, you won't be getting any money.
"So calm down, behave properly, and make sure you work with us because what we want is Welsh farmers leading the way here, Welsh landowners planting the trees, and controlling ownership remaining locally.
"This is capitalism – people are trying to make a quick buck. I'm not interested in that game. I'm trying to tackle climate change in a way that keeps wealth and control locally.
"It's clear that some people are getting ahead of themselves and I'm here to give them a clear message, as my grandmother would say, watch your eyebrows."
While it's very heartening to hear a Labour Minister talk about taking on land speculators – and even mention the 'c word', it's not at all clear what powers the Welsh Government actually has to stop speculation in Welsh farmland, beyond rewriting the rules governing who can apply for its grants.
In a report for investors, the estate agents Carter Jones said that:
"The Welsh farmland market has shaken off any nervousness following Brexit and the initial impact of Covid-19, with values remaining steady as demand continues to outstrip supply. More and more buyers interested in biodiversity and public goods – as opposed to the agricultural value of land – are emerging. We've seen a rise in sales of land for tree planting from a range of sources including high net worth individuals, companies, and trusts. There are strong signs that this market will increase in importance in 2022."
An example of the trend towards land speculation for greenwashing purposes is the recent purchase of Frongoch farm in Cwrt-y-Cadno, Carmarthenshire, and three other farms, by the Foresight Group, a private equity investment manager with c.£8.4 billion of assets under management, whose headquarters are in the Shard in London. Faced with an outcry by local small farmers and the wider community, Foresight's PR team went into action, saying that :
"A fundamental part of Foresight's approach to forestry is to listen to and work closely with the local community.  We've been doing this at Frongoch, have acted upon local concerns, and will continue to engage with the community.
"Foresight's forestry schemes are playing a role in both the battle against climate change and in the fight against biodiversity loss.  Importantly, at each of our Welsh sites – including Frongoch – the wide variety of commercial and non-commercial trees which we are planting will help improve biodiversity levels…and at least 25% of every site will be planted with native broadleaves."
Well, that's all right then.
At the risk of seeming cynical and distrustful, relying on the warm words of private equity investment managers, property speculators and large companies looking for ways to give themselves a 'green' public image would clearly not be a wise policy for the Welsh Government.  While it is seeking to remove barriers to tree planting and introduce funding schemes to encourage woodland creation it must ensure that there are appropriate checks that trees are planted in line with the UK Forestry Standard and that public funding is not siphoned off by the spivs and financial wheeler dealers who always hover round government grant schemes like flies round a cow pat. It must also change planning regulations to stop impoverished small farmers being bought out by private equity firms in the City and implement its proposed Sustainable Farming Scheme in ways which help them to stay on the land.
Communities in many parts of  West and North Wales have been blighted in recent years by an explosion in house prices caused by a huge demand for second homes, with local shops and schools closed and villages turned into ghost towns outside the holiday season. The Welsh Government has, belatedly, started to address this – it's important that they also recognise and block off the potential for a greenwashing corporate land grab that will blight Wales's small farmers too.