From Brazil Solidarity
EMERGENCY PROTEST – STAND WITH BRAZIL'S INDIGEOUS PEOPLES
We are supporting this emergency protest in solidarity with Brazil's indigenous communities against Bolsonaro's attacks on their rights, lands and lives.
Please join the demonstration in London on the 4th of April to show your support alongise activists and volunteers from Brazil Matters, CAFOD, Greenpeace, Survival International, Amazon Rebellion, London Mining Network, and the Brazil Solidarity Initiative.
Please see below for more information about the call from Brazil Matters.
---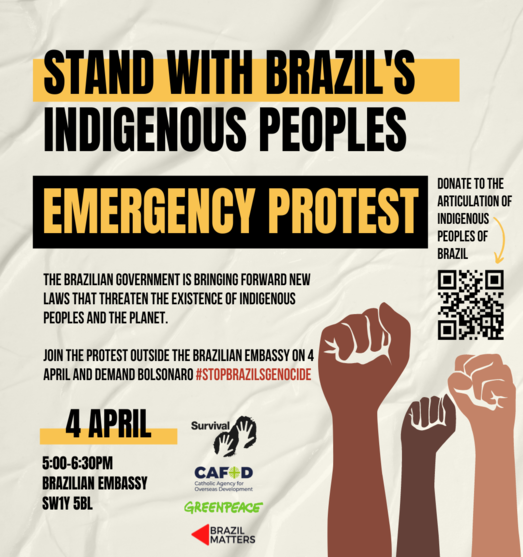 ????: April 4th, 5pm
?????: Brazilian Embassy in London
"This is an emergency call to stand with the Indigenous Peoples of Brazil as they begin their Free Land Camp outside the National Congress in Brasília. Indigenous people are joining together in the capital to protest against attacks on their rights, their lives, their lands and their future. We stand with them.
Deforestation rates in the Amazon are at an all time high and the Brazilian government is trying to force through a series of laws that would undermine indigenous rights, clear the way for mining and make the exploitation of the Amazon and other biomes even easier.
There are around one million indigenous people in Brazil. They depend on their lands for their survival, and the protection of these territories – some of the most biodiverse on Earth – is also key to the fight against climate change.
This current attempt to destroy their lands is a central pillar in the Bolsonaro government's genocidal attack that could wipe out entire uncontacted tribes and destroy the lands and lives of indigenous peoples nationwide.
#StopBrazilsGenocide