25 March 2022, 08.00 GMT
144 Elliot St, Glasgow G3 8EX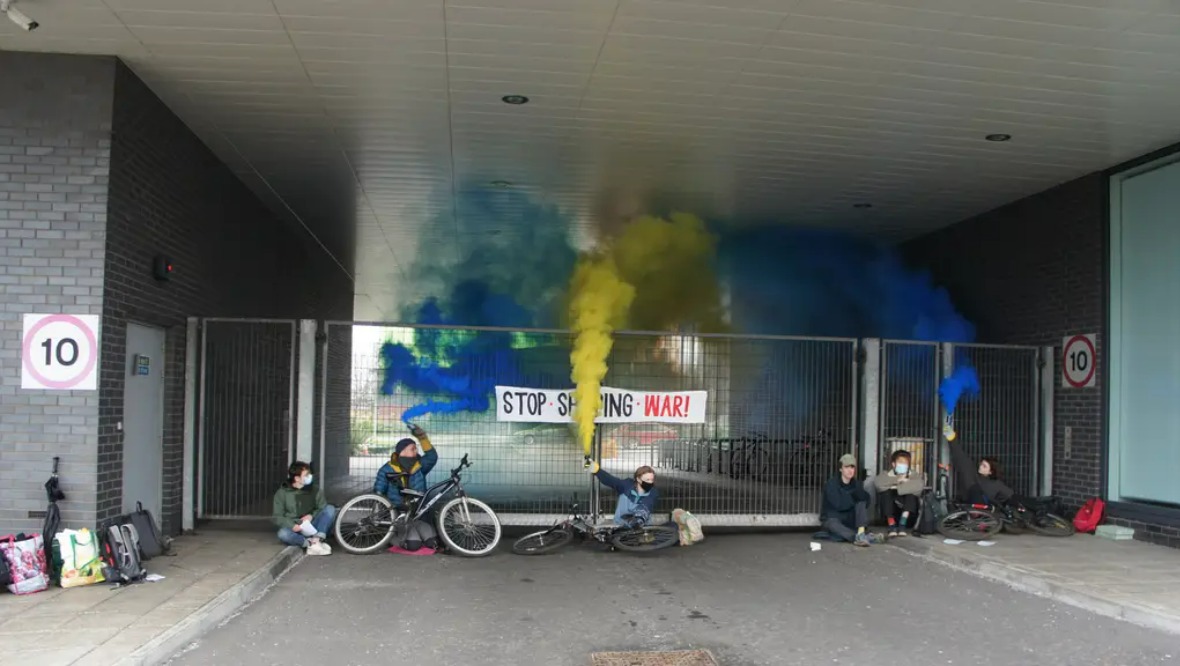 Climate activists have blockaded the Glasgow offices of Russia-linked shipping company Seapeak, demanding an end to gas shipping that is fuelling the invasion of Ukraine.
The campaigners are disrupting Seapeak's Glasgow HQ operations in solidarity with the people of Ukraine. Four activists have locked themselves to four bikes with another three activists sitting and blocking the office. One activist is also locked to a gas canister. Other activists are displaying banners reading "Stop Shipping War" and "Make Renewables Not War". Blue and yellow smoke flares, representing the colours of the Ukrainian flag, have also been set-off.
Seapeak is a £4.7bn fossil fuel shipping enterprise, with their Glasgow offices coordinating giant gas tanker ships all across the world, including in the Russian Arctic.
Russia's mass reserves of fossil fuels, including gas, have been described as the "heart of Putin's war machine" [1] by Ukrainian President Volodymyr Zelenskyy, with Putin's regime making more than $500m a day from fossil fuels as of October last year [2].
The UK has banned any Russian affiliated ships from entering their shores [3] – leading to Seapeak-owned ship, the Eduard Toll, being denied access to Belfast [4]. Seapeak are still coordinating gas tankers around the world from Glasgow [5], helping support what has been termed a "fossil fuel war" [6].
The blockade is responding to an open letter from Extinction Rebellion Ukraine, [7] which called Russian coal, oil and gas an "existential threat both for world peace and for the climate".
In their open letter to the world, Extinction Rebellion Ukraine appealed for a united response against fossil-fuelled terror. They said:
"If the Green Deal agenda was established earlier and implemented in the EU at a faster pace, if the EU would have announced carbon neutrality by 2030, the massive problems that Europe faces today could naturally have been avoided."
"We need to start global divestment from all fossil-based businesses that feed billions into escalation of two potentially planet-killing threats – Putin's military machine and escalation of the climate crisis."
One of those participating in the blockade, Scott Tully, 30, youth worker said:
"We are demonstrating the link between fossil fuel activity in Glasgow and Russia's war on Ukraine, though Seapeak also operate in other regions experiencing violence. Seapeak – and other war profiteering companies – are seen as an acceptable part of our economy by our governments. We need a root and branch shake up of our economy, towards renewable energy for peace and away from cynical war-profiteers like Seapeak."
Stuart Bretherton, 23, support worker said:
"Seapeak's shipping operations provide funding to Putin's war machine, a colonial occupation of West Papua and other regimes guilty of human rights abuses. We are here to show solidarity with the people of Ukraine by doing what we can to disrupt this money pipeline. In many of the escalating crises we are witnessing – from war, to climate breakdown, to cost of living rises – the fossil fuel industry sits at the centre, so its clear we need a just transition to renewable energy for the sake of peace, democracy and the planet."
Notes For Editors
– Images will be appearing from 8am onwards and will be added throughout the day. Images can be found on this drive: https://drive.google.com/drive/folders/1h12AazDG0QAE30pgFAE5YHwcZJM5FPBk
– For questions and comment, please contact Scott Tully before 4pm on 0141 730 0817 or Alice Parks after 4pm on 0141 730 0925
– You can also contact glasgowcallsoutpolluters@gmail.com
Citations
[1] "Thankful for US and @POTUS personal leadership in striking in the heart of Putin's war machine..". https://twitter.com/ZelenskyyUa/status/1501269086680006657
[2] Factbox: Russia's oil and gas revenue windfall
https://www.reuters.com/markets/europe/russias-oil-gas-revenue-windfall-2022-01-21/
[3] UK becomes first country to ban Russian ships from accessing ports https://bmmagazine.co.uk/news/uk-becomes-first-country-to-ban-russian-ships-from-accessing-ports/?amp
[4] Ukraine conflict: Russian-linked ship in Belfast port limbo https://www.bbc.co.uk/news/uk-northern-ireland-60571919
[5] LNG Tanker Eduard Toll is currently located near Skagerrak in the Baltic Sea: https://www.marinetraffic.com/en/ais/details/ships/shipid:5197749/mmsi:311000548/imo:9750696/vessel:EDUARD_TOLL Other LNG tankers being coordinated out of Glasgow, or by Teekay Shipping, are currently travelling between Russia and Montoir Port in France.
[6] 'This is a fossil fuel war': Ukraine's top climate scientist speaks out https://www.theguardian.com/environment/2022/mar/09/ukraine-climate-scientist-russia-invasion-fossil-fuels
[7] XR Ukraine statement: Appeal for united response against fossil-fuelled terror https://rebellion.global/zh/blog/2022/03/10/XR-Ukraine-Statement/
About Seapeak
Seapeak's Glasgow base, just two minutes walk from the site of the COP26 negotiations last November, coordinates global shipping of Liquified Natural Gas – which despite its branding as a 'clean' fossil fuel, has facilitated a global rise in emissions.
The company were formally known as Teekay LNG and were owned by the multinational shipping conglomerate Teekay Shipping. Last October, Teekay LNG were acquired by investment firm Stonepeak in a $6.2bn (£4.7bn) deal and have since rebranded Teekay LNG to Seapeak.
The Glasgow offices coordinate the activity to numerous locations linked to human rights abuses, including Qatar, West Papua and Russia – with their website (taken from their time as Teekay LNG) proudly boasting of developing an ice-breaking ship in the Russian Arctic.
Who took this action?
This action is a collaboration between different climate activists groups.