Via the Morning Star, a report of XR Medics taking targeted direct action in response to the heatwave.
Also see this article from the same source: morningstaronline.co.uk/article/b/anger-mounts-against-inaction-climate-change-and-heatwave-emergency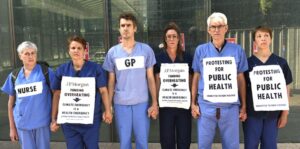 Doctors for Extinction Rebellion break glass at JP Morgan's Canary Wharf offices in 'emergency' heatwave climate protest
ENVIRONMENTAL campaigners and trade unions hit out at the failure to protect the public from the heatwave today, as temperatures are expected to continue to soar today.
Activists from Doctors for Extinction Rebellion (XR) cracked eight panels of glass at financial services giant and investment bank JP Morgan's offices in Canary Wharf yesterday, in response to the first level-four national emergency heat alert.
Temperatures are predicted to reach 40°C tomorrow and Tuesday.
JP Morgan was targeted by Doctors for XR due to its funding of fossil fuels, having poured $394.2 billion (£332bn) into the sector since the Paris Climate Agreement in 2016.
Protesters included two GPs, a child and adolescent mental health specialist, a gynaecologist, a consultant psychiatrist and a dementia nurse.
The medics placed stickers on the windows reading "in case of medical climate emergency break glass" before carefully cracking the panes of glass near the entrance to the building.
All six health professionals were arrested by police following the action.
Dr Patrick Hart, who took part in the action, said: "Fossil fuels are destroying our future, but that can't happen without financial backing.
"The people in this building know that funding the fossil fuel industry is funding the destruction of our future.
"When a patient gets sick, the first thing you do is stop the harm. There is no point in administering an antidote to a patient while someone is still pumping poison into their body."
Dr Hart said that the choices being made at JP Morgan were creating life-threatening conditions for everyone, "conditions that I cannot treat."