From GRAIN, a small international non-profit organisation that works to support small farmers and social movements in their struggles for community-controlled and biodiversity-based food systems.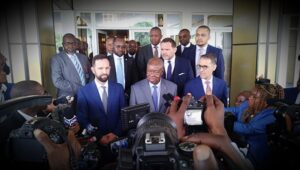 Both TerraVerde and Green 2000 have a history of operating in countries that are important buyers of arms from Israel. They got their start in Angola in the early 2000s, after the civil war had ended. The two companies were hired by Israeli arms merchants who had supplied weapons to the winning side. With the war over, the Israelis shifted into other areas of business, orchestrating multi-million dollar agricultural projects in war-torn parts of Angola, which, like in Azerbaijan, were loosely based on Israel's "village farms".
For over a decade, GRAIN has been monitoring the activities of Israeli agribusiness companies overseas. We have grown increasingly concerned by the role these companies are playing in expanding industrial agriculture, particularly in Africa, and how their activities appear to be connected to other political agendas. Despite their growing international presence and the attention placed on Israel's digital agriculture sector, most of these companies remain relatively unknown, even in the countries where they operate. In this report, we hope to deepen the understanding of who these companies are and what impacts they may be having in the places where they are active.
The Israeli military is also an important source of personnel and technologies for Israel's agribusiness companies. It would be hard to find a single Israeli company among the hundreds of agri-tech start-ups that exist today that does not have some linkage with the Israeli military or secret service.
This connection between Israeli agribusiness and its military extends well beyond the country's borders. In Angola, Azerbaijan and other countries strategic in geopolitical terms for Israel around the world, the sale of Israeli military equipment and security systems overlaps with the sale of its agricultural technologies.
The typical turnkey project starts with the arrangement of meetings between Israeli company representatives and high-level politicians from a country rich in natural resources. The Israeli company will propose different ambitious, multimillion dollar agricultural projects that will be equipped and built with the latest Israeli technologies, and the company typically offers to handle everything, from getting loans to construct the farms to managing the project.
Under the plan, Suriname is supposed to pay off the loan through the sales of eggs, milk and other foods produced on the farm. But Ramautarsing says the plan overestimates the market price for these products, and there are insufficient markets to absorb the quantity of production that is envisaged.
"The tax money of farmers is being used to finance their competition — the same farmers who have been feeding the people for years under difficult circumstances, in all weathers", he adds.
The other problem is that a large chunk of the initial loan from Credit Suisse appears to have disappeared. When questioned in Parliament, the Government of Suriname was unable to account for how close to two-thirds of the initial €67 million loan from Credit Suisse was allocated. LR Group did not respond to our questions regarding the financing of the project.
Jointly with big transnational agribusiness corporations, Israeli agribusiness companies are certainly part of the global agro-industrial model largely accountable for the climate and food crisis. The particularity here, though, is that the support received from the Israeli state and private operators enable those companies to operate in countries where big transnational agribusiness companies are hardly present.
Rooted in apartheid, big Israeli agribusiness companies, as well as Israel's new generation of digital agriculture start-ups, not only push this model in Palestine, but increasingly to other parts of the world.
Few people have likely heard of LR Group, Mitrelli, Afimilk or Green 2000. Yet they are key actors in Israel's foreign agribusiness dealings. They are deeply embedded in Tel Aviv's strategy of opening markets for Israeli agribusiness companies and forging connections with political elites in countries that are strategic to Israel's security agenda. These companies are seen to play an important role in shielding Israel from international pressure over its criminal dispossession of the Palestinian people and in spreading the expansion of industrial agriculture globally.
It is therefore critical to monitor and expose the activities of Israeli agribusiness abroad, not only to protect the interests of the people of those countries where they operate but also to build solidarity with the struggle of Palestinians against Israeli apartheid, settler-colonialism and occupation. In both cases, Israeli agribusiness is a threat to the fight for food sovereignty that peasant organisations are leading in Palestine and around the world.
Companies*

Examples of operations in the Global South

Operations in the Palestinian and Syrian Occupied Territories

Afimilk

Owned by Kibbutz Afikim – Agricultural Cooperative Society Ltd. (Israel, 45%) and Fortissimo Capital Management Ltd. (Israel, 55%).

Large-scale dairy farms in Vietnam, Cambodia, PNG, China.

Reported to build and supply factories in settlements in the West Bank.

[63]

CBC Group (Coca-Cola Israel)

Dairy

Owned by Wertheim family (Israel)

[64]

Took over South African dairy giant Clover in 2019. Severe labour conflicts reported.

Controls a regional distribution centre in the Atarot industrial settlement in East Jerusalem.

[65]

 One of its subsidiaries, Tabot Winery is installed in the Syrian Golan.

ADAMA

Agrochemicals

Owned by Syngenta Group (China, 78.5%)

[66]

Sells herbicides, fungicides and insecticides in Latin America, Asia Pacific and the Middle East and Africa .

[67]

Herbicides and pesticides manufactured by the company have been used in agricultural experiments in the West Bank and the Syrian Golan. Partnership with a subsidiary of Urban Aeronautics military technology for aerial spraying.

[68]

Haifa Chemicals

Fertilisers and agrochemicals

Owned by: Trans Resource Inc. and TG Capital Corp. (USA)

Sells fertilisers in Mexico, Colombia, Ecuador, Brazil, South Africa, China, Thailand.

[69]

Provides fertilisers and services to settlements in the West Bank and the Syrian Golan.

[70]

ICL

Fertilisers

Owned by Israel Corporation (Israel, 45.6%)

[71]

Has fertiliser and specialty minerals plants in China, with subsidiaries in Argentina, Brazil, India, Kenya, Malaysia, Mexico, South Korea, Thailand, Uruguay.

Reported to supply several agricultural settlements in the West Bank, and to participate in agricultural experiments in the settlements in the Syrian Golan and the Jordan Valley.

[72]

Netafim

Irrigation

Owned by Orbia Advance Corporation (Mexico, 80%), Kibbutz Hatzerim (Israel, 20%).

Provides drip irrigation systems for monoculture and large-scale greenhouses in Latin America, Africa and Asia.

Supplies the settlements in the West Bank and the Syrian Golan with micro-irrigation products and services and has also participated in agricultural experiments in those Occupied Territories.

Partnership to adapt Israeli military technology used in attacks on Gaza and the Syrian Golan to civilian agricultural use.

[73]

Irrigation

Owned by Ministry of Finance of Singapore, via Temasek Holdings (China, 85%).

Supplies with irrigation equipment agricultural settlements in the West Bank and the Syrian Golan.

[75]

Hazera

Seeds

Owned by Groupe Limagrain Holding SA (France)

Sells hybrid seeds in Latin America, Africa and Asia through subsidiaries in China, Mexico, South Africa.

Israeli control over borders is part of a process to push Palestinian farmers to use commercial seeds sold by the company, associated to an agrochemical package. This model is not only unsustainable but contributes to the contamination of soil and water and to biodiversity loss.

[76]

Tahal

Water infrastructures

[77]

Owned by Kardan N.V. (The Netherlands – Israel)

Large-scale irrigation projects in Angola, Botswana, Ethiopia, Kazakhstan, Zambia.

Contracted on several occasions in recent years to build water infrastructure in the Palestinian Occupied Territories.

[78]
Data sources: Capital IQ, Preqin, Panjiva and the corporations' websites [Last visit: 1 July 2022].