A long article by Richard Hatcher.
Why we need a public campaign now for urgent Government action to fund home retrofit in the West Midlands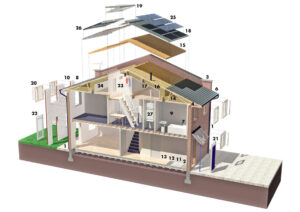 Retrofitting houses to cut energy use, fuel costs and pollution is perhaps the issue in the climate emergency that most impacts directly on people's lives in the West Midlands right now.
The IPPR thinktank (Institute for Public Policy Research) published a 24 page report in January 2023: GreenGo: Unlocking an energy efficiency and clean heat revolution. It is a damning critique of Government failure: "for the last decade the government has failed to grasp the opportunity for retrofitting through a combination of cuts and multiple false-starts with initiatives like the green deal and green homes grant." [1]
We are seeing the results today in the West Midlands' 7 local authorities and in the WMCA. The recent reports from the WMCA and Birmingham City Council show that their plans for retrofit are being held back almost to a standstill by lack of funding by Government, in the form both of grants to local authorities and householders and of financial incentives to encourage investment in retrofit by the private sector, which at present is simply not forthcoming.
In 2021 the WMCA published its 'Five Year Plan 2021-2026' for retrofit. It estimates the investment required to fund the retrofit of nearly 300,000 homes in the West Midlands by 2026 as follows:
• Domestic energy efficiency retrofit – £1,246m
• Domestic heating retrofit – £2,275m
• Domestic solar PV – £332m
The total required is £3,853million.
The WMCA's Environment and Energy Board announced in March last year that the total funding gained so far was £26.6million.
In October last year Mayor Andy Street and Cllr Brigid Jones, WMCA Portfolio Lead for Levelling Up and Deputy Leader of Birmingham City Council, launched the Combined Authority's 'Levelling Up Growth Prospectus' at a fringe event at the Conservative Party Conference in Birmingham. [2] Here are quotes from its Foreword by Cllr Brigid Jones:
"…there are an estimated 235,512 fuel poor homes in the West Midlands — the highest rate of fuel poverty in any English region."
"to hit our targets within the West Midlands Net Zero Five Year Plan, we'll need to retrofit 292,000 homes by 2026 to stay on course for net zero and over one million retrofitted homes by 2041."
"Retrofitting the region's 1.2 million homes to net zero is estimated to require £24.4bn"
292,000 is about a quarter of 1.2 million, so it requires about £6.1bn funding by 2026.
But what is the WMCA actually doing so far? Cllr Jones says "We are currently running two government-funded retrofit projects targeting nearly 1,000 low-income households." These are actually 300 homes, not 1000: 150 in Elmdon, Solihull and 150 in Foleshill, Coventry. These are the first two areas in the West Midlands to be chosen to receive funding – totalling £2.86m – allocated to the WMCA from the Government's Sustainable Warmth Competition.
The WMCA is also to invest £1.65m capital into Phase 1 of a scheme for low energy retrofits in at least 50 homes in Brockmoor, Dudley, as the first step in creating a Net Zero Neighbourhood. Eventually up to 300 homes in the area, a mix of both privately owned and social housing properties, will benefit from the scheme.
Retrofit of privately-owned homes
In addition to retrofitting social housing there is the need to retrofit privately-owned homes. These represent the vast majority of homes in the WMCA area – 87%, as against 13% social housing – and therefore account for the vast majority of carbon emissions in the housing sector.
The Government's Boiler Upgrade Scheme is offering a grant of up to £5,000 to replace old gas heating with an air source heat pump in homes in England and Wales. But this grant is aimed at home owners with 'disposable income'. According to the Energy Saving Trust it can cost between £7,000 and £13,000 to install an air-to-water heat pump in your home. There are grants available of £5000-£6000, though they are aimed at people with 'disposable income' and fall short of what is needed – many people may not be able to make up the difference themselves, resulting in a further increase in social inequality. Also that grant doesn't cover all the other energy efficiency measures that are needed, such as solar panels and wall insulation. There are large areas of our towns and cities where fuel poverty is widespread among residents in privately-owned property. And another issue is that private landlords may not want to pay up from their profits, and we may need to be campaigning for legislation to compel them.
What the WMCA is saying
These plans are a drop in the ocean compared to the targets of the Five Year Plan, but Cllr Jones and Mayor Andy Street have no answer except to beg for Government funding. "The [Levelling Up Growth] Prospectus calls for greater powers and more flexibility over funding and investment". Andy Street says "we need the Government to give us the tools to go further and faster." Brigid Jones says "The Government must lay solid foundations for real recovery with sustainable and fair funding for local government." This is what they are asking for:
"Our Proposal
• Allocate the West Midlands fair share of the remaining to the region from the remaining HUG and SHDF [grant funding] streams (£1.6bn) for on-the-ground retrofit delivery;
• Increase flexibility within the eligibility criteria of these funds and ring-fence proportions for innovation, engagement, and digitisation;
• Provide funding (over 3 years) to build capacity in LAs – retrofit officers, and housing enforcement officers, including support for 3 Cities Initiative;
• Strengthen WMCA's role with ECO suppliers including greater control over the region's fair share of ECO funding (approximately £298.3m over four years);
• Commit to a longer-term collaboration between BEIS [Department for Business, Energy and Industrial Strategy] and WMCA, including development of long-term block-funding for retrofit to the region;
• Invest funding in a range of retrofit innovation programmes;
• Offer funding in loan guarantees to support the creation of a £15m loan fund to be made available to businesses to develop retrofit services.
What We Hope to Achieve
Based on an assessment of our own housing stock retrofit needs, and an in-depth analysis of the economic benefits of retrofit, we expect our retrofit programmes can deliver:
• Directly funded retrofits in 140,000 homes over a 10-year period;
• Stimulate an additional £1bn investment in retrofit from public and private sector finance;
• Support market activity to partial or whole house retrofit of 240,000 additional homes;"
These plans represent the unacknowledged abandonment of the WMCA's previously trumpeted targets of its Five Year Plan as the result of lack of funding. The timescale has extended from 5 to 10 years, and there is a greater reliance on "developing investable propositions to stimulate the market" in private investment, rather than on Government funding.
This was made clear in the WMCA's presentation of its "Net Zero Strategy – Themes" at COP26. Its first theme was a "Strong emphasis on private investment and 'green finance' – need for investable propositions". And the problem is that this investment is not forthcoming, as the WMCA's Environment and Energy Committee report Environment Behaviour Change Update on 9 March 2022 explains: "Energy infrastructure spending is not aligned with local economic priorities which is proving a significant barrier to business investment." In other words, business can make more profit by investing elsewhere rather than in the green economy.
The UK Green Building Council (UKGBC), an industry network, published in October 2022 a 26 page report, the 'UKGBC Response to Net Zero Review: Call for evidence', which is very critical of Government retrofit policy. "Current rates of renovation will need to increase by around 7 times if we are to meet the Government's target of upgrading as many homes to EPC Band C as possible by 2035." The report concludes:
"It is critical that Government therefore introduce and support a large-scale, transformative domestic retrofit strategy and programme that is fully coordinated with local authorities, industry, consumers and other relevant stakeholders, and does not disadvantage lower-income households." [3]
They are right. Retrofit requires far more money, for two purposes. One is to greatly increase the number of grants available to householders and local government (and greatly simplify the procedure for householders to apply). The other is to greatly increase the funding to enable local government to create market opportunities which would attract large-scale private investment into large-scale neighbourhood retrofit projects.
Andy Street and Brigid Jones are pinning their hopes on the Government's Levelling Up Strategy. The WMCA's "Levelling Up Growth Prospectus aims to fire up the regional economy by driving forward a new, green industrial revolution…". "Blueprint sets out what region needs from Government to level up the West Midlands". "The Prospectus sets out the tools needed to accelerate that levelling up still further to forge a West Midlands fit for the future, a region that is at the vanguard of the fight against climate change, tackles health and wealth inequalities and unlocks greater opportunities for all parts of society."
The reality is that without massive Government funding the WMCA's retrofit plans are doomed to fail.
Local authorities and retrofit
So far we have focused on the WMCA but local authorities also have their own plans for retrofit. We don't have an analysis of the policies and plans of each of the 7 local Councils in the WMCA area of the West Midlands. The only detailed one I have is Birmingham. It would be very useful if we could put together and share analyses of the other 6 local authorities.
Retrofitting Birmingham's 60,00 social homes
The most recent and detailed report is by Birmingham City Council's 'Route to Net Zero Annual Report', which was presented at the Council meeting on 7 February 2023 by Cllr Majid Mahmood, the Cabinet Member for Environment. BCC owns 60,000 properties. "It is the largest local authority housing stockholder in the country." The theme that runs throughout the report is the very small amount of funding available for retrofit and the large amount needed, both from government and from private investment.
The Birmingham Council Cabinet meeting on 13 December 2022 approved its 48 page 'Housing Strategy 2022-2027'. 'Priority 3' includes a commitment to "Secure investment to fully retrofit 30% of BCC stock over the next five years." (p6). "BCC stock" is about 60,000 social homes. 30% of these amounts to about 18,000 homes. To retrofit these over the next five years would require retrofitting on average 3,600 homes a year. That's about 10 homes every day, starting now. But they haven't even started yet. And how much will it cost? According to the Annual Report:
"The cost of retrofitting the entirety of BCC's 60,000 homes has been estimated to be as much as £3.6bn over 30 years. Sourcing the funds and planning to address this is a significant challenge for BCC, which is being addressed currently via the development of Asset Management Strategy, Housing Revenue Account Business Plan and taking advantage of Government funding initiatives." "Next steps: Identify additional funding…". (p13)
The report itself is full of references to lack of funding for the Council's plans. Here are some examples about retrofitting houses to cut fuel costs and pollution:
 "Social Housing Decarbonisation Fund (SHDF) – bid submitted to BEIS for a £24.8m grant to carry out decarbonisation work on 2,076 homes has been submitted." [There are 60,000 social homes in Birmingham, so at this rate it would take nearly 30 years.]
 "In talks with 3 Cities about joint approach to attract greater funding"
 "Grant funding has tight deadlines for delivery and specific criteria which can make effective delivery difficult."
 "Due to success of engagement, likelihood that the LADs [Local Authority Delivery of grants] campaign will result in more properties than funds available."
However, social housing is only a very small proportion of the homes in Birmingham. "The road to zero is a key commitment for the council and housing must play a part in making sure the council's aspirations are met; the aspiration for the city to hit net zero carbon by 2030 has accelerated the need to retrofit homes across all tenures." (p9).
In 2017 (the most recent data) there were about 435,000 homes in Birmingham. The 60,000 social housing represents about 14%. That leaves 86% in private ownership – about 375,000. The large majority of these will need retrofitting, especially the large number which are older properties. If the aim is still to complete this in the 12 years till 2030, and if 300,000 need retrofit, that's an average of 500 a week for the next 12 years, and the programme has not yet started. The problem is of course funding: "The council's existing budgets are already committed to delivering frontline services. There is limited funding available, hence a creative financial solution is required that ensures costs and benefits are spread equitably." (p35)
"Actions and achievements this year: Engagement with energy suppliers to identify priority areas and options to maximise the allocation of funding to Birmingham households over a 4- year period from 2022-2026. Priority is to build continuity and opportunity for long term engagement with communities."(p14).
Sources of Grant Funding
(I only have information about Birmingham.) At Birmingham Council's Sustainability & Transport Overview and Scrutiny Committee on 19 October 2022 Cllr Majid Mahmood, the Cabinet Member for Environment, explained:
"City housing is currently supporting the delivery of the Energy Companies Obligation 4 (ECO) and LADS. ECO is a government energy efficiency scheme for Great Britain, administered by Ofgem, with the objective of improving the least energy efficient housing stock occupied by low income and vulnerable households and LADs is the Local Authority."
LADS stands for Local Authority Delivery Scheme grants.
Energy Companies Obligation (ECO4)
This is what the Government says:
In order to benefit from ECO your property will need to require energy efficiency upgrades. The specific measures that would benefit your home would be determined by a retrofit assessment. You must own your own home or have permission from your landlord, including if the property is owned by a social housing provider or management company. You could be eligible for ECO if you receive at least one of the following benefits.
Eligibility for ECO doesn't necessarily mean that an energy supplier or installer will decide to install energy efficiency measures in your home.
The Which website (19 January 2023) says
"The Energy Company Obligation (ECO) is a government scheme designed to help cut carbon emissions and reduce fuel poverty. The biggest energy suppliers have targets to help households with energy efficiency measures, and the ECO is part of those aims. The types of measures available through ECO can include loft insulation, cavity wall insulation, solid wall insulation and boiler replacement or repair. Plus the government is launching an expanded version of the ECO, called the ECO+, in spring 2023. ECO+ will bring 100,000s of additional grants to fund insulation for homes that have low energy efficiency ratings and are in lower council tax bands. Even if you are eligible, the energy supplier doesn't have to install an energy efficient measure in your home." [4]
This last sentence needs emphasising: "Even if you are eligible, the energy supplier doesn't have to install an energy efficient measure in your home." And there is a second point that needs emphasising: as the data below from Which demonstrates, the retrofit measures installed tend to be minimal ones.
"Energy suppliers offer different ECO measures. They can choose what they focus on. Some of the most common are: loft insulation, cavity wall insulation, solid wall insulation, a new boiler.
Proportions of each measure installed as part of the ECO3 scheme from December 2018 to March 2022:
• Gas boiler replacement – 22% of ECO measures installed
• Other heating* – 36% of ECO measures installed
• Cavity wall insulation – 16% of ECO measures installed
• Floor insulation – 14% of ECO measures installed
• Loft insulation – 9% of ECO measures installed
• Solid wall insulation – 3% of ECO measures installed
*Other heating includes heating controls."
ECO3 grants have come to an end. What grants will be available in 2023? Phil Beardmore, a Birmingham-based expert, says on his website 'Energy Confidence' that Eco Plus grants will be available from April 2023. Homes with Energy Performance Ratings of D or below, and homes with Council Tax bands of A-D, will qualify. Household income or savings will not be taken into account. So far it looks as if the following measures will qualify: loft insulation, cavity wall insulation, smart heating controls, room-in-roof insulation, and probably under-floor insulation, internal wall insulation, external wall insulation, and ventilation. Unlikely to qualify are windows and doors, unless replacing single-glazed, and gas boilers. Heat pumps are partly funded by grants elsewhere (the boiler upgrade scheme) and so they won't qualify for Eco Plus. Phil Beardmore thinks that the maximum grant will be £15,000 per home, but he doesn't expect that everyone will get the full amount, and a householder contribution will be required.
LADS 3 (Local Authority Delivery Scheme)
The BCC Annual Report says "The Local Authority Delivery Scheme 2, LADS2 (part of the BEIS Sustainable Warmth Competition) was completed in 2022, with 102 properties benefiting from a package of retrofit measures; 15% owner occupier and 85% social housing (Council stock). The LADS 3 programme is now in delivery. The target is to support 700 properties by March 2023 and the programme is well on track to deliver due to adoption of a community led engagement approach in the Balsall Heath, Acocks Green and Tyseley areas." [More on this below]
"A targeted, city-wide campaign is underway to help maximise use of these funds. Due to success of engagement, likelihood that the LADS campaign will result in more properties than funds available."
Social Housing Decarbonisation Fund (SHDF)
Housing associations and the Local Government Association (LGA) have called for the Social Housing Decarbonisation Fund (SHDF) to be more flexible to ensure applicants can deliver on their projects.
"Social Housing Decarbonisation Fund (SHDF) 29 Nov 2022 — Competition launch, 29 September 2022; Application submission details published, October 2022. Deadline: completed application forms and required attachments must be submitted by 23.59, 18 November 2022. (From 'Inside Housing' 24 August 2022). [5]
The government's Social Housing Decarbonisation Fund is intended to provide £3.8bn of funding in England over a 10-year period to help landlords with the costs of decarbonising their affordable housing stock.
While £240m of the fund has already been released via an earlier SHDF demonstrator and Wave 1 of the funding, the government is now scaling up and has committed £800m for Wave 2. The intention is to release as much of this as possible in the first tranche (Wave 2.1) and the Department for Business, Energy and Industrial Strategy (BEIS) has now published its competition guidance for Wave 2.1.
While the SHDF was previously only directly available to local authorities, now registered providers are also eligible to apply. In addition, non-registered providers that are registered charities or ALMOs can apply as part of a consortium that is led by a local or combined authority or a housing association."
"While the Social Housing Decarbonisation Fund can only fund a portion of the sector's decarbonisation costs, landlords should seize this opportunity to kickstart their retrofit programmes" says Inside Housing.
Finally, the Home Upgrade Grant (HUG) is for homes that are not connected to the main gas supply.
The 3 Cities programme
This is a collaboration between the 3 Cities – Birmingham, Coventry and Wolverhampton. It is the largest programme being developed by local Councils in the WMCA area, and is independent from the WMCA's plans. Here are some quotes from its 2022 publication 'Retrofit – The 3 Cities':
"The 3 Cities Retrofit is an initiative to develop an integrated retrofit programme across the cities and one which reflects the diversity of needs and housing portfolios of each city."
"c.700,000 homes in the cities
81,887 3 Cities council owned housing stock
83,259 3 Cities Registered Providers' owned stock
535,455 Privately owned housing stock across the cities"
"The scale – potentially some 700,000 homes and of the 165,000 social homes across the cities – combined with regional and city expertise and the collaborative approach of our pooled assets, means the 3 Cities are in an advantageous position to accelerate and drive forward the decarbonisation of homes." "The first focus for the 3 Cities is accelerating retrofit activities across social homes."
"The 3 Cities submitted three individual bids to BEIS' SHDF Wave 2.1, towards a capital programme totalling over £190m and representing a significant proportion of the total funding available. These included joint 3 Cities commitments across key enablers including skills and training development, sharing of best practice and lessons learnt, procurement and supply chain development. These bids were also aligned with the West Midlands Combined Authority's consortium bid. We expect to hear back in quarter 1 2023."
3 Cities "is developing an integrated programme … including a 300-home Whole House Retrofit programme in East Birmingham and a £24.8 million application to the Social Housing Decarbonisation Fund". The East Birmingham programme is in Bromford, part of Hodge Hill, which is the constituency with the highest fuel poverty in England.
"The £28.2m 3 Cities Whole House Retrofit (WHR) Pilot was approved by Cabinet in July 2022. The pilot aims to test two different approaches to improve thermal efficiency, reduce carbon emissions and improve tenants' energy demand usage and with a view to scaling up the delivery of whole house retrofit across the Council's wider HRA stock. The scope of the pilot is to deliver WHR to 300 units of BCC social housing stock in Bromford, East Birmingham."
This is part of the plan for an East Birmingham Low Carbon Heating Innovation Zone in Bromford. "A proposal has been created for a "net zero neighbourhood" at Castle Vale where net energy needs are reduced through demand reduction measures such that remaining energy requirement for vehicles, thermal, and electrical energy within the community is met by renewable energy generation, while also investing in other aspects to create community buy-in and a more sustainable place to live. Funding is currently being sought to implement the proposal."
"Wider funding bids: In addition to Net Zero Neighbourhood Demonstrator Programme investment, the Council and its partners are targeting funding through: Innovate UK's Pioneer Places; Strategic Innovation Fund, Social Housing Decarbonisation Fund; Sustainable Warmth competition; Green Homes Grant LAD schemes; ECO4."
"Challenges/Barriers: The supply chains need support to increase their capacity to deliver retrofit at scale but using a place based approach does provide economies of scale. Grant funding has tight deadlines for delivery and specific criteria which can make effective delivery difficult."
The 3 Cities bid to BEIS for a £24.8m Social Housing Decarbonisation Fund (SHDF) grant is to carry out decarbonisation work on 2,076 homes. This is out of 81,887 3 Cities council owned housing stock, so if this is the grant available each year retrofitting all these homes will take about 40 years – till around 2062.
The Birmingham Council Annual Report 2023 says "Next steps: In talks with 3 Cities about joint approach to attract greater funding and deliver more outcomes including longer term local skills. Aim to agree the approach early in the new year and commence delivery soon after."
As well as making applications for Government grants the 3 Cities programme is also appealing to the private sector to make large-scale investment in retrofit. "Through our collaborative and integrated approach, the 3 Cities offers a single entry point for partners and investors to co-shape this at-scale initiative." "Have held discussions with private finance to explore the options to address the UK's funding gap for retrofit. We are now progressing an investible retrofit funding model for social housing ahead of further engagement with potential partners." There is a detailed presentation in the 34 page '3 Cities Prospectus', headed "Retrofit presents a market making opportunity. The time to invest is now. WE INVITE YOU TO BE PART OF THIS SUCCESS". [6]
The 3 Cities programme was launched in the summer of 2022. By February 2023 there have been no public announcements of private sector investment proposals, as far as I know.
HUG 1
In Birmingham "The Home Upgrade Grant (HUG) 1 off-gas programme is also running in parallel with a target of 114 properties."
Behaviour Change & Engagement
The WMCA and BCC both stress the importance of what the CA calls 'behaviour management', including getting communities to be more aware of retrofit and how to apply for grants. The CA's Environment and Energy Board on 7 December 2022 reported:
"2.20 The behaviour change work is:
• Delivering specific campaigns across programmes. Examples include: the Right Tree, Right Place campaign with community outreach events; a campaign on 'Is Your Home Ready for a Heat Pump?' to ensure homeowners are equipped with knowledge when thinking about retrofit; and, initiating work on air quality behaviour change campaigns.
• A Net Zero Citizens' Panel will also be up and running at the start of 2023. The WMCA will be working with Involve to deliver this. Involve has previously run the national Climate Change Citizens' Assembly for the Climate Change Committee.
• The Greener Together Forum will also continue to meet in different locations across the West Midlands. The Forum is open to anyone to attend and the agenda setting will now be supported through a new Advisory Board that will ensure an inclusive and representative input into the Forum.
• The Carbon Literacy Commonwealth Games legacy training has launched and is freely available for 2,500 members of the public. Learners complete three e-learning modules and one facilitated session online to achieve the Carbon Literacy certificate and accreditation. Training is available until at least 2024."
Birmingham Council Community Assembly Review
These are quotes from Birmingham City Council's 'Route to Net Zero Annual Report':
"The Community Assembly was born out of the Route to Net Zero Taskforce and met 3 times from June 2021 to February 2022. Sessions and talks were delivered on the clean air zone, transport plans, and the natural environment. Questions have been raised about how to improve the assembly and make it more useful to attendees and the Council, therefore the team are reviewing options." (p43)
"Birmingham's net zero ambition can only be realised through collective change by the council and by the city as a whole. Moreover, it is evident that much of this systemic change will need to come from behaviour change of our citizens, our staff, and our businesses. … An exciting programme of engagement is being developed, recognising the need to work hand in hand with businesses and citizens." (p4)
"The LADS 3 programme is now in delivery. The target is to support 700 properties by March 2023 and the programme is well on track to deliver due to adoption of a community led engagement approach in the Balsall Heath, Acocks Green and Tyseley areas. The council, working with Acivico as project managers, appointed local community groups MECC Trust and Acocks Greener to work with communities within Balsall Heath and Acocks Green. These local community organisations then engaged with the community through retrofit cafes, events, briefing sessions and street by street door knocking to promote the benefits of retrofit for residents and households. Councillor engagement and support at events has also helped to build trust. By working collaboratively with local community groups, we have been able to really engage residents, overcome language barriers – with 4 languages spoken across the target areas – and build trust leading to a far greater volume of applications than seen in many other areas of the West Midlands." (p16)
Some suggestions for citizen engagement and action
1. Only mass public pressure will force the Government to fund retrofit fully – and Labour should be building it
The retrofit plans of Councils in the West Midlands, and those of the WMCA itself, are failing, and will continue to fail, unless the Government changes its policy and funds them at scale and at speed. What will make them do that? Only mass public pressure. That is the priority for the climate campaign in the West Midlands, to build that campaign.
It should also be a priority for the Labour Party. But they are mostly silent, preferring to take the credit for the small gains that are under way than to draw attention to the huge failures of funding that are condemning their retrofit hopes to failure and poorer communities to fuel poverty. What they should be doing is speaking out, saying where the blame lies, and building a public campaign for Government retrofit funding in their communities, towns and cities across the West Midlands – which would be massively popular.
2. What could WMCC do to build such a campaign?
I'd suggest we need a common leaflet on one side, making the case above, that we can aim to take into every local authority area in the WM and as many local communities as possible. The other side could be tailored to the situation in each locality.
3. Charitable support and political campaigning
In many areas local charitable organisations are doing valuable work engaging with local communities to support those experiencing fuel poverty and to spread information about how to apply for retrofit grants. But on its own this does not tackle the cause of the home energy crisis, it only ameliorates some of the effects. The Government and its supporters are quite happy to see community activists trying to minimise the damage their policies cause – it lets them off the hook. Community support needs to be accompanied by naming the cause – the failure of Government funding – and building community demand and pressure for large-scale Government funding for retrofit.
4. Ways of building community awareness of retrofit, what it can do and how to get it
One way is to make use of local Ward Forums. In Birmingham they take place regularly with local councillors in each of its 69 Wards, open to all. I don't know if other West Midlands Councils have similar systems. They could provide another channel for spreading the retrofit message in their local areas. As a minimum leaflets could be distributed and it could be an item on the agenda. Even better, a councillor or officer with some retrofit expertise could contribute – or a video could be shown. Even if only a couple of dozen people attend they will spread the word afterwards in the community. (CANWM first proposed this to Birmingham Councillors two years ago but they have refused to act on it.)
Another way to increase community engagement is through local schools. Teaching about climate issues should obviously be part of the curriculum in every school, primary and secondary. And that could have another benefit: explaining the benefits of retrofit would feed back into the pupils' homes, alerting parents both to the advantages and to the availability of grant funding. The problem at present is that we have no overall picture in each local authority of what schools are doing about climate in the curriculum, and we know the limited powers of local authorities. But Councils could still send out a clear message to schools about the importance of climate issues, invite schools and teachers to share news of good practice, and publicise and celebrate it in the community. And leaflets could be handed out to parents at primary school gates, and retrofit explained.
5. Citizen and community participation in local government bodies
Finally, all local government structures addressing climate issues, including the WMCA's Greener Together Forum, its proposed Citizens Panel, and its Environment and Energy Board, and BCC's Climate Assembly and Sustainability and Transport Overview and Scrutiny Committee, need rethinking in order to enable much more meaningful participation by citizens and relevant organisations.
Richard Hatcher
11 February 2023
Richard.Hatcher@bcu.ac.uk
All comments welcome
References
1. https://www.ippr.org/files/2023-01/greengo-heat-revolution-jan23.pdf
2. https://www.wmca.org.uk/news/blueprint-sets-out-what-region-needs-from-government-to-level-up-the-west-midlands/
3. https://www.ukgbc.org/news/ukgbc-responds-to-the-governments-net-zero-review/
4. https://www.which.co.uk/reviews/home-grants/article/energy-company-obligation-eco-arbLy8A2GejX
5. https://www.insidehousing.co.uk/comment/comment/what-landlords-need-to-know-about-wave-2-of-the-social-housing-decarbonisation-fund-77502
6. https://the3cities.co.uk/retrofit