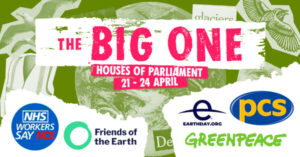 Red-Green Labour has registered as a supporter of The Big One- the Extinction Rebellion initiated protests in London, and around Parliament on the weekend of Friday 21st April through to Monday 24th April.
This is part of a shift in strategy, on the part of XR, away from disruptive protests towards mass mobilisation and the creation of a much broader coalition around climate change and environmental issues. We welcome this whilst at the same time recognising a continued need for strategic and targeted direct action.
The XR Press Release below gives more details and points to the range of forces pledged to support the initiative. 
Funding is also available to help comrades attend who might otherwise not be able. Please use this link.
Huge news, Greenpeace, PCS Union, Earth Day, NHS Workers Say No and Friends of the Earth are among over 30 organisations that have announced they will be attending The Big One.  Our politicians won't be able to ignore this groundbreaking coalition of organisations, uniting together and standing side by side with everyone in attendance. With over 2 million combined supporters – from across every part of the UK – such a diverse show of support means The Big One is going to be like nothing seen before. Our planet is at a moment of truly urgent crisis. Our response has to be bigger than ever – and that means everyone needs to step up. Will you be there to make sure this is the biggest people-powered climate protest ever seen in Britain?
So many movements uniting for an action over 4 days will be truly historic. Together, we can make sure The Big One is the most diverse, inclusive and impactful climate protest that Britain has ever seen.We couldn't have put it better than Greenpeace, who announced to their supporters over the weekend: "We believe that we will win as a movement. We are joining many other organisations, charities and concerned people in Parliament Square … to call on the government to act now for people and planet. The more people that come, the louder our message will be."See the full list of organisations attending here.
Even if you're planning on joining the event with a different group, or you can only come for a bit – we'd still love you to add your name to our form. A really important part of our strategy is to show just how many people are planning to come along; that way momentum will snowball. Will you sign up and make sure you're counted?Plus, by signing up, you can be confident you'll receive the most up to date info about the event – including travel, daily schedules and plans for speakers and activities.
We can't wait to see you there,chipping in to pay for someone else's travel who would otherwise be unable to attend? If travel costs are a barrier for you, find out how you can get support here!
Extinction Rebellion UK P.S. Could you help make this a more inclusive event by