Red-Green Labour welcomes the decision by Cuadrilla to end its operations at Preston New Road. We see this as a fantastic victory for the campaigners who fought long and hard against fracking in the North-West.
We believe shale gas should not form part of any future ecosocialist energy policy.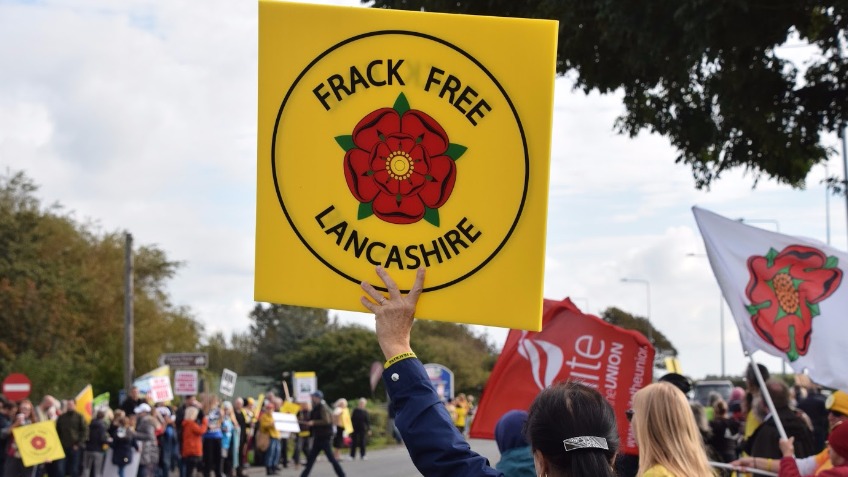 This article originally appeared on the Drill or Drop? website.
Fracking opponents have called for a countdown to restoration at Cuadrilla's shale gas site near Blackpool after the company gave up consents to key operations.
The Environment Agency (EA) announced this afternoon that Cuadrilla had surrendered part of its environmental permit for the Preston New Road site.
The surrender notice showed that the company had given up consent to:
Inject hydraulic fracturing fluid
Incinerate gases
Manage drilling waste
Claire Stephenson, of Frack Free Lancashire, said:
"It is a welcome early Christmas gift to residents, to learn that Cuadrilla are now beginning their much-anticipated leave of Preston New Road.

"We encourage Cuadrilla to issue communication on such matters to the Community Liaison Group so that information can be passed to residents and parish councils in a timely manner.

"We would also urge Cuadrilla to present a timescale for site restoration of Preston New Road, so that long-suffering residents where fracking was forced upon their community, are able to feel closure on a very stressful and imposing chapter of their lives.

"Fracking is an unpleasant and dirty relic that should now be confined to the past where it belongs. We are now looking forward to a cleaner, greener energy revolution."
Susan Holliday, chair of the Preston New Road Action Group, said:
"It is good to receive some positive news in this very difficult year. No more drilling, no more fracking and no more flaring this will be such a relief to those residents who live close to the Preston New Road Site.

"However, actions speak louder than words so I think that we will only believe that it is really true when the flare stacks are removed and the site is restored back to its former green field state."
Cuadrilla fracked for shale gas at Preston New Road in 2018 and 2019 – the UK's first high volume hydraulic fractures since 2011.
Both operations caused local earthquakes, including the UK's largest fracking-induced seismic activity, measuring 2.9ML, in August 2019.
After the imposition of an England-wide moratorium on fracking a year ago, Cuadrilla scaled back activity at Preston New Road. Last month, the company described itself as "largely non-operational".
Planning permission for drilling and fracking at the site has expired and earlier this month, Cuadrilla surrendered a permit allowing storage and handling of crude oil, gas condensate and mixtures of crude oil and water at Preston New Road.
In today's surrender document, the EA said it was satisfied that the company could give up the parts of a separate permit covering flaring of waste gas, management of drilling waste and injection of hydraulic fracturing fluid.
On fracking fluid, the EA said:
"As there will be no further injection of fluid, this activity is no longer required."
On incineration of waste gases, the EA said:
"This activity was taking place during the flow testing phase of the site operations. As this has now concluded, the flares are no longer needed on site and no gas flaring will take place."
On the management of extractive waste, the EA said:
"As the drilling of the boreholes was completed some time ago and no further drilling will take place, this part of the activity is no longer needed."
The storage of waste containing oil-based drilling muds was also not needed, the EA said. But it added that part of the permit would remain in force to manage any extractive waste generated when the boreholes were decommissioned.
A section of the permit controlling the discharge of surface water collected onsite would also remain.
The EA added:
"We are satisfied that the necessary measures have been taken to avoid a pollution risk resulting from the operation of the regulated facility.

"We are satisfied that the necessary measures have been taken to return the site of the regulated facility to a satisfactory state, having regard to the state of the site before the facility was put into operation."
DrillOrDrop asked Cuadrilla why it had surrendered part of its environmental permit now and what timeline there was for site decommissioning. We also asked whether the company still intended to apply to extend planning permission for drilling and fracking at Preston New Road.
Cuadrilla responded on 11 December 2020:
"Cuadrilla surrendered these licences more than 6 months ago and the EA are only registering that now. As there is a moratorium on fracking we are not incurring the cost of licences we can't currently use.  We will apply for the relevant licences at this or other sites as and when the moratorium is lifted."