Reposted from Labour Hub this article by the South East Asia Solidarity Group explains the significance and importance of the ongoing protests by farmers in India and why ecosocialists in the West should stand in solidarity.
India's Farmers Protests: Why they are important and why the British left must show solidarity
In India, in the middle of the pandemic, a unique struggle is taking place. Hundreds of thousands of farmers from across the country are occupying the borders of Delhi in a protest against the combined forces of corporate power and an ultra-right wing government. On the whole an estimated 2 million people are said to be involved.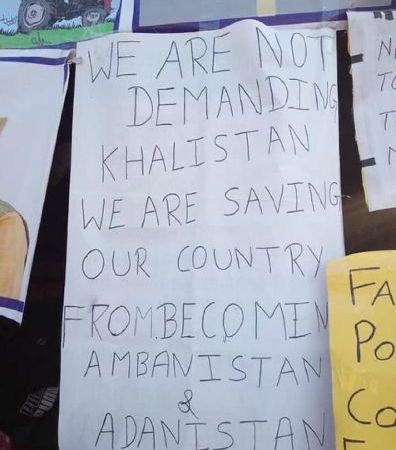 It is, however, not only its magnitude, which make it significant. The farmers' protest represents a potentially transformative moment in the struggle against fascism which has been sweeping India over the last year – fuelled by growing anger against the Modi regime.
The most important events have been as follows: On 10th December, last year, the BJP government passed the Islamophobic and exclusionary Citizenship Amendment Act (CAA) which together with a National Register of Citizens effectively disenfranchises India's Muslim population and violates India's secular Constitution. It was met, by peaceful mass protests by students which were viciously attacked by police and right-wing mobs affiliated with the BJP. At that point thousands of Muslim women came out to protest, and breaking all stereotypes, began an occupation of public space in Shaheen Bagh in Delhi – sitting there continuously day and night, through the bitter cold of the winter months.
That first occupation, which lasted till the first severe lockdown imposed by the Modi government, inspired Shaheen Baghs all over India and the farmers' occupation of space too, at the borders of Delhi, has many of the same features. These include the street-side libraries of radical books, the free food given to all, the remarkable and inspiring determination to continue despite the cold wave gripping Delhi, which in this case had already claimed 41 lives last week, and the intense and uplifting atmosphere of  solidarity with all the other movements resisting Narendra Modi's fascist regime.
One of the most powerful images, of the farmers' protests, for example, is of thousands of farmers, old and young, women and men holding up pictures of the Modi regime's political prisoners – students who protested peacefully against the Citizenship laws, feminists who went to Shaheen Bagh in solidarity, intellectuals and lawyers who stood up for Dalit and Adivasi rights. They include 80 year old poet Varavara Rao who has been seriously ill and Stan Swamy, an 83 year old Jesuit priest and life-long campaigner for the rights of India's indigenous people, who suffers from Parkinson's disease. These are the people now languishing in jail, under harsh conditions, charged under draconian colonial-era anti-terrorism and sedition laws.
The Modi regime has long used the subservient mainstream Indian media and the thousands of twitter handles from the BJP IT cell to discredit dissenters – those speaking of human rights in Kashmir, for example are dubbed 'anti-nationals', lawyers and intellectuals defending Dalits and indigenous people are 'urban Naxals', the Shaheen Bagh women are accused of being in the pay of Pakistan. Now the protesting farmers (who are largely though by no means exclusively from Punjab and Haryana) are being categorised as Khalistani, Sikh separatists intent on dismembering India. This could not be further from the truth: the farmers are from all religions and castes. They have come from hundreds of agricultural organisations across the country and as the days go by, they are being joined by others, with many having to dodge the attempts by BJP-ruled states to stop them. Those who cannot make the long journey are taking action wherever they are through train stoppages and other similar actions.
What is it that India's farmers are facing that makes them willing to risk their lives in these harsh conditions and extreme cold? The answer given by many at the protest sites is that this is a protest against laws which will help corporates rob them of their land – and land is central to their very being, both materially and psychologically. They see it therefore as a life and death struggle.
Even without the latest laws, as many explain, the majority of India's farmers find it almost impossible to make ends meet. Neoliberal policies have impacted on their lives in a variety of ways. Some are trapped into growing genetically modified cotton seeds provided by Monsanto which, with the expensive inputs required by them, have led to indebtedness and despair, driving them to take their own lives – farmers' suicides have reached shocking proportions.  In the mineral-rich central belt of India, agricultural lands is being grabbed by mining and coal multinationals displacing millions of  Adivasi (indigenous) farming families.
While more than 40% of India's workforce work in agriculture, across the country small and marginal holdings (of less than 1.08 hectares) now make up about 90% of total agricultural holdings and the numbers of small holdings and landless farmers has been increasing. Now two powerful corporates owned by men extremely close to Narendra Modi, Mukesh Ambani the fifth richest man in the world whose company Reliance owns much of India, and Gautam Adani whose company is well-known for its environmental crimes in Australia, are poised to take over the entire agricultural sector, from sale, to storage, to pricing of farm produce, and to turn it over to agribusiness. The role of the new laws is to facilitate this takeover.
Whereas earlier, the government could store grain for release in case of shortages – though of course this did not always work in practice given the inefficiency and corruption of successive governments – the new laws allow multinational companies to hoard it, for speculation if they so desire. At the same time whereas previously there was a guaranteed Minimum Support Price there will be no guarantees of this in the future as produce would be sold at world market prices and dependent on its vagaries.
The farmers' unions are calling for a boycott of all Reliance  products which include the massive Jio mobile phone network. They are also asking for international solidarity, not only from the diaspora who, in the UK, who came out in a massive solidarity demonstration  on 6th December, but from British left.
With the Tories openly wooing the BJP government, and both Priti Patel and Rishi Sunak closely identified with Modi, this has become all the more urgent.
There are other reasons too for the left in UK to show solidarity as highlighted in a recent webinar organised by South Asia Solidarity Group – not least that in the last few years alone Adani received $12 billion in loans from international banks including British Banks like Barclays and Standard Chartered. On another note, Hamley's toyshop has recently been taken over by Reliance.
Boris Johnson is due to attend India's Republic Day celebrations on 26th January. In recent years this has been an occasion for the display of militaristic triumphalism. Many in India are privately comparing Johnson's projected visit to that of Donald Trump last year which was followed by his downfall!
Meanwhile the farmers with their tractors and trucks and trolleys are all set for a long occupation. They say, "It could be six months or even a year, or longer. We have provisions to last for a long time and they are constantly being replenished. We will remain here as long as necessary."  Their newspaper, Trolley Times, produced on site, in Hindi, Punjabi and English has already got 14,000 subscribers. Unable to fully demonise the farmers, Modi has never looked so weak or indecisive.  It is not clear how he will respond in the next few weeks and that is cause for optimism as well as concern.