Yesterday we posted about the support given by so-called Red Wall voters to environmental policies.
An earlier study at Unchecked.Uk showed that post-Brexit these same voters did not wish to see any lessening of food and regulatory standards.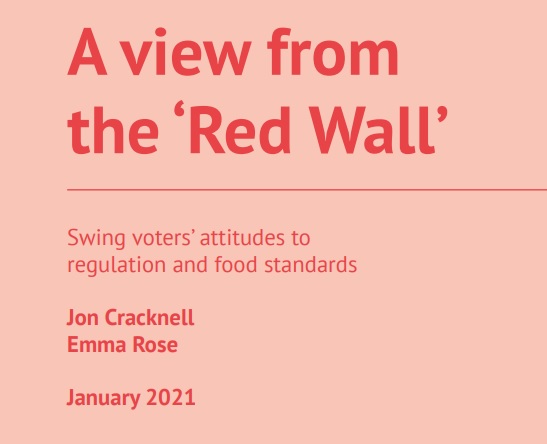 Swing voters in the so-called 'Red Wall' strongly support robust food regulations and standards, according to new research by Unchecked UK.
Qualitative research, carried out by Unchecked UK in partnership with KSBR Brand Futures, and published today, finds overwhelming support for strong, well-enforced food standards among first-time Conservative voters in Red Wall constituencies.
The research was carried out in June and September 2020 with 52 voters who swung from Labour to the Conservatives in 2019, and included focus groups (teleforums) carried out in the constituencies of Burnley, Heywood & Middleton, North West Durham, West Bromwich East, and Wrexham. The project explored participants' views in relation to regulations and standards in general, and to food standards in particular.
The findings strongly indicate that these voters would not support lower standards in the wake of Brexit, with the majority of participants voting to leave the EU so that the UK could take back control of making its own laws; with the expectation and hope that these will be strengthened, rather than weakened. With regards to food standards, Leave-voting participants expressed strong opposition to the weakening of food laws, a move that would be seen as a betrayal of their vote for Brexit.
Unchecked UK's findings are published alongside a new Red Wall research hub, featuring qualitative and quantitative research undertaken by other organisations in relation to Red Wall voters.
The research finds that:
These swing voters lean to the left on economic issues, but are conservative on cultural and social issues. This blend of economic and cultural values manifests itself in strong support for effective rules and public protections. We found these voters to be supportive of state intervention, albeit cynical and distrusting of both politicians and large corporations.
These voters are strongly in favour of well-enforced rules and regulations, seeing them as essential to the kind of country they aspire to live in, and necessary in order to ensure respect for law and order, to keep standards high, and to create a fair society. If anything they would like to see tougher punishments for those who break the rules.
These voters feel Britain has always had innately high standards, higher than those of many other countries. Participants made repeated references to the need to put the "great" back into Great Britain, and demanded that other countries should match British standards if they want to trade with us.
As with our quantitative polling last year, we detected little enthusiasm for lower standards in the wake of Brexit. The last thing these swing voters want is for standards to be undermined. Indeed, for those who voted Leave this would be seen as a betrayal of their vote for Brexit, and they expressed strong opposition to any politicians pursuing such an agenda.
This view holds particularly true for foods standards. These voters are sceptical about trade deals with countries like the United States, and expressed the strong position that under no circumstances should the UK compromise its food standards in order to secure trade deals.
Many voted for Brexit because they thought it would benefit British farmers and food producers. These voters try to buy British when shopping, and assume others will do the same. Supporting UK farmers feels like an important political stance to many of them. They are therefore sceptical about opening up the British market to foreign agribusiness companies.
These voters do not see cheaper food or increased choice of products as a fair price to pay for securing trade deals if this means standards are compromised. Indeed, participants were actively opposed to the idea of lowering standards as a way to reduce the cost of food.
Indeed, these swing voters feel that with families struggling to put food on the table due to Covid-19 it is all the more important to have a strong regulatory floor in place to make sure that cheaper food is still safe.
This research is published alongside previously unpublished findings from a qualitative poll carried out in 2020 for Unchecked UK by Ipsos MORI, which explores attitudes to regulation among younger Leave voters. The poll mirrors the findings from the new qualitative research; finding, for example, that 85% of younger Conservative Leave voters think the UK should keep or increase current levels of food safety regulation going forward.
Unchecked UK's findings indicate that, far from seeing the reduction of regulation as a high priority for government, newly-Conservative voters in Red Wall seats are in fact strongly supportive of regulations – particularly when it comes to maintaining food standards. Across all groups, participants made it clear that any attempt by politicians to weaken UK food standards would be seen as unsupportable.
With these constituencies set to represent a key electoral battleground in years to come, politicians across all parties would do well to take note of these views, as the UK navigates its future outside of the EU.
You can download the full report here: A view from the Red Wall