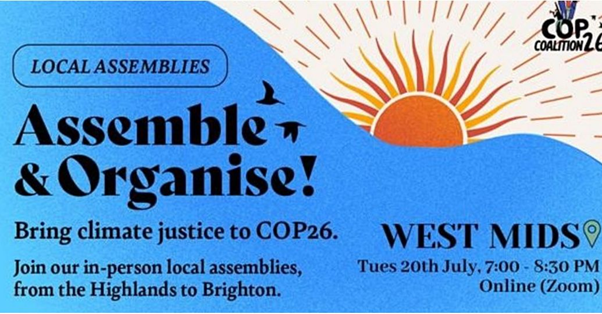 Around the world, we are facing multiple crises. Climate justice means understanding that these crises are connected, and that it can only be tackled if we connect all of our struggles. When COP26 takes place in Glasgow this November, it will be a critical point for our movements to come together to build power for system change. To make this happen across the UK, we need as many people to come together and take action – not only in November in Glasgow, but across the West Midlands and beyond, before and after COP26.
The COP26 Coalition are supporting a series of events running up to November to bring together local and global movements and begin some action planning of how we will bring climate justice to COP26.
Connect with and beyond the climate movement, joining up with trade unions, faith groups, housing campaigners, anti-racist activists, LGBTQ campaigners, local community organisers and more.
Join this gathering to come together and discuss how we can:
Gather: Why is climate justice crucial to all of us? What are the great things already happening in the West Midlands?
Support: What support do we need? What support can we offer? How can we come together to grow our ability to bring about real change?
Send: Discuss how we can build mass mobilisations for COP26, both remotely from the West Midlands and in person in Glasgow.
Grow: Convene and grow the movement for climate justice in the West Midlands.
Let's join together to bring about real change. For more information, please get in touch on westmidlands@cop26coalition.org
The different crises we face are interconnected, and they can only be tackled if we connect all of our struggles. We are keen to welcome in folks from a broad spectrum of groups; please get in touch if you have any questions about this.
Accessibility
This event will be an online video call – joining details to follow.
We will make presentations available afterwards.
We can record the event and/or share a transcript afterwards with anyone who needs this.Please get in touch if you have other accessibility needs.
This event is hosted by Climate Action Network West Midlands. See us on Facebook. The Zoom link will be published there near the date.