We are reproducing a press release from the radical German environmental group Ende Gelände which was issued on 1st August 2021.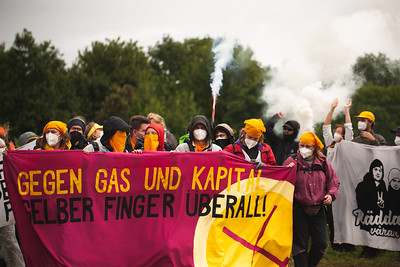 ++ Ende Gelände finishes successful action weekend ++ "The climate
justice movement is growing and is internationally stronger than ever!" ++
Brunsbüttel, 1.8.2021
Ende Gelände has declared the action weekend for climate justice
finished today. More than 2,000 activists participated in blockades at
ChemCoast Park near Brunsbüttel. In the neighborhood of production
facilities of the oil and chemical industry, a terminal for fracking gas
is planned there. In wind and weather, the activists blocked the
railroad tracks to the ChemCoast Park at important points. The blockades
were maintained until Sunday. On Saturday, activists with canoes brought
shipping on the Kiel Canal to a complete standstill for more than two
hours. Ships were jammed on one of the most important waterways in the
world. Ende Gelände is calling for an immediate phase-out of oil, gas
and coal.
During the blockade of the Kiel Canal, 15 activists* were taken into
custody by police, including Esteban Servat, climate activist from
Argentina. Servat, who is from the fracked gas region of Vaca Muerta,
had to leave Argentina because of state repression and death threats.
"The gas and fracking industry today is a continuation of colonial forms
of exploitation: the open veins of the global south bleed through the
waterways of Europe. That's why we decided to block the most important
channel for cargo traffic in Europe," Servat reports after his dismissal
"I had to flee Argentina because I opposed the gas industry. Now I'm
facing legal action in Germany. But we will not be intimidated. It's
time for civil disobedience."
Ende Gelände's weekend of action was part of the "Shale must fall"
alliance's global day of action against gas, fracking and colonialism.
In addition to the blockade actions in Brunsbüttel, Ende Gelände had
held an international panel discussion in Hamburg and organized a
demonstration with the "Anti-colonial Attack." At the same time, 23
actions against fracking took place in 13 countries in South America,
North America and Europe.
Joli Schröter and Elia Nejem, press spokespersons of Ende Gelände, draw
a positive balance:
Joli Schröter: "Our action weekend was very successful. With our
blockades, we made short work of the lie of clean gas. We will not allow
the construction of the fracking gas terminal in Brunsbüttel."
Elia Nejem: "Fossil capitalism is the continuation of colonialism. It
breaks the boundaries of the planet. We put life above economic growth
and profits. That is why we are fighting for climate justice and a
social-ecological revolution.We have shown this weekend: another world
is possible! The climate justice movement is growing and is
internationally stronger than ever! We will stop climate colonialism."
Contact details
Joli Schröter: +49 151 413 745 27 (German)
Elia Nejem: +49 177 967 68 05 (German)
Ronja Weil: +49 163 681 17 76 (English only)
For short term information please subscribe to ourTelegram
Channel:https://t.me/joinchat/AAAAAE9ObbXYPJDGCGlu2A
Follow us on Twitter
Twitter: @Ende__Gelaende
Photo and video material: