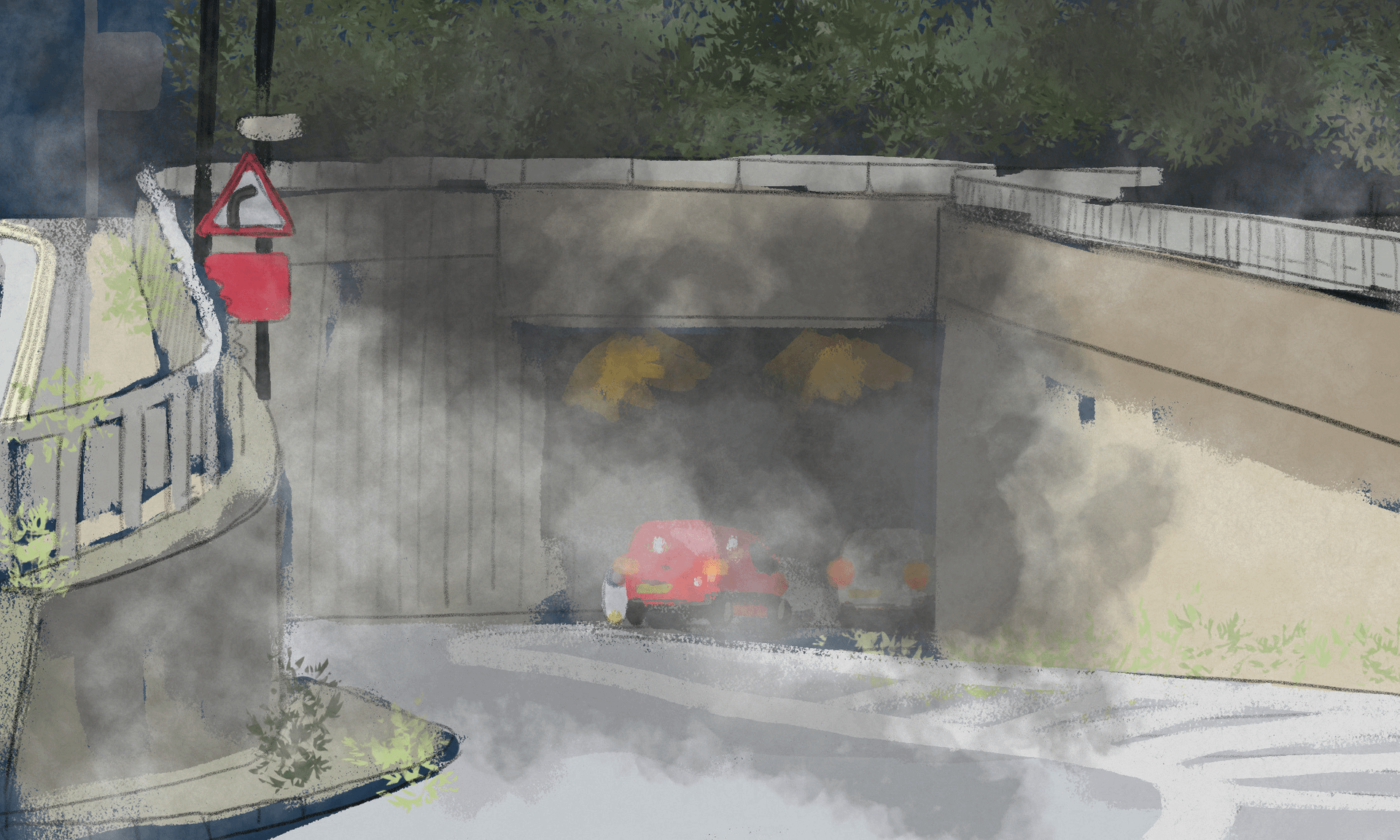 Another article on the Silvertown Tunnel and its impact on communities of colour from Gal Dem.
It is a sunny June day in Canning Town, east London, yet the air hangs heavy with fumes from passing cars. A growing huddle of people are gathering under the flyover near the station. They march along the roads, accompanied by a samba band, voices clear as they cry: "No tunnel!"
As the 600-strong procession reaches a housing estate in Newham, a construction site swims into view. This is the reason for the protest: a new traffic development called the 'Silvertown Tunnel'. For those gathered, this tunnel represents more of a threat than just background noise.
Funded by Transport for London, the Silvertown Tunnel is a 1.4km four lane tunnel beneath the River Thames, linking the Greenwich Peninsula in south-east London to the region of west Silvertown in Newham, east London. By acting as an alternative to the existing Blackwall Tunnel, the new development aims to reduce congestion – seemingly aligning with London Mayor's Khan's legacy of green policies such as the Ultra Low Emission Zone and Low Traffic Neighbourhoods. Current costs for the Silvertown Tunnel are set to cost nearly £2bn over the next 30 years when accounting for maintenance, operation and interest payments on the debts (at odds with the original estimate of £1bn) and it's projected not to be finished until 2025. However, that's only if TfL get their way – because the Silvertown Tunnel is being bitterly contested by the people it will impact most.
Tunnel troubles
"The Silvertown Tunnel is a completely misguided concept that reinforces structural inequalities rather than solving them," says Boglarka Filler, a resident of Custom House, an area in the Silvertown region of Newham. Her voice is downbeat.
Newham is one of the most deprived boroughs in London. It's also one of the most polluted. In 2019, the borough declared a climate emergency thanks to air pollution; in areas like Britannia Gate, breathing in the air has the same impact as smoking 159 cigarettes a year. One in seven Newham residents are exposed to nitrogen dioxide well over the UK limit value for human health and the council has recorded that bad air quality kills 96 people every year. With 73% of residents from Black and ethnic minority backgrounds, marginalised communities regularly bear the brunt of air pollution.
And now it's the planned site for the Silvertown Tunnel, designed to divert thousands of cars and HGVs through narrow residential streets. 
"Environmental pollution, precarious work and related health issues have been present as far as I can trace the neighbourhood back to the second half of the 19th century", adds Boglarka. "But as with 'regeneration', the old mantras of 'job creation' and trickle-down economics do not stand valid here at all".
The materials required for the tunnel alone would release 82,077 tonnes of CO2 – that's without factoring in additional transportation, waste and road construction. The latest plans reveal that over 100 trees will be felled in order to make the tunnel a reality. Put simply, if the Silvertown Tunnel goes ahead, it will render the achievement of London's climate change targets under the Paris Agreement practically impossible.
For campaigners and Newham residents, the Silvertown Tunnel is a physical embodiment of the UK government's apathy towards marginalised communities at the sharp end of climate change. Looming large in the minds of those organising is the cherubic face of Ella Adoo-Kissi-Debrah, who was only nine years old when she died in 2013 after years of struggling with acute asthma. In 2021, Ella received a tragic posthumous title, becoming the first person in the UK to have air pollution listed as a contributing factor on her death certificate.
"If the Silvertown Tunnel goes ahead, it will render the achievement of London's climate change targets under the Paris Agreement practically impossible"
Ella spent most of her short life living by the South Circular Road in Lewisham, south London, an area repeatedly found to have "unlawful" levels of nitrogen dioxide present. In the three years prior to her death, Ella visited local hospitals 27 times, with her lungs collapsing, or partially collapsing on five occasions. But despite the coroner's judgement in Ella's case this year, the government has refused to commit to an immediate lowering of legal levels of air pollution.
"Ella's story is not exceptional", says Anjali Raman-Middleton, co-founder of campaign group Choked Up, which advocates for clean air legislation and action to tackle traffic pollution.
"We need to view this as not just Ella, but every child living in London – especially those who have existing lung conditions, which the Silvertown Tunnel would only exacerbate. It's quite contradictory when ministers say they never want Ella's story to happen to anyone again, to then approve a project like this".
Those in Newham fear what the Silvertown Tunnel will bring. "When I lived two roads away from the A13 in Canning Town, my children would regularly cough throughout the night as the pollution was blown into our home," alleges Newham resident Kevin White. "Artificial grass in [our] garden became unusable without shoes because the pollution built up on it would blacken the soles of our feet".
On the Greenwich side of the tunnel, Karin – who lives a few miles from the south tunnel entrance – claims that "the number of inhalers in one school near the tunnel construction site has doubled in one year". Current City Hall analysis indicates that 98% of state primary and secondary schools in London are located in areas that exceed WHO limits of a main toxic pollutant – particulate matter (PM 2.5) emissions – compared to 24% outside of London.
Local government has let people down, Karin believes."Council representatives should be strongly fighting our corner," she says, frustratedly. "Because they do not, constituents take on that role".
The construction of the tunnel reflects the insidious prevalence of environmental racism, say its opponents, citing the statistic that people of colour who are less likely to own a car are more likely to live in an area with illegal levels of air pollution.
"People are doing all the right things, paying their rent, they're sending their kids to school, they pay their taxes, they vote for their MPs and their community leaders. And yet, they're still being wronged," says Destiny Boka-Batesa, co-founder of Choked Up.
Polluted Politics
For Newham's inhabitants like Boglarka Filler, Mayor Khan has become a focal point of anger.
"By ignoring alternatives such as public transport and new bridges across the Thames (with added transport links to Thamesmead) the leadership of Sadiq Khan is proving to be as narrow-minded and damaging as it would be under Tory rule," says Boglarka.
Khan has publicly embraced the Silvertown Tunnel (despite its unpopularity with Labour party membership), driving ahead construction and accusing the development's opponents of wanting to "do nothing" about congestion at the Blackwall Tunnel. The mayor has even claimed that the Covid-19 pandemic has strengthened the need for the tunnel.
But campaigners say Khan's support of the Silvertown Tunnel is antithetical to the vision of a greener city he promotes and the environmental legacy he's pursued. In 2019, Khan introduced the ULEZ to London and the following year backed the rollout of Low Traffic Neighbourhoods (LTNs) as part of wider plans to reduce car usage, even heading to court to defend the scheme. Transport for London itself designates traffic emissions as the biggest source of poor air quality.
A spokesperson for Sadiq Khan told gal-dem that: "The Mayor is taking some of the boldest action of any city in the world to tackle air pollution in London.
"Anyone who has been caught in traffic due to a problem in the Victorian-era Blackwall Tunnel will know that there is an urgent need for another river crossing in this part of London. Extensive modelling shows that the introduction of tolls on both tunnels at Silvertown and Blackwall will mean no overall increase in traffic and an overall improvement in air quality including for the communities around both tunnels, whose wellbeing is a priority for the Mayor".
In the face of this, the message from campaigners remains firm: the act of building roads leads to more traffic, which creates more pollution.
"The number of inhalers in one school near the tunnel construction site has doubled in one year"
Resistance against the tunnel is a combination of direct action and community involvement. Leading the charge are the Stop the Silvertown Tunnel Coalition, alongside groups including Choked Up, Mums for Lungs, Extinction Rebellion's Newham branch, as well as the Climate Working Party of the local teacher's union.
As leaflets are distributed and letters to politicians penned, campaigners are gathering momentum in the fight to halt the construction of the tunnel. Most recently, demonstrators gathered on 24 Septembe. A programme by Newham NEU Climate Working Party's, aimed at building awareness of health and clean air in schools is also taking place in the autumn term, having been delayed due to Covid-19 upheavals.
"Doctors, teachers, parents, climate scientists to transport researchers [oppose the tunnel]", says Simon Pirani, a senior research fellow at the Oxford Institute for Energy Studies and a STSTC member. "Are they all wrong?"
The impact of the tunnel development is simple, he says. More traffic in Newham means more pollution.
"The total amount of air pollution depends on the total amount of traffic", explains Simon. "If you've got traffic queuing in one place, and not in another, it may spread the pollution round differently – but the one factor that makes air pollution overall go up is having more traffic.
"The one thing we can be 100% sure about, if the tunnel was built, it would produce more traffic, because that's what building more roads does".
"The impact of the tunnel development is simple. More traffic in Newham means more pollution"
Campaigners are keen to stress that while Silvertown might be located in London, the ripples will reach far beyond the M25.
"It's important to not view the issue through a London-centric lens, despite the insular nature and narrow locus of campaigning," says Anjali Raman-Middleton. "If we set a precedent for building new roads and new tunnels, as soon as people think they can get away with these actions, there'll be more of them.
"With environmental issues more generally, we don't quite know who it's going to affect and how – so we have to assume that everyone will be affected by it in some way."
Stop the Silvertown Tunnel Coalition has also teamed up work with the national Transport Action Network (TAN), an organisation that supports sustainable transport campaigns.In support of the coalition,
In 2020, Transport Action Network published the Stop Digging report about the Silvertown tunnel project and wrote to Mayor Khan and transport secretary Grant Shapps in April of this year to urge them to halt the project.
The overall message local campaigners want to share is one grounded in the importance of solidarity and hope. "Solidarity doesn't just exist in the streets", says Destiny, who points to the spirit running through the campaign's planning meetings and on social media.
Despite construction having started, campaigners are still hopeful the tunnel can be stopped. "I don't want to lead people around the garden path – if it can't be stopped, it can't be stopped", says Simon. "We will continue, because we think it can". Boglarka echoes this sentiment. "Our story does not end here", she says. "We will continue with community organising to bring positive changes and social justice to the residents of this long-neglected area."
By remaining wedded to car-driven transit without ensuring existence of viable alternatives, the UK is seeing the human cost. As residents of Newham continue their battle, development proceeds on a tunnel which has no light at the end.
To oppose the Silvertown Tunnel, you can:
Write to your local councillor, MP or GLA member using this template.
To learn more, you can attend the public seminar discussing the implications of the tunnel's construction here.