A timely article from Tribune.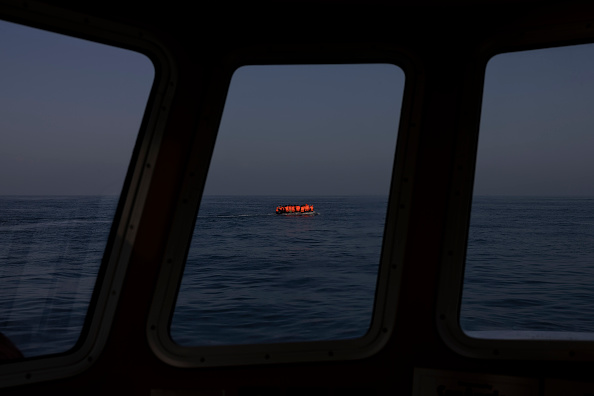 People from the Global South are dying while fleeing crises they didn't create. As climate catastrophe intensifies, we desperately need an alternative to Europe's brutal border regimes, writes Minnie Rahman.
Last week we saw the worst loss of life in the channel since records began. At least 27 people, with hopes and dreams, families and futures, died in a cold stretch of sea in the early hours of the morning.
This grimly avoidable tragedy was not an anomaly. Over the past few years, we've seen an increasingly violent border regime lead to more and more deaths on Britain's shores and Europe's borders. From the brutal scenes at the Poland-Belarus border to the deadly political game-playing in the Channel, it's an authoritarian turn that is chilling in its own right. But as climate crisis deepens, this anti-migrant status quo could lead us down an even darker path.
We are already seeing climate-induced movement framed as a threat. Just before COP26, Boris Johnson repeated a far-right trope when he warned that climate-driven migration could lead to the 'fall of civilisation', likening this imagined 'decline' of Europe to the fall of the Roman Empire. We know that the people he's invoking fear of here—those he's comparing to 'invaders'—are working-class black and brown people from the Global South. These are the people most likely to be displaced by climate breakdown, and from Bangladesh to Haiti, many already have been.
People of colour in Africa, Asia, and South America have long suffered the brunt of a climate crisis they did not cause. The richest 1% cause double the carbon emissions of the poorest 3.1 billion, but it is the world's poorest who are now being pushed to leave their homes because of drought, flooding, deforestation, toxic waste, and eroding coastlines. Right now, many are moving within national borders, or across to neighbouring countries.
Of course, this is not a phenomenon we should simply accept. We must do more to prevent the climate destruction that's disavowing people of the right to stay. We must end corporate impunity, make a just transition away from fossil fuels, and grant poorer countries the reparations they need to mitigate against climate change. However, we must also adapt to the reality of a warming planet, where people are increasingly forced to flee uninhabitable expanses of land. This means accepting and embracing people's right to move, including to the UK.
Alongside other countries in the Global North, we are more protected against climate breakdown, and have historic ties to many countries in the Global South. In fact these same historic ties—our colonial exploitation of land and people, and continued resource-extraction in the South—is part and parcel of what's causing climate breakdown today. It is only just that Britain and other wealthy nations now step up to fight climate destruction, and welcome those pushed to move because of it.
Sadly, instead of seeing human movement as a reality to be managed, and a key plank of a just transition, we are seeing Europe increasingly marginalise migrants, and slam its doors shut.  Nowhere is this more evident than Britain, where our government is continually stripping away black and brown migrants' rights to settle and live safely, and is trying to rip up our commitment to refugee protection. In fact, between 2013 and 2018 the UK spent twice as much on border control as it did on climate finance.
We also see this politics of exclusion, which punishes those who move, made plain in our Hostile Environment. For years, this dangerous set of immigration policies has been paired with visa rules that keep many 'temporary' for at least a decade. When people slip out of status, they are denied basic rights and services like medical care or bank accounts, and are left vulnerable to exploitation. We've seen the terrible effects of this during the pandemic, with people forced to continue unsafe work, and dying without ever seeking treatment.
And now, just as the horrors of climate crisis become realities, this government is trying to extend this violent and exclusionary approach to refugees. Their new Borders Bill passing through Parliament is a wholesale attack on refugee protection, that looks to criminalise and encamp people who've sought safety here via 'irregular routes' (despite no safe 'regular' routes to asylum existing). Even those who are granted refugee status may now face years of temporary status, no social safety net, and regular checks on whether they can be 'returned' to the countries they fled.
As our government increasingly adopts the politics of the far-right, Europe too is putting up walls. Recently, Poland sent more than 10,000 troops to its border with Belarus to stop a few thousand people from finding safety and a new life in Europe. Adults have been beaten, and children have frozen to death in this newly militarised border-zone. Meanwhile, the EU is returning people crossing the Mediterranean to Libya, where they face indefinite detention and forced-labour without pay—essentially enslavement.
Just as the horrors of the climate crisis become reality, it appears the rich world is violently barring entry to people forced to move. Far-right rhetoric is becoming mainstream, the rights of migrants and refugees are being stripped away, and more people are dying at our borders as a result.
None of us should accept this increasingly barbaric approach to people on the move. The pandemic has showed us that rapid and transformative change is possible—that people can and do look out for each other, that our communities are full of care and compassion.  It's time our government, and others, learned lessons from this recent crisis and started adapting to growing movement.
Movement is not something to fear. Migration has happened for centuries; it is a central feature of human history. People have always moved and will always move. We must demand a future which acknowledges this, which opens its borders to those pushed to move—to those most impacted by climate crises. We must demand a world of reparations, redistribution, and open arms for those at our door. We cannot have climate justice without migrant justice.