First published on Alan Thornett's website Ecosocialist Discussion
Joe Biden's Climate Act – confusingly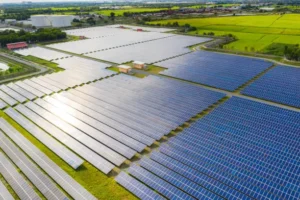 called the Inflation Reduction Act – which has just been endorsed by the House of Representatives throws a remarkable lifeline to COP27, in Sharm El-Sheikh in November, the prospects for which have been seriously challenged recently by Putin's invasion of Ukraine and the subsequent 'dash back to oil and gas' as Russian oil and gas prices went through the roof and leaders including Boris Johnson pleaded with the likes of Saudi Arabia to increase their production.
The Act is the most significant carbon reduction proposal ever made by the USA, and as far as I know in human history. The carbon reduction proposals in the Act amount to a massive $369 billion and are designed to cut US carbon emissions by 40 per cent by 2030 against the 2005 level. In total, 1bn tons of greenhouse gases, which is more than double the total annual emissions of the UK, would be eliminated by the Act by 2030.
Is this enough to halt global warming, no of course not, it could be however, a game changing breakthrough in the ongoing struggle for global 'net' zero carbon.
Not a single Republican Senator supported the Bill and it went through the Senet on the casting vote of the Vice President. There was a bitter battle inside the Democrats with Democratic senator Joe Manchin of West Virginia who owns a coal mining company who opposed the Bill to the bitter end, and only agreed to support it after gut-wrenching concessions were made to him in terms of opening more federal lands to oil and gas exploration.
The Guardian quotes Ananda Gopal executive director of policy at Energy Innovation as saying: "This bill will really turbocharge that transition to clean energy – it will transform markets where already solar PV, wind and batteries are in many cases cheaper than incumbent fossil fuels.. It is a dramatically large climate bill, the biggest in US history. It doesn't mean the US won't need to do more to achieve its emissions goals but it will make a meaningful difference."
According to a summary released by the Senate Democrats the funding in the Act aimed at consumers includes:
$9 billion in home energy rebate programs to help people electrify their home appliances and for energy-efficient retrofits, with a focus on low-income consumers
10 years of consumer tax credits to make heat pumps, rooftop solar, electric HVAC and water heaters more affordable, which make homes more energy efficient
$4,000 in consumer tax credits for lower- and middle-income individuals who buy used electric vehicles, and up to $7,500 tax credits for new EVs
$1 billion grant program to make affordable housing more energy efficient
Biden is right to give a strong stimulus to EV sales since this is the low-hanging fruit of carbon reduction where big reductions can be made very quickly. It is disappointing, however, that the Act has nothing to say about improving public transport in order to reduce the overall numbers of cars on the roads.
The package also includes more than $60 billion to support manufacture of clean energy technology in the U.S.A. This to include:
Production tax credits to help U.S. manufacturers accelerate production of solar panels, wind turbines, batteries, and process key minerals
$10 billion investment tax credit for new manufacturing facilities that make clean tech like EVs, wind turbines and solar panels
$500 million to use the Defence Production Act to speed manufacturing of things like heat pumps, as well as processing critical minerals
$2 billion in grants to help automaker facilities transition to clean vehicle production
Up to $20 billion in loans to construct new manufacturing facilities for clean vehicles
These actions would also have benefits beyond cutting carbon emissions. According to the research firm Energy Innovations as many as 1.5m jobs would be created in new clean energy will be created by the Act. Rewiring America, another research firm, has forecast that households that install a heat pump, rooftop solar and use an electric car would save $1,800 a year on energy bills.
To pay for all this the Act imposes a 15% corporate minimum tax on rich corporations that have been able to shrink their tax burden far below the 21% rate. It would also spend $80 billion on boosting the IRS' tax enforcement and compliance capabilities, a move that the Congressional Budget Office estimates will yield $124 billion in revenue. There would also be an excise tax on stock buybacks that is projected to bring in $74 billion – making an overall total of almost $200 billion.
The concessions made to Joe Manchin are not the only problems that remain in the Act. It fails to deal with nuclear energy and it calls for more investment in carbon capture and storage – which, if it worked (which it doesn't), would extend the life of fossil energy which it is seeking to eliminate.
The lessons for the movement from all this are clear. COP27 is given a new lease of life by the Act and we have to maximise its impact. We have to ensure that the gains of Glasgow are not only defended but that new nationally determined pledges are adopted that are sufficient to turn the corner on climate change and break the addiction to fossil fuel.
Alan Thornett August 15th 2020.