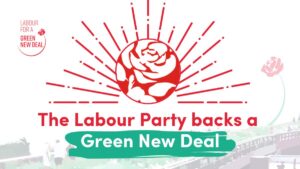 We are pleased to report that the motion below was passed unanimously by Holborn and St Pancras CLP. This was after the deletion of a clause on nuclear power and the softening of the clause on nationalisation but it is still significant and helps keep the issue of the environment up the agenda. 
Other CLPs should pass similar motions and ensure that the Green New Deal is central to Labour's next manifesto.
Labour's Green New Deal
This CLP recognises that:
·      The climate emergency continues to escalate and planetary tipping points threaten the Earth's ecosystems with collapse.
·      The Tories have turned back to fossil fuel. They have opened up a new licensing round to allow oil and gas companies to boost exploration and production in the North Sea and have approved a new coal mine in Cumbria.
We welcome Keir Starmer's commitment to making renewable energy a core commitment for a future Labour government and his statement that a rapid transition to renewable energy is crucial in relation to both the climate crisis and the economic crisis.
We endorse his pledges to cut household energy bills substantially and create up to half a million new green jobs by:
·      Investing £28bn a year (i.e. 280bn over 10 years) in renewable energy
·      Decarbonising the national grid by 2030
·      Doubling on-shore wind capacity
·      Tripling solar power capacity
·      Quadrupling off-shore wind capacity
·      Spending £6bn year retro-fitting 19 million homes
·      Establishing a National Wealth Fund to facilitate green investment.
We call for these commitments to be included in full in Labour's manifesto for the next general election and urge that nationalisation of the oil and gas companies, highly popular with the general public, is considered in addition to these proposals.