Sean Thompson reports:
In case you haven't come across it before, We Own It is an excellent organisation established in 2013 to campaign against privatisation and for new and innovative forms of public ownership – check them out.
At a webinar organised by We Own It to discuss  Labour's policy of creating a new publicly owned renewable energy generation company, Great British Energy, a couple weeks ago the key speaker was  Shadow Minister for Energy and the Green New Deal,  Alan Whitehead.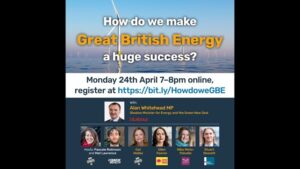 He started his presentation by stating categorically that "Labour is committed to a fully decarbonised power system by 2030" and went on to describe the current National Grid set-up as "organised robbery of the public". He said that the purpose of Labour's proposed publicly owned Great British Energy company would be to create "a method of guaranteeing that new renewable energy and grid connections will happen,  by fronting up investment on our own or in partnership."
He pointed out that the national electricity grid is in urgent need of a massive upgrade. At the moment, some developers looking to connect renewable energy projects to the electricity grid are facing delays of more than 15 years. In a recent report, National Grid ESO (Electricity System Operator) stated that the current connections process, which was originally focused on connecting a small number of large fossil fuel plants every year,  "has not kept pace with the rapid changes occurring in the energy sector.  As a result, the current process is not likely to enable the connection of the necessary volume of renewable generation and other associated technologies quickly or efficiently enough." Whitehead said that grid strengthening, along with the development of tidal lagoons and other new technologies that are likely to require long term "patient investment" aren't considered worth investing in by "the market", but would be key parts of Great British Energy's investment strategy.
He said that "Great British Energy will be funded sufficiently by our £224bn Green Prosperity Fund to be able to head up, and in some cases completely manage new sunrise carbon assets that we are going to need for our future energy system….once it has funded and taken equity shares or taken the whole thing on board it continues to own them. This means that the profits from the ownership can go into further investment, but secondly there's the prospect that because the way of doing it … means you've de-risked projects, you've got much lower costs of capital for the projects going forward, the chances of getting those projects done at a reasonable cost and getting them done on time are much greater."
He was clear that, as far as he was concerned, GB Energy was not going to be merely a fringe player in the energy sector. "Providing you've got enough money in the system to lead to successful further investments you can start distributing what  GB Energy has made from previous investments in the public sector for the public good…It's not a question of getting a few things upfront, it's a continuing system whereby we substantially own, manage and run the systems of the future. Meanwhile, the 'systems of the past' will mercifully pass away… New 'sunrise' production will be substantially publicly owned, creating its own income.That is the vision."
While  Whitehead's enthusiastic description of the future role of Great British Energy and his ambitions for it make it clear that he is not contemplating the completely publicly owned energy sector that We Own It and Red Green Labour advocate and most members of the public (even Tory voters) support, if implemented it would be a huge improvement on the current state of affairs and greatly assist in the move towards zero carbon energy generation. However, a number of worries remain.
First, of course, it is currently proposed only to be an electricity generation initiative rather than an organisation like Norway's Statkraft or France's EDF, that effectively control the whole domestic energy sector, including generation, distribution and supply. Under Labour's current proposal, the supply of electricity will still largely remain in the hands of six big companies; Eon and nPower (nPower is owned by E.on, a Germany based multinational), British Gas, EDF (owned by the French Government) Scottish Power (owned by the Spanish multinational, Ibiderola, whose controlling shareholder is the Qatar Investment Authority) and SSE. The privatised monopoly National Grid ESO still controls electricity transmission, but even the Tories recognise that it is not up to the challenge of creating the sort of energy grid needed for the 21st century. Therefore in 2022 the UK government confirmed that a "fully independent public body" – the Future System Operator, covering electricity and gas – would be established to take over the task. So the UK energy sector, a natural monopoly, will remain fragmented in order to maintain the illusion that it is a genuine 'market'.
Secondly, while imperfect, the model described by Whitehead would be a major step towards the rationally organised and integrated energy generation, distribution and supply system that is needed to move towards a truly zero carbon energy sector by 2030 – but it does rely on the scale of GB Energy's intervention in the market and its success in developing its new 'sunrise carbon assets' fast enough, and at a sufficient scale, to eclipse and undercut the current fossil fuel based generators. But this will depend, as Whitehead said, on "Providing you've got enough money in the system".  Starmer and Reeves have assiduously stressed their commitment to 'fiscal responsibility' and to bringing down the national debt, and business leaders have been assiduously wooed and assured that under Starmer, Labour will be a safe pair of macroeconomic hands. Given that the massive public spending  cuts announced by Hunt last autumn have been largely deferred until after the next general election there is a real danger that next year the incoming Labour government will be forced to (or choose to) delay or reduce its commitment to finding £28bn a year for its its Green Prosperity Fund.
Thirdly, when Starmer announced the intention to establish Great British Energy he said that it would be "a new, publicly-owned clean generation company that will harness the power of Britain's sun, wind, and waves – to cut energy bills and deliver energy independence for our country." But then went on to say that "The role of GB Energy will be to provide additional capacity, alongside the rapidly expanding private sector, to establish the UK as a clean energy superpower and guarantee long term energy security." This is clearly not the model that Alan Whitehead was proposing, in which GB Energy would use its guaranteed access to cheap capital and focus on developing new zero carbon resources and technologies to fight a war of attrition in the UK energy market against the 'systems of the past', which will lead to the new substantially publicly owned 'systems of the future' dominating the UK market in much the same way that Statkraft or EDF largely dominate their home markets. While this could well be simply a matter of differences of presentation, the worry is that it might mark an ideological opposition to the idea of public ownership – even by the back door – on the part of a Labour leadership apparently increasingly in thrall to disinterred zombies from the Blair regime.