From Thin Ice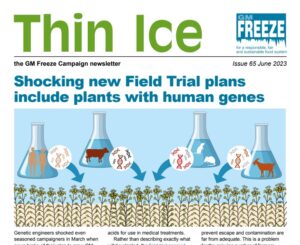 GM Freeze, Thin Ice, 5 June 2023
On Thursday 23 March, the deeply flawed Genetic Technology (Precision Breeding) Act was signed into law. Despite tireless campaigning from GM Freeze, our member organisations, individual supporters and many others, this damaging new legislation was accepted by both Houses of Parliament with only very minor improvements. This means that:
•• English law now includes a new class of "precision bred" genetically modified organisms (GMOs) which have had their DNA altered in the laboratory but which "could [in theory] have resulted from traditional processes".
•• GMOs judged to meet the new "precision bred" criteria will escape the safety net of independent risk assessments. This amounts to leaving the genetic engineers to mark their own homework.
•• We may lose our right to choose, as food containing "precision bred organisms" is no longer covered by GMO labelling or contamination rules.
The creation of the new Act of Parliament is a terrible development but it's not the end. The vast majority of the provisions in the new law won't come into effect until further details are set by statutory instruments which have to be passed by Parliament, but which need not be properly debated. From what we can tell, the Westminster Government doesn't have the detail ready yet and they won't be getting any help from Scotland, Wales or Northern Ireland which are each set to keep regulating all uses of genetic engineering in food and farming under existing GMO rules.
Ministers have suggested that it will take at least another year, possibly longer, for the key provisions in the new Act to come into force. That gives us time to keep pushing for meaningful measures to protect our food and our farms. GM Freeze will continue doing what we can to influence the current Government, but we also plan to focus on making GM safeguards an issue at the next General Election, which is widely expected to take place in 2024. Labour party members can help with that right now, by participating in the party's policy development process. If you are a member of the Labour Party, anywhere in the UK, and are willing to help, please get in touch by emailing liz@gmfreeze.org today.
In May, the Prime Minister hosted a "food summit" attended by representatives of big businesses and the National Farmers Union. One of the announcements made was that £30million of public money will be used to "drive forward the use of precision breeding technologies" and that a working group will be created "bringing together plant breeders, food manufacturers and retailers – to get produce from farms to the shelves".
Whether they like it or not, that group will have to consider the role of labelling. Cross-party groups of MPs and peers attempted to amend the Genetic Technology
Bill to retain our right to choose but they weren't successful and the new Act removes the requirement to label food made with GMOs that are re-classified as "precision bred organisms" or "PBOs". Labelling is vital for citizens who want to avoid buying and eating food produced with patented GM technologies, especially those that haven't been subjected to proper safety tests. A requirement to label end products containing "precision bred" GMOs would also support organic and other GM-free supply chains by ensuring that measures are put in place to avoid contamination.
Ministers are strongly opposed to mandatory labelling of "precision bred" GMOs but they may yet be thwarted by the Food Standards Agency (FSA) whose independent board recently discussed the possibility of using existing powers to impose a labelling requirement. The board was split on the subject and there is no guarantee of success but the FSA's own consumer research has shown strong public support for clear labelling at the point of sale, so there is a chance. See'TAKE ACTION' for how you can help.
The legal changes established by the Genetic Technology Act apply to GMOs created with lab techniques that focus on disrupting an organism's own genes (often referred to as gene editing), rather than adding new ones from another species (transgenesis). However, controls on the use of first- generation GM techniques are far from secure. Ministers have repeatedly spoken of their "stepwise" plan to sweep away public protections and there is also a risk that detailed GM rules and regulations will be impacted by the political rush to remove laws that came into force in the UK via our previous membership of the European Union (EU). The Retained EU Law (Revocation and Reform) Bill was set to trash thousands of pieces of legislation without proper review, but a late change of heart led to a Government amendment listing around 600 specific measures to be scrapped. These include 12 rulings relating to GM food and/or farming so, at the time of writing, we are checking the details and plan to keep a close eye on developments. Whatever we find, it's clear that there is a pressing need to stand up for the responsible, fair and sustainable food system that we all need and want. Genetic Technology Act … continued from page 1
TAKE ACTION
GM Freeze will be working hard to influence the Food Standards Agency (FSA) as this key body develops its plans for regulating the use of "precision bred" GMOs in our food. Public demand is absolutely key so please help us demonstrate that UK citizens want clear labelling of ALL genetically modified organisms in the food chain, by:
•• signing our Don't Hide What's Inside petition at: donthide.gmfreeze.org
•• sharing the petition with friends, family and on any social media that you use
•• getting in touch on liz@gmfreeze.org (or by calling 0845 217 8922) if you are part of a group or organisation that supports the call for labelling of all GMOs and might be willing to join us in a shared approach to the FSA.