Alan Thornett assesses Starmer's green credentials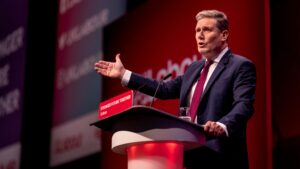 Despite the national anthem, the Union Jacks all over the hall, and Starmer's endorsement of Tony Blair at the end of his speech, something important has come out of Labour Party conference – potentially at least – in terms of the future of the planet.
Starmer, surprisingly but importantly, rejected Truss's wholesale junking of environmental measures – her pledge to squeezing the last drop of oil and gas out of the North Sea, reopen fracking, and her junking of eco-regulations including those that are supposed to prevent the dumping of raw sewage in our rivers and on our beaches – and has pledged to reverse them.
He proposed instead what is a major package of environmental measures which he says will make Britain a "green growth superpower". It might not do that, but if Labour wins the next election and Starmer sticks to his word it would represent an important change and one that that the climate movement can build on.
His proposals include the complete decarbonisation of electricity generation (i.e. the national grid) by 2030. This to be achieved, he says, by doubling current onshore wind capacity, tripling solar power capacity, by quadrupling offshore wind capacity, and by utilising both hydro and tidal power to the full. This he says would not only tackle the climate emergency but would cut hundreds of pounds off household energy bills, and create up to half a million UK new climate jobs. He (rightly) reminded the conference that renewable energy is now nine times cheaper than fossil fuel.
£6bn a year for the retro-fitting of 19m homes over the next decade with insolation to prevent waste and the decarbonisation of home heating. This, he said, would save 19 million families over £1,000 on their bills, as well as creating good construction jobs, and boosting our energy security. If 1.9m homes were insulated a year, he said, the savings in the first three years alone would be £11.4bn. Labour, he said, would also decarbonise (i.e. electrify) the transport system.
There would be no nationalisation of the energy companies, which is a big mistake, but he announced – to prolonged applause – that he would launch a new state owned company, called GB Energy, within a year in office, to facilitate the expansion of renewables. An additional £8bn will be made available for manufacturing projects including eight new battery factories, six clean steel plants, nine renewable-ready ports, a hydrogen electrolyser plant and net zero clusters.
There would be £8bn in co-investments with private companies in green developments ranging from battery factories to wind farms. This would be financed by a "National Wealth Fund" to encourage greater private investment towards a low-carbon economy. This he said would not only facilitate cheaper green energy but would protect the British people from dictators such as Vladimir Putin.
Greenpeace UK's head of politics Rebecca Newsom after seeing the preconference announcements said: "The only way out of this mess is a 'moon-shot' mission to roll out a renewables based energy system that can lower bills, cut emissions, create jobs and break our dependence on gas markets and fossil fuel autocrats. Labour seems to have understood that, whist the Conservatives have not."
The proposals should indeed be welcomed, but there are also serious problems. The most astonishing of these is his proposal not only to retain nuclear energy but to substantially expand it.
There is little point in Starmer pointing out that renewables are getting cheaper and then calling for more nuclear energy that is getting rapidly more expensive. Nor is there any point talking about "protecting the British" people whilst promoting nuclear power which, as we speak. is being fought over in Ukraine like a game of (literally) Russian roulette with weapons of mass destruction.
Less dangerous but equally stupid is his proposal to put more money into carbon capture and storage. It is not just that it is never going to work but it serves as an excuse to cling on to fossil fuel in the hope that it might solve the problem. There is nothing wrong with developing hydrogen, but he overestimates its significance and seems to think that it is an energy source rather than a delivery system.
The Introduction of these measures is two years' time and if Labour wins the next general election is also problematic since we are already in the last chance saloon.
Only last week a panel of scientists issued an urgent warning that a series of crucial climate tipping points are about to be to be triggered. A few days later António Guterres UN secretary general, on his return from the Pakistan flood disaster – caused by what he called a monsoon on steroids – told the UN general assembly that the climate crisis is the defining issue of our time and it must be the first priority of every government and multilateral organization such as the UN. He rebuked the assembled delegate, that climate action is being put on the back burner by member states despite overwhelming public support around the world for action to be taken.
Labour needs to start taking the climate crisis seriously – here and now – and adopting the urgency that is in the proposals if it is going to win the election and start implementing them. A good start would be to launch a membership discussion on the prosals agreed by the conference and how they can be implemented. This should include a discussion on the concept of green growth in which the proposals are framed, and which many, including myself regard not only as unachievable but as a contradiction in terms.
Alan Thornett, October 1st 2022.