The Mayor of London is pressing ahead with the Silvertown tunnel project, even after the coronavirus pandemic has turned traffic projections (and Transport for London's finances) upside down, writes Richard Kuper.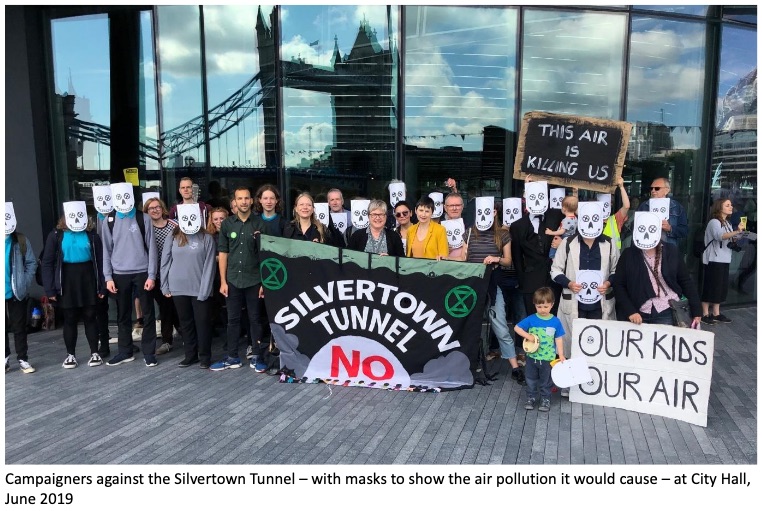 Local residents, environmental groups, CLPs, Labour councils, and prominent Labour MPs have urged him to cancel the project, handed to a construction consortium under a PFI in 2019. The estimated cost, ultimately to be borne by TfL, has risen from £600m to £2 billion.
It will be a financial and an ecological disaster.
Many London Labour MPs, including Matthew Pennycook, MP for Greenwich and Woolwich, who is also Shadow Minister for Climate Change, have called for the Mayor of London to cancel the project before construction work begins. Other London Labour MPs to call on Khan to cancel the Tunnel include: Abena Oppong-Asare, Lyn Brown and John McDonnell.
Following a campaign launch event on 11 January 2021, Labour for a Green New Deal (LGND) – a network of Labour Party activists organising across the UK for a socialist Green New Deal – has thrown its weight behind the Silvertown Tunnel campaign.
Here is a model motion to propose at Labour Party and trade union branches. Arguments refuting  claims made about the benefits of the tunnel follow the motion.
Model Motion
This branch notes:
In 2019 the Mayor of London awarded a PFI contract to build the SilvertownTunnel, despite huge opposition from local residents, environmental groups, CLPs, Labour councils, and prominent Labour MPs. The estimated cost of the project has now doubled to £2 billion.
Opposition is multi-faceted; evidence shows that the tunnel would worsen air pollution, traffic congestion, carbon emissions and is also financially unviable. One impact would be to enable HGVs to cross the river into one of London's most polluted areas, passing dozens schools and nurseries where 10,000s children play and learn.
Furthermore, research from the Tyndall Centre shows that London's transport policy is currently incompatible with the rapid decarbonisation required to reach targets aligned with the Paris agreement, and the tunnel would only make matters worse. TfL will be reliant on high traffic revenue from tolling the Blackwall and Silvertown tunnels to repay PFI financing at a time when reducing car usage is crucial.
This branch believes:-
If Labour are truly committed to clean air and tackling climate change there is no justification for the tunnel.
TFL is financially vulnerable and this project doesn't make economic sense, especially as TFL would be liable for any shortfalls from tolling.
To ensure a just transition, revenue should be prioritised for accessible, affordable and efficient public transport.
This branch resolves:-
To call upon the Mayor of London to cancel this project and [MP name], [London Assembly Member] and the Council to publicly support this motion.
(249 words)
Refutations of arguments in favour of the tunnel
Here, based on materials in the Action Pack produced in support of the motion are a series of claims about the benefits of the tunnel and their refutation.
It will reduce congestion
Research shows building new roads just encourages more car journeys as capacity is increased. The Dartford Bridge was built to reduce congestion on the tunnel and now both are heavily congested.
Tolls on both the Blackwall & Silvertown Tunnels will reduce car usage
Tolls on Dartford tunnel & bridge have not stopped the congestion. People will only stop using cars when there are cheap, clean, fast, reliable and accessible public transport alternatives. We need to invest in public transport not roads!
The tunnel will not cost TFL any money
The Silvertown Tunnel will be funded by a massive PFI contract, now estimated to cost £2 billion (original est. £0.6bn). TFL will use toll money to pay for this.  If we are going to toll roads surely we should be using £2 billion of revenue to invest in public transport. And if we want to dramatically reduce car usage how will TFL then be able to pay off the huge PFI debt it will be liable for.
It will reduce pressure on the local road network
The Silvertown Tunnel brings cars out onto the same local roads as the existing Blackwall Tunnel exits onto, inflicting even more traffic on local residents in areas of London which have the highest levels of air pollution.
Air pollution will no longer be a problem because of electric cars
Electric cars produce large amounts of air pollution through brake, tyre, road dust and DO emit particulate matter (PM2.5). In addition, the Silvertown Tunnel will have a lane for heavily polluting HGV vehicles which currently can't pass through Blackwall Tunnel.
Research from the Tyndall Centre shows that London's transport policy is currently incompatible with the rapid decarbonisation required to reach targets aligned with the Paris agreement, and the tunnel would only make matters worse.
Electric cars will dramatically reduce CO2 emissions
By 2050 if all cars are electric, based on current projections, we would need to power this by doubling electricity capacity on the National Grid. The most optimistic experts believe renewables can only meet a maximum of 50% of this increased demand!
Silvertown Tunnel will have a dedicated buses lane
Buses will have to share that lane with HGVs. The Blackwall tunnel can accommodate single decker buses. Building a DLR route across the river would be cheaper than the tunnel and a far better public transport option.
The campaign will hurt Sadiq Khan's election prospects
Actually cancellation of a polluting road tunnel will enhance Sadiq Khan's standing amongst voters who might otherwise be persuaded to vote Green or Lib Dem on account of the Tunnel. We need to put clear blue water between us and the Tories. Silvertown Tunnel is supported by their mayoral candidate Shaun Bailey and was originally the brainchild of Boris Johnson
SE London LGND campaigner, Izzy Hickmet, teacher and a local resident, said:
Sadiq Khan made the right decision when he cancelled Johnson's vanity project, the so-called Garden bridge. Now Labour members all over London are urging him to think again on the Silvertown Tunnel – which is another Johnson project. Sadiq Khan has a prime opportunity to show his green credentials in action. Given that Sadiq Khan has done so much to try to lower air p​ollution in the capital, it is puzzling that he's backing a project that will negate the good work he has done so far.
it's all in hand – some CLPs have already called for the cancellation, or pause and review of the Tunnel in the past
More evidence has recently come to hand – studies about how the tunnel will make it impossible for London to meet the Paris targets were recently published.
A landmark coroner's ruling in December 2020 for the first time linked the death of Ella Kissi-Debrah, who suffered from asthma, to air pollution in her area – namely the South Circular in Lewisham. This road will take many of the cars and lorries coming through the tunnel southward, thus increasing air pollution in the very area which contributed to Ella's death.
In December 2020, yet another Labour MP ((Abena Oppong-Asare (Erith and Thamesmead)) joined the call for the tunnel to be reviewed, joining Matthew Pennycook (Greenwich and Woolwich) and Lyn Brown (West Ham).
It is too late to stop the tunnel
Matthew Pennycook MP in his letter to Sadiq Khan has pointed out that major works have not yet started and it is not too late to stop the tunnel.
LGND spokesperson and Labour councillor, Lauren Townsend, says
"Building a massive road tunnel with a dedicated lane for lorries can never be part of a credible Labour policy on fighting climate change. Party activists across London are calling on Labour Mayor Sadiq Khan to cancel this polluting project before it's too late."
*******
For further information contact the South East London Labour for a Green New Deal Campaign at selondonlgndcampaigns@gmail.com
 #SilvertownTunnel  #StoptheTunnel  #NoToxicTunnel.
The twitter account @silvertowntn has all the latest from the coalition.