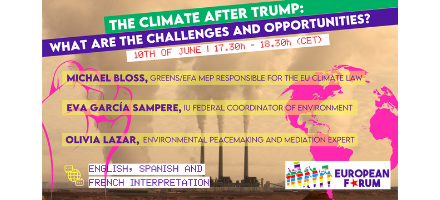 Hosted by the European Forum, this Webinar will take place on the 10th June, with the following speakers:
Michael Bloss, Greens/EFA MEP responsible for the EU Climate Law
Eva Garcia Sempere, IU Federal Coordinator of Environment
Olivia Lazar Environmental Peacemaking and Mediation Expert
About the event:
The change in the US administration has had a very evident impact on Climate and relations with the EU. After Joe Biden reversed predecessor Donald Trump's decision to withdraw the US from the Paris Agreement and the Leaders Summit on Climate in April, the global agenda had dramatically changed. The United Nations Climate Change Conference (COP 26) in November 2021 in Glasgow will be the first real test of this renewed ambition. In this context, what are the challenges and opportunities that we face? What are the targets that we need to avoid the climate crises? Which role can the EU and the US play to achieve those targets?
Please sign up here: https://zoom.us/webinar/register/WN_Ea-C7zPBSA6T9YwyLEil2g