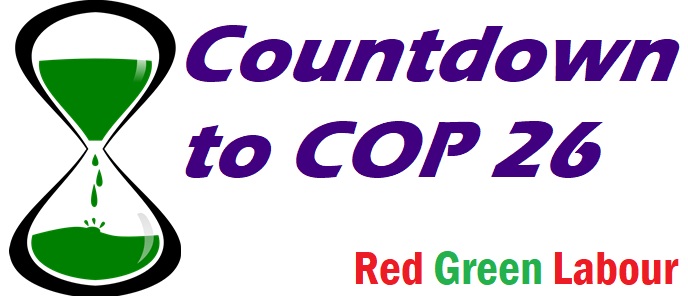 Red Green Labour is promoting this model motion on COP26 and the Climate Emergency. 
Please raise this in your local party Labour Party branch or CLP.
Climate Emergency
Human-caused climate breakdown is exacerbating extreme weather events across the globe.
The IPCC 2018 Special Report has warned of the dire consequences of exceeding 1.5ºC global average warming. Halving global carbon emissions by 2030 is needed  but we are going in the wrong direction.
The climate crisis is a social justice issue: those who have done least to cause the crisis face the worst impacts. We need to mobilise for a just transition which protects and improves workers' livelihoods and limits greenhouse gas emissions.
Wealthy, industrialised countries have a responsibility to take on their fair share of emissions reductions. The UK's target of net zero by 2050 is insufficient to limit global temperature rise to 1.5ºC, and that the UK is failing to implement policies to meet even this target.
The COP26 negotiations in Glasgow in November 2021 are crucial for the success of global plans to limit climate change; yet the UK government continues to back false solutions like carbon markets and block necessary transformational changes.
Civil society needs to exert maximum pressure on the British government for a green recovery and just transition and Labour, together with trade unions should be central to this.
We resolve:
To campaign, alongside allies in civil society for massive public investment in a green recovery that tackles the ecological emergency, creates climate jobs and provides a fair deal for workers internationally.
To join and support the national and local mobilisations around the COP26 climate summit in Glasgow in November 2021.
****
We previously circulated a model motion for trade Unions: