Red Green Labour is pleased to help promote this meeting on 7th October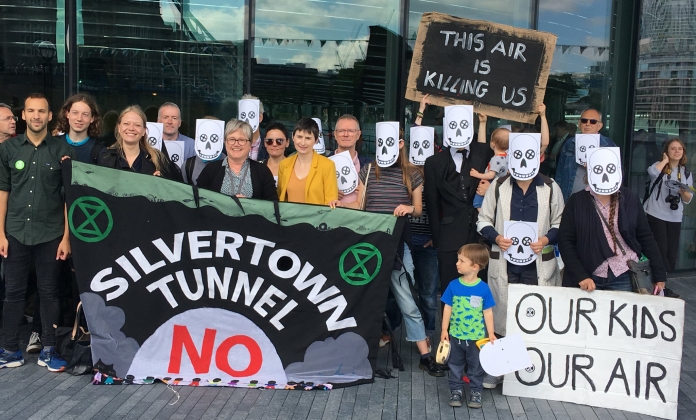 Dear colleagues,
We would like to invite you to the first event in new series on COP26 and climate change organised by the Institute of Political Economy, Governance, Finance and Accountability (PEGFA).
Is the Silvertown Tunnel, a four-lane road tunnel across the Thames, compatible with London's climate commitments?
Institute of Political Economy, Governance, Finance and Accountability (PEGFA)
Thursday 7th October 2021 17:30-19:30
Room HH103, Hamilton House, University of Greenwich, 15 Park Vista, London SE10 9LZ
This is a "hybrid" event that you can attend in person on the university campus, or online.
Registration via this link. The event is free but sign up is required.
Overview
The Silvertown Tunnel is a proposed four-lane road tunnel across the Thames, London, to be built a few metres east of the Blackwall Tunnel. It has been commissioned by the Greater London Authority from the Riverlinx consortium and is scheduled for completion in 2025. The GLA says that the cost, which it estimates at £1.2 billion but opponents say is £2.2 billion, will be met by road tolling.
Climate and transport researchers have argued that the project is incompatible with London's own climate targets, which require a substantial overall decrease in traffic volumes in the next decade. It will also exacerbate local air pollution problems, and community campaigners and doctors have called for its cancellation for that reason.
The tunnel project raises wider questions about London's transport system and urban planning. Opponents, including the Labour party's own London regional conference, are calling for alternative approaches with more investment in public transport and non-motor modes.
Speakers
Rachel Aldred, Professor of Transport and Director of the Active Travel Academy, University of Westminster
Andrew Boswell, Independent Scientist and Consultant on Climate Emergency Planning and Policy
Simon Pirani, author of The Silvertown Tunnel is in a hole, so Stop Digging; Senior Research Fellow, Oxford Institute for Energy Studies
If you have any questions, please email gperc@greenwich.ac.uk.
For more information on PEGFA, please visit our website https://www.gre.ac.uk/business/research/pegfa.
Kind Regards,
Ben Tippet
PhD Student in Economics
PEGFA Administrator