From Novara Media.
Cambo Has Been Halted – But Britain's Love Affair With Oil and Gas Isn't Over
This is huge progress – but there's a lot more to be done.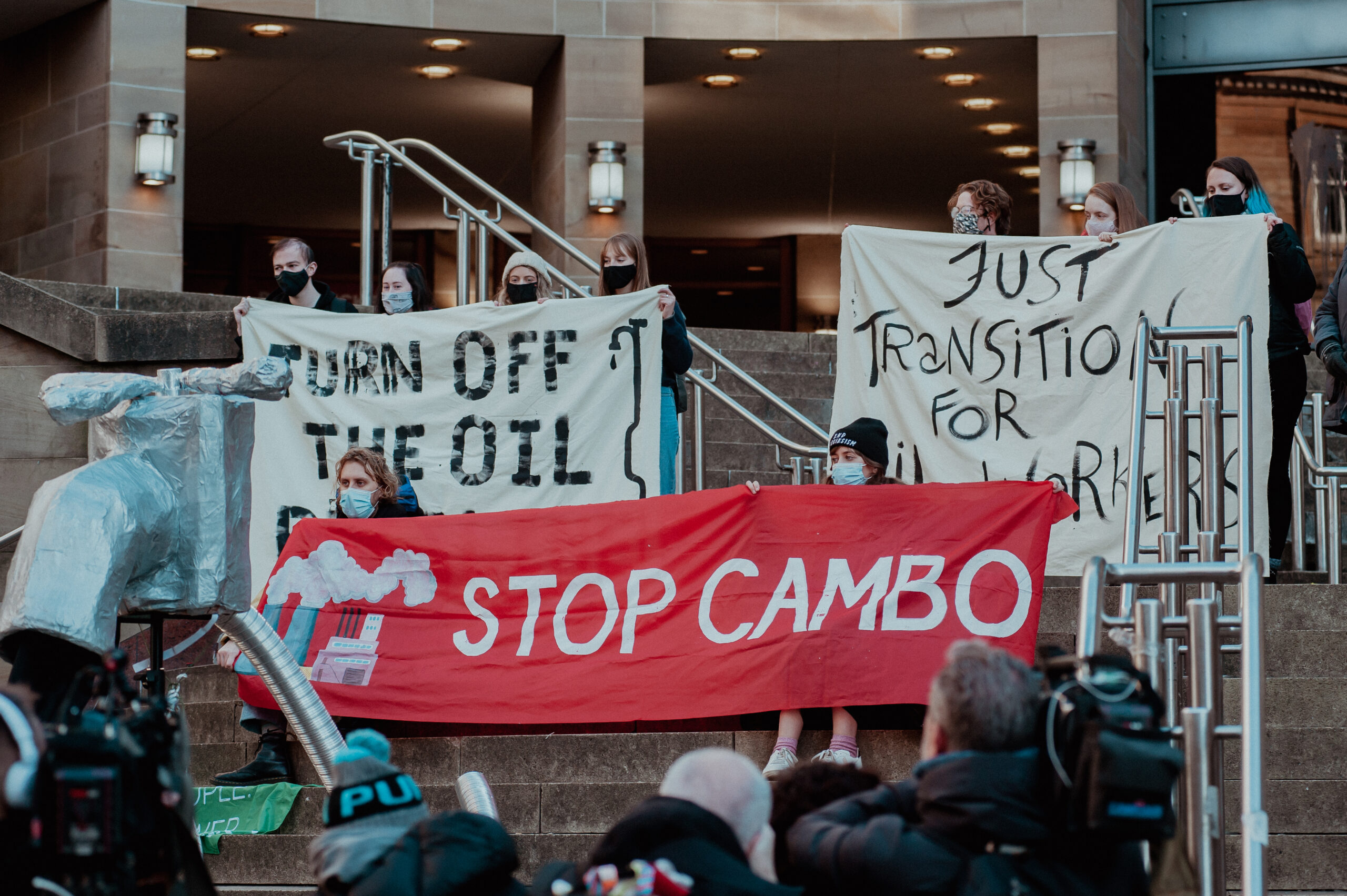 'Stop Cambo' activists hold a protest against North Sea oil and gas extraction, Glasgow, November 2021. William Gibson/StopCambo
Even six months ago, Shell's decision to scrap its investment in the Cambo oil field – and today's announcement by Siccar Point Energy that the project is being "paused" – was unthinkable. New oil and gas extraction in the UK North Sea has routinely proceeded with barely any public scrutiny. Almost 20 new oil and gas fields have been approved for production since 2018, with a further 113 licences for exploration issued last year, all while the UK government proudly claimed the mantle of climate leadership.
Those days are now permanently over. The huge groundswell of public and political opposition to the development of Cambo – and the 170 million barrels of oil it would produce in the next quarter-century – means that investor sentiment in the North Sea basin has turned from "excitement to despair", according to one industry figure. Another described Shell's decision on Cambo last week as a "death knell" for new large-scale, offshore projects in the UK.
The UK state's love affair with fossil fuel companies.
There's no question that Shell's and Siccar Point's U-turns are a significant moment in the campaign against Cambo that has taken root across the UK. But there are two critically important parts of the broader picture around oil and gas production in the UK that these momentous announcements should not obscure.
First, the plan to develop the Cambo oil field is merely the most recent product of a tax and policy framework that the UK government has engineered to extract "every drop of oil we can", in the words of former chancellor George Osborne. The UK's tax regime, which includes a permanent zero-rating of petroleum revenue tax (the tax that oil and gas producers historically paid as a premium for their huge profits) is absurdly generous to the fossil fuel sector. This regime is why the UK is the most profitable country in the world for large offshore oil and gas projects and why the UK government receives less than $2 per barrel of oil extracted, compared to nearly $22 per barrel received by the Norwegian government.
Moreover, tax flows from oil and gas companies in the UK, and even the sector as a whole, have recently been negative, meaning that companies receive more in public money than they contribute in tax revenue. Since the Paris agreement was signed, the industry has received £4bn in net tax repayments, with ExxonMobil alone receiving £360m on its North Sea operations.
These huge subsidies to the oil and gas sector are a key part of a legal challenge that was heard in the high court this week, focusing on another cornerstone of the UK's oil and gas regime: the commitment to "maximising economic recovery" of offshore oil and gas, which was enshrined in legislation in 2015. In short, this clause obligates the UK's Oil and Gas Authority to ensure that every last profitable barrel of oil and gas is drawn out of the UK's waters.
This approach is egregiously misaligned with the UK's climate ambitions and with the overwhelming scientific and moral imperative to keep fossil fuels in the ground. The UN and International Energy Agency agree we can't have new oil and gas developments in a world in which we limit warming to 1.5°C. It's as simple as that. Governments are already on track to produce double the volume of fossil fuels that we can burn if we are going to preserve a liveable climate. Against this backdrop, the fact that the UK government is considering approving dozens more oil and gas projects in the next few years is indefensible.
The second important truth about the UK government's approach to oil and gas production in a climate-constrained world is that it has chosen to leave it to the industry to determine the fate of the sector and the tens of thousands of people it employs. This has effectively consigned the oil and gas workforce to increasing and extreme precarity, as experienced by the thousands of people who lost their jobs last year when the oil price crashed.
A North Sea transition deal?
The alternative to the current pathway of inevitable, chaotic decline for the sector is a managed transition. This must be developed with workers and their communities and ensure a transition into sustainable, unionised jobs. Communities that are reliant on the industry must not be left behind. At a minimum, this requires genuine commitment from the UK and Scottish governments to steer the country past oil and gas, coupled with an ambitious and detailed plan for investment in skills, re-training and infrastructure.
Such a shift has happened before, with the opening up of the North Sea more than half a century ago, when a decade of targeted policies, legislation and investment created an entire offshore workforce and connected nearly every building in the UK to gas. Instead, what we currently have from the UK government is the manifestly inadequate North Sea Transition Deal – a plan to decarbonise the UK's oil and gas sector co-authored with oil and gas industry managements. Unsurprisingly, it is little more than an industry wish list and serves only to delay a genuine transition. It has nothing to say on phasing out oil and gas production; it merely examines how to reduce the emissions created from the extraction of hydrocarbons (and even those targets have been criticised by the Climate Change Committee for being insufficient).
Crucially, the government's so-called transition deal fails to set an end-date for oil and gas production or exploration. Instead, what's proposed is a test – the soon to be announced "climate compatibility checkpoint" – to assess if new oil and gas licences are "compatible with the UK's climate change objectives", even though the science, as described above, is abundantly clear. There is no such thing as climate-compatible new oil or gas developments.
There is an overwhelming moral and practical argument for the UK to move expeditiously and deliberately away from oil and gas production. Our economy is highly diversified compared to many other major fossil fuel producers, and the UK has significant historical responsibility for the climate crisis. Instead of opening new oil and gas fields that tether us to fossil fuel infrastructure and lock in decades of emissions, we should redirect our resources and energy towards an ambitious transition plan with affected workers and communities at its heart.
Tessa Khan is an international climate change and human rights lawyer, and founder and director of Uplift.