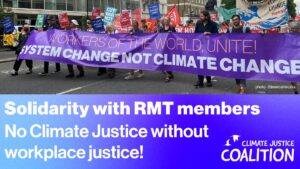 The Climate Justice Coalition stands in solidarity with RMT members taking industrial action to protect their pay, jobs and working conditions, and the wider fight to protect a public transport system for people – social need – not private greed.  Billions are being cut from our transport system at a time when we should be increasing investment to ensure a fully public, affordable, integrated, and sustainable transport system. 
Our railways are already being impacted by the effects of climate change, putting additional demands on a stretched workforce providing an essential public service.  This action by the Government is symptomatic of their disregard for the concerns of climate, environment, and workers.
As a coalition representing groups within climate and environmental campaigns, faith, race and social justice groups, and trade unions, we call on you all to support this struggle.  This includes adding our voices to resist the anti-trade union and worker narrative being driven by the Government in the mainstream media and publicise that it is their inaction and behaviour that is detrimental to people, not workers seeking justice.
Inaction on climate change is harming innocent people across the globe. Protecting the rights of workers and living standards must be a priority for the climate justice movement in fighting for a Just Transition to a zero-carbon economy.
We stand with the RMT to fight for their aims, and to campaign for a better deal for workers and a fairer, climate just, society.
Support the Strike:
? Write a letter of solidarity to the striking workers from your organisation, union branch or group: info@RMT.org.uk 
? Join a picket line! https://strikemap.co.uk/
? Discuss the strike in your workplaces, communities, and coalition hubs. 
✉️ Write to your MP: actionnetwork.org