Sean Thompson reports.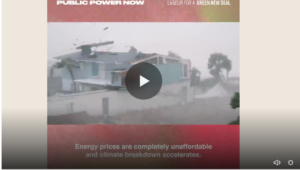 Since Labour's Annual Conference last September, Labour for a Green New Deal (LGND) has been rather quiet, and some of us had thought that the Labour leadership had succeeded in stealing LGND's fox with its pledges to a 10 year programme of £28bn a year of capital investment towards the transition to a green economy, Kier Starmer's announcement that when in power, Labour will establish a publicly owned energy generation company and Rachel Reeves' pledge that she will be 'Britain's first green Chancellor.' 
However, LGND has just launched a new campaign; Public Power Now. In announcing the campaign, LGND's Alex Stephenson pointed out that when campaigning to be leader of the party, Starmer stood on a platform of ten radical pledges, only to slowly renege on them, including the commitment to 'common ownership of rail, mail, energy and water the end outsourcing in the NHS'.  Alex pointed out that Labour currently has a huge lead in the polls over a morally and politically exhausted Tory government and that Starmer now 'finds himself faced with a choice; either use this momentum to present a transformative vision for society that tackles our era-defining crises or falter and offer more of the same but managed more competently.'  
Starmer pledged that he would 'put the Green New Deal at the heart of everything we do', but we can already see that commitment being watered down, so public ownership of the energy industry has been smudged into the promise of the creation of Great British Energy, which will be explicitly just one more company in the privatised energy generation market rather than a replacement for it. 
LGND is aiming to 'widen the debate around public ownership of energy and build the political forces necessary to take the entire energy system beyond profit' with the launch of the Public Power Now campaign. The campaign has a number of key demands: 
The democratic public ownership of the whole energy system, including:
Nationalisation of energy transmission and distribution companies

 

Nationalisation of privately owned energy supply companies

 

Nationalisation of fossil fuel companies domiciled or with assets in the UK – to accelerate the transition and guarantee the rights of workers

 

Creation of a National Energy Agency to set standards and targets, own industries of national importance (e.g. oil and gas, offshore wind, nuclear), and coordinate workforce planning

 
Creation of Regional and Municipal Energy Agencies to own, invest in, and operate distribution networks, decarbonise heat and electricity, and supply energy directly to households 

 

Establishment of a publicly owned power generation company to produce renewable energy

 
Decentralisation and local participation should be core to a modern public energy system, including:
Regional and national democratic planning

 

Operational management of new public authorities in the hands of both management and workforce

 
Boards of new public authorities including members appointed by elected representatives, elected by workers, and by citizens

 
That a new energy system should come about through just transition, including:
Workers and citizens being given economic and political powers to diversify economies

 

All workers receiving good, well-paid, unionised green jobs on equivalent terms and conditions

 
That energy should be de-commodified, with citizens enjoying the right to energy security 
LGND has drafted a model resolution that it is hoping will be adopted by CLPs and union branches throughout the country and adopted a the basis for resolutions to go to Labour's 2023 conference. More about the campaign, along with the model motion, are available here: Public Power Now