From Birmingham Against the Cuts website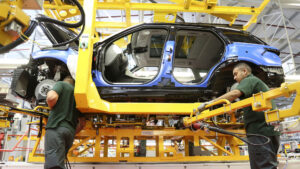 On April 27 BATC asked "How safe are jobs in the auto industry in Birmingham and the West Midlands?" Here we add to it with key points and extracts from the 10-page special report on the car industry by Simon Wright in the April 22 issue of the Economist journal.
"The emergence of Tesla and the Chinese as serious competitors reflects unprecedented upheaval in the industry. The obvious shift is electrification." In 2022 around one new car in 10 sold worldwide was a battery-powered electric vehicle (EV). The Chinese company BYD is the largest manufacturer of EV and hybrid electric cars. Tesla is the largest EV manufacturer, selling 1.3 million cars in 2022. EVs and hybrid vehicles went from 0.2% of new car sales a decade ago to 13% in 2022. By 2025 EVS will account for nearly a quarter of sales, and closer to 40% in Europe and China. By 2040 around three-quarters of new car sales worldwide will be fully electric.
The huge Chinese car company BYD plans to construct a European electric vehicle factory, but not in post-Brexit Britain. By 2026 more than 50% of electric vehicles sold globally will be Chinese, it is predicted.
Electrification is transforming car making. Manufacturing electric motors and batteries is much simpler than internal combustion engines, opening up the market to many new companies in China and the USA and making it much more competitive, especially in the context of overall declining car sales. So traditional "legacy" car-makers face a big challenge of transforming their manufacturing. "Not all legacy firms will survive the coming transformation."
"America's GM says it will go all electric by 2035 and Ford wants its European arm to do the same by 2030." "Stellantis, which includes Fiat Chrysler Citroen and Peugeot, is for all new cars in Europe and half its American output to be electric vehicles by 2030. Volkswagen will be EVs only by 2033 in Europe." Prices of electric cars are coming down. By 2030 most will be equal to that of internal combustion engine cars and they will be cheaper to run.
The first all-electric Jaguars and Land Rovers – but not till 2025
JLR – Jaguar Land Rover – based in the West Midlands, is the second biggest car manufacturer in the UK. (First is Nissan in Sunderland). It produces a plug-in electric hybrid Land Rover. The first all-electric Land Rover will not be available until the end of 2025. According to The Guardian 19 April:
Jaguar Land Rover has said it will invest £15bn over five years as Britain's largest car-making employer upgrades its factories to produce electric vehicles, including its first UK-made battery car. JLR says first UK-made electric car will be £100,000 Jaguar four-door 'grand tourer' built in Solihull.

JLR, which has 36,000 employees, said the £15bn would be spread over its "industrial footprint, vehicle programmes, autonomous, AI and digital technologies and people skills", although did not set out how the money would be split.

Analysts have long been waiting for information on how JLR would meet its commitments to make Jaguar an all-electric brand by 2025, and to achieve zero carbon emissions by 2039. Some experts have criticised the company for falling behind in the race to produce electric vehicles. Its only fully electric car is the award-winning Jaguar I-Pace, which is built in Austria by a contract manufacturer.
Outsourcing manufacture to the Magna plant at Steyr in Austria is one indicator of how the auto industry is developing. At present it manufactures the Mercedes-Benz G-Class, the conventional and the hybrid version of the BMW 5 series, the BMW Z4, the Jaguar E-PACE and the Jaguar I-PACE electric vehicle, and the Toyota GR Supra.
In the Guardian report "David Bailey, a professor of business economics at the University of Birmingham, said the size of the planned investment was welcome for the British car industry."
"They're finally really speeding up the electrification, both on the Jaguar but also on the other brands" including the lucrative Range Rover, a "big earner" for the company, he said. Bailey added that the separate blueprint for Jaguar "does raise the question of whether they will spin it off" as a separate company if its relaunch is successful."
Where will the batteries come from?
The Guardian reported that "JLR has signed supply agreements for the batteries for its first wave of homegrown electric models, but it is waiting for a decision from Tata on where the parent company will build its own battery cell factory. Tata's decision is seen as hugely important for the health of the broader UK car industry, after the collapse this year of the startup Britishvolt, which had intended to build a so-called battery gigafactory. Tata has lobbied for as much as £500m in government support for a battery plant in the UK, and it is also considering a site in Spain." Apparently Tata's decision is imminent, but it will take at least four years for a new gigafactory to be up and running.
According to the Economist report, battery supply is a constraint on transformation to EVs. Battery making is dominated by China, Japan and South Korea. Six of the top ten firms are Chinese, supplying 60% of the world's batteries. Most car makers have joint ventures with established battery firms, such as Mercedes-Benz's with China's CATL, the world's biggest battery-maker.
"Manufacturing batteries, which are bulky and make up a big proportion of a car's value, is better done close to where cars are made and sold. The EU's car firms have their own plans to weaken China's grip on battery-making. New incentives to make batteries locally could mean that Europe sees 40 battery gigafactories by 2030. Caught between America and the EU, Britain is looking on nervously."

"Low volumes and the high cost of batteries make it hard for western legacy firms to switch to making electric vehicles profitably. Swapping drivetrains increases costs for legacy firms by up to 50%, mostly because of the battery, which in turn makes these vehicles less profitable than their internal combustion engine equivalents. Ford says its EV division will lose $3 billion in 2023".
Rethinking the business model means fewer workers
There is one other factor which particularly affects 'legacy' car-makers. According to the Economist:
"Increasing connectivity – by 2030 four cars in five will be internet-enabled, says UBS, which will allow over the air updates to software. For owners it means vehicles can be continuously updated and improved when they buy new features and functions. Legacy carmakers will have the hardest job replicating the advantages of start-ups, for which software is the most important element, and Chinese firms… . Mastering software has become vital for car makers just to stand still. But established firms have to rethink a business model dedicated to mechanical-engineering excellence."

"Estimates vary over the effect of shifting to less complex EVs that require fewer workers and how many will lose out as the ICE winds down. But there is little disagreement that there will be fewer jobs. Ford announced 3800 job cuts in Europe in February, citing EVs as the cause."
For a trade union conference on the future of jobs in the West Midlands economy
Tens of thousands of jobs in the West Midlands depend on the car industry. The seismic changes in car production put thousands of jobs at risk. The whole labour movement in the West Midlands needs to get prepared. It needs to develop a plan to protect jobs where possible and to create new well-paid jobs in the region.
A first step would be to organise a trade union conference where the changing landscape of the West Midlands economy can be analysed and strategies for the future that we can all campaign for can be mapped out.
Richard Hatcher
2 May 2023
Richard.Hatcher@bcu.ac.uk