From Open Democracy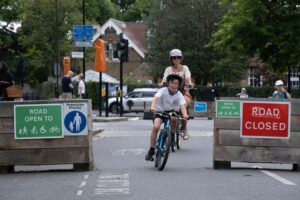 A low traffic neighbourhood (LTN) scheme in Dulwich, south-east London
British voters are more annoyed by cars than by measures to reduce traffic, new polling suggests.
The weighted study of more than 2,000 Brits earlier this month asked whether they thought cycle lanes, traffic calming measures and accessible walkways take up too much space in their local area, or whether they thought cars, vans and other vehicles did. Respondents could only pick one option that they felt most closely reflected their opinion.
Some 37% said that vehicles took up too much space, while 22% said traffic calming measures, cycle paths and pedestrian walkways took up too much space. The rest said neither reflected their view, or didn't know.
Measures to tackle Britain's deadly toxic air problem have been the focus of a vicious culture war in recent years, with so-called low-traffic neighbourhood schemes (LTNs) across the country accused of displacing cars and increasing journey times despite evidence that they cut traffic. Public Health England estimates that air pollution results in between 28,000 and 36,000 deaths a year, with Black people and poorer people among the most likely to be affected.
The Conservatives have sought to make resistance to these schemes a key battleground with Labour despite many of the projects having been Tory in origin, particularly under Boris Johnson during his successive tenures as London mayor and prime minister.
The polling is released on the day that London's Ultra Low Emissions Zone (ULEZ) is expanded to cover the entire city. The scheme, which will see drivers of the most polluting vehicles pay a levy of £12.50 a day, has been particularly controversial since the Conservatives narrowly retained Johnson's former seat of Uxbridge and South Ruislip in a by-election last month, with some, though not all, blaming Labour's failure to take the seat on the impending ULEZ expansion. The battle mirrored similar Tory campaigns elsewhere in the country.
London has announced a scrappage scheme to help the remaining drivers of older cars – about one in ten vehicles in outer London – trade in for cleaner models, but the fund is limited.
Today's poll, commissioned by the environmental group Possible, did not ask respondents about ULEZ but focused on other schemes to reduce traffic and pollution.
It also found that 55% of Brits see themselves as 'motorists' despite 77% having access to a car.
And most people said that better public transport would be the best way to get them out of their cars. Low-emissions schemes such as ULEZ and LTNs were seen as much less effective at reducing driving than having cheaper or free public transport that was faster, more regular and had more routes. (Evidence from where such schemes have been introduced, however, implies that they do in fact encourage people out of their cars.)
Analysis by openDemocracy earlier this year found that the government had failed to 'level up' transport outside of London to the extent that even its own ministers and MPs were still either unable or unwilling to rely on public transport.
Speaking to openDemocracy, Leo Murray from Possible said: "It's clear that the best way to cut car use in our cities is to completely reimagine how we get around.
"The public overwhelmingly backs investment in public transport. Making it cheaper, easier and faster to get around will make it more likely people will drive less.
"The government should stop stoking culture wars and invest in public transport to drive down car use and hit our climate targets."
The polling company Opinium surveyed 2,025 British adults between 15 and 18 August, and weighted the findings to be politically and nationally representative.